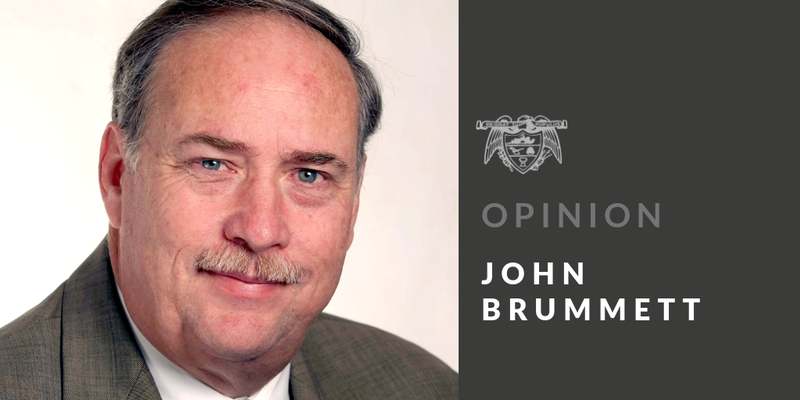 The state of Georgia engages today in a democratic exercise that several Republicans in Congress no longer accept unless they win.
Georgia will elect either Democrats or Republicans to the U.S. Senate. If electing Democrats, they will get called cheaters by Republicans. If electing Republicans, they'll get called patriots by Republicans.
If Georgians elect one of each, Republicans will trip over each other and not know what to do.
Millions are participating in this election that will decide two years of party control in the Senate. As it happens, a dozen or more Republican senators and senators-elect intend to object formally Wednesday to routine acceptance of the electoral college vote in November's presidential race, which was based on certified results from all 50 states.
Actually, early mail voting has been so heavy in Georgia that we may not know the outcome today.
Surely you know the pandemic election routine by now. Democrats tend to respect medicine and to vote by early mail in larger numbers than Republicans, who scoff at cowering over cases of sniffles that maybe kill a few.
So, as in November, Republicans could well lead in early vote-machine counts tonight, then lose those leads over the coming days as nearly a million mail votes are counted. And it's these later-counted votes of medicine-
respecting wusses that really tick Republicans off.
They think, or allege, that Democrats cheat on mail ballots.
In Georgia, they conducted an audit of mail ballots in Cobb County, just north of Atlanta. They did a random check of more than 15,000 of them, a statistically viable tenth of the mail votes in that county. They found one irregularity, with a wife signing her document and her husband's.
Republicans contend that Fulton County poll workers pulled out "suitcases" of supposed stuffed ballots to count after sending observers home. They rely on Fulton County's active cameras as their evidence.
What happened is that the county decided to discontinue counting for the night, and observers left, but then reinstated counting when the secretary of state said he preferred that. So, poll workers pulled containers, not suitcases, of votes from under a table. It was all on camera, and observers were allowed to return.
The fact is that Democrat Joe Biden won the presidential race handily. But the incumbent he defeated, Donald Trump, got his monstrous ego bruised over that outcome--just as he got his feelings hurt when his reality television show didn't win an Emmy--and has refused to accept it.
He has strong loyalty among contemporary mind-misplaced Republicans, leading these several right-wing Republican senators to pander to the know-nothings and mind-misplaced (as well as serve their own interests in seeking to inherit the know-nothing and mind-misplaced base someday.)
They will do the would-be despot's anti-democracy bidding with this stunt of anti-American demagoguery. They'll be joined by scores of similarly anti-American Republicans in the House of Representatives.
These unconscientious objectors want a dog-and-pony show of sore-loser folderol.
They say Democrats have done this before, but they haven't exactly. In 2005, then-Sen. Barbara Boxer of California objected to electoral votes reflecting Ohio's disputed 2004 returns, but was expeditiously rebuffed. In 2001, House Democrats objected to Florida's still-disputed electoral votes, but got nowhere when the loser of the disputed 2000 presidential race, then-Vice President Al Gore, a gracious patriot unlike Trump, formally presided over, and acquiesced to, a joint session declaring his own disputed defeat.
The differences this time are the absurdity of the claims, the lack of character of the president, the willing demagoguery of his congressional acolytes, the noisemaking of the know-nothings and conspiracy theorists, and the ready availability of Internet misinformation for galvanizing know-nothings and conspiracy theorists.
So we'll endure Wednesday's seditious sideshow, after which Biden's victory surely will be accepted in Congress. The House is controlled by Democrats. In the Republican-controlled Senate, there are enough Republican senators who remain decent and principled to assure that the democratic republic and principle will prevail in the upper chamber as well.
But that assurance frees these right-wing objectors to engage without immediate consequence in an exercise that will reek of longer-term danger. It perhaps will erode for time to come the vital faith in the democratic republic through which America once flourished.
Though it all, reasonable, decent and center-right Republicans will save the democratic republic this time. They shouldn't be put in that position by their monstrous president and their pitiable party colleagues. But bipartisanship on the essential things is our only hope.
Speaking of Republicans still believing in this country, we have state Sen. Jim Hendren of Gravette, a retired fighter pilot. He offered this post on Twitter: "I hope someday history hammers those who put ambition above the republic. So many have bled and died for democracy and to defeat authoritarianism and tyranny. I know several."
Comments like that give hope that what they're doing today in Georgia will continue to matter--and to decide, no matter which way it goes.
--–––––v–––––--
John Brummett, whose column appears regularly in the Arkansas Democrat-Gazette, is a member of the Arkansas Writers' Hall of Fame. Email him at [email protected] Read his @johnbrummett Twitter feed.
Sponsor Content
Comments