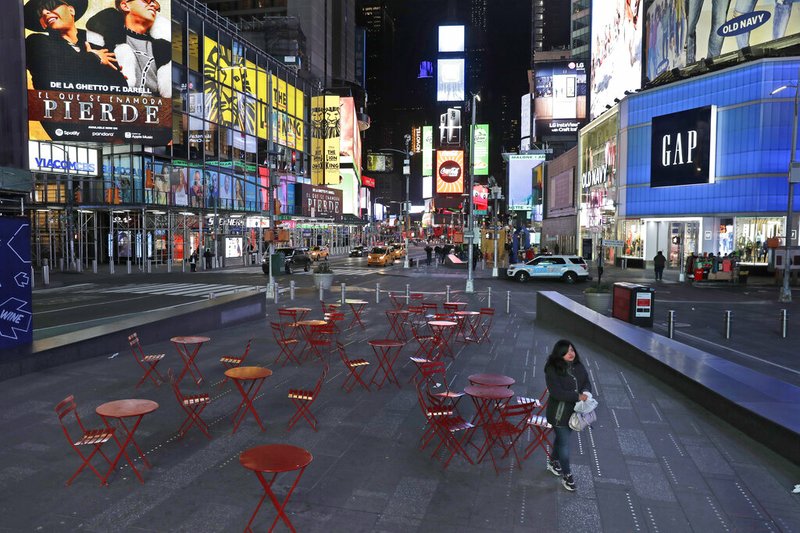 A woman walks through a lightly trafficked Times Square in New York, Monday, March 16, 2020. Bars and restaurants will become takeout-only and businesses from movie theaters and casinos to gyms and beyond will be shuttered Monday night throughout New York, New Jersey and Connecticut because of the coronavirus, the states' governors said. (AP Photo/Seth Wenig)
Social distancing is the most loving action each of us can offer in a time of pandemic. Stay at home, if you have that freedom. If you must be with others, keep three to six feet distance. Stepping away is a loving act. If you must cough or sneeze, do so into your elbow.
Most important: Wash your hands frequently. Wash with soap and water for the length of time it takes to sing "Happy Birthday" twice (20 seconds). If you don't have access to soap and water, an alcohol-based hand sanitizer with at least 60% alcohol will work. Refrain from touching your eyes, nose or mouth in as disciplined way as you can manage.
Act now. Don't wait until you have symptoms. An infected person can have the virus and can infect others for two or three days before their own symptoms begin. This is a new virus, and we have no built-in immunity. Compared with the flu, it is much more easily transmitted person-to-person.
Don't go to church. Yes, I'm a priest, and I'm urging you. Don't go to church or anywhere that includes person-to-person contact within six feet. I recognize there are many people whose life situation prevents such precautions. But be as careful as you can.
The infection spreads primarily from hands to your mouth and face, or from airborne contact through coughing or sneezing. The virus can live on hard surfaces like plastic and stainless steel for up to three days and on cardboard for up to 24 hours. Wipe shared surfaces like doorknobs, tables, handles, toilets, sinks with 70% alcohol-based wipes, not baby wipes. You can make your own spray mix with 4 teaspoons of bleach per quart of water. Many commercial products have EPA approved labels assuring they are effective against covid-19.
Do not fear. Don't overreact. It's unnecessary to hoard toilet paper. But be wise and considerate of others. It's our job to work together to deprive the virus an opportunity to move from person to person.
Delivery services can help. Ordering ahead for pickup can work also. Be kind if an item you want is unavailable. Allow deliveries to be left on your doorstep, and tip your delivery person well. They usually don't have many employee benefits.
If you or someone you know gets sick, don't go to the hospital. Stay at home and do not interact with others. Most cases are mild -- fever and cough. People recover in about two weeks. A more severe reaction might take three to six weeks. Rest and stay hydrated, in isolation as far as possible. Caretakers ... wash your hands, wash your hands, wash your hands.
Older people (70+), or anyone at any age with diabetes, lung, cardio-vascular or kidney problems who begins showing symptoms, call the doctor or get to the emergency room. There is no medication for covid-19. The hospital will give supportive care like IV fluids and oxygen to help the body fight the disease.
Do not fear, but be cautious. Covid-19 is much deadlier than typical flu, especially for older people. It has a very low mortality for kids and mortality remains low for people under 50. But the death rates accelerate for the elderly. Infected people over 80 could have mortality rates of 15% or more.
We do not want to over-stress our health care system. The best way not to create a hospital crisis is community prevention. Slow the spread through social distancing. Keep the infection rate as flat as possible. Let's buy time until a drug can be developed.
Hopefully the virus will subside over the summer. But when autumn returns, prepare to resume caution. This virus will probably follow the path the 1918 flu did and return. Be sure to get a flu shot next fall.
The U.S. does not currently have enough testing capacity to be broadly useful. Even if we had an abundant supply of tests (and we don't), we do not have the lab capacity to process the tests. It will take time to get testing up to speed.
For reliable covid-19 news I recommend the Johns Hopkins site https://is.gd/virusinfo. The New York Times has excellent scientific accuracy. Some more partisan news networks have spread inaccuracies. Try NPR (FM91.3 in Northwest Arkansas) or PBS.
This virus reminds us that we are all one, interconnected. What happens anywhere has impact everywhere. All humanity is in this together. If you pray, please do so. Practice social distancing. This virus is a call for cooperation and love.
Commentary on 03/17/2020
Print Headline: Buying time
Sponsor Content
Comments