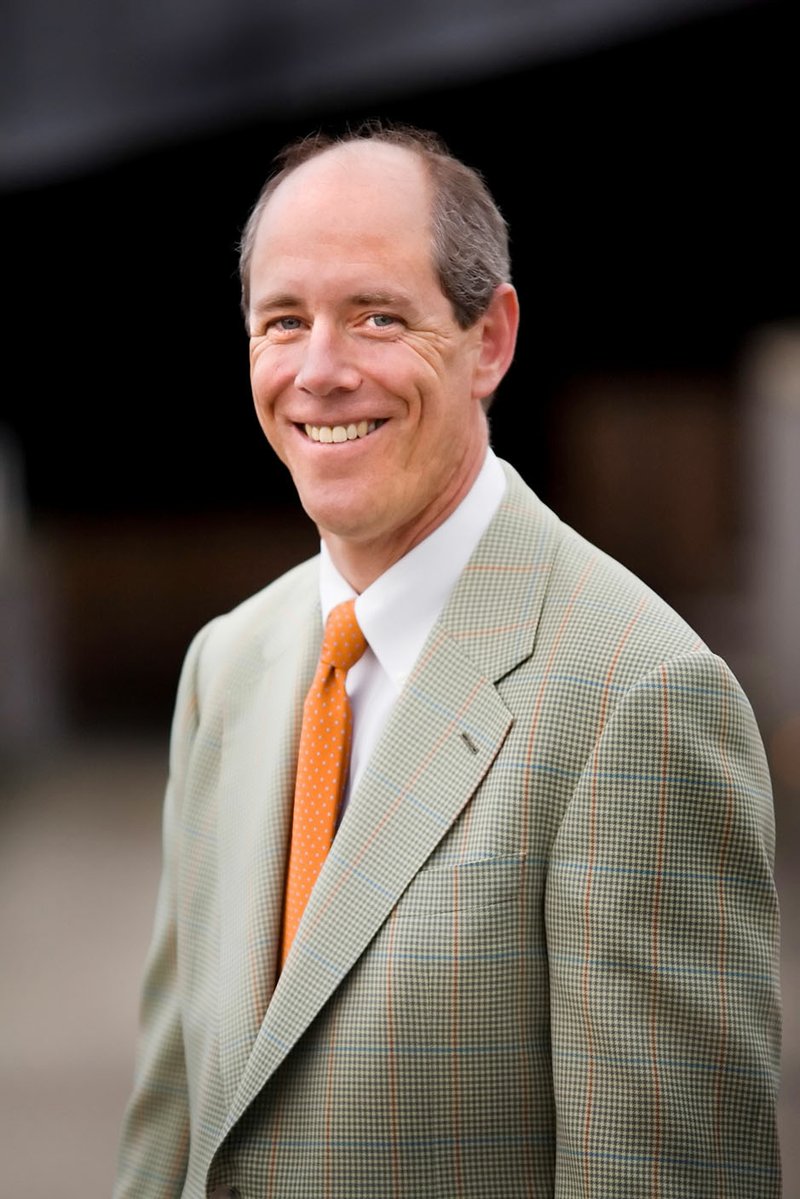 Peter B. Lane, president and CEO of the Walton Arts Center (photo submitted by Walton Art Center Public Relations Director Jennifer Wilson)
The Walton Family Foundation's Design Excellence Program has given the city of Fayetteville an opportunity to design a cultural arts corridor. This builds on the arts and culture bedrock of Fayetteville, and promises to create spaces that connect our cultural institutions, Razorback Greenway, the Fay Jones Woods and a new civic plaza that will benefit our entire region.
The big vision for the cultural arts corridor should now be enhanced by a comprehensive plan to help program, operate and maintain it.
The design of the cultural arts corridor is well underway. The bond has passed and the clock is ticking with a deadline for the first phase of work to be complete. Fayetteville needs to prioritize a cohesive cultural master plan to drive thoughtful cultural development so these new spaces and opportunities meet the needs of our community now and in the future.
The good news is it is not too late to fix the lack of a plan, but we must be thoughtful, practical and deliberate.
A plan will help everyone (elected officials, businesses, artists, patrons, cultural institutions and taxpayers) understand how the cultural arts corridor will be used, operated, maintained and funded. A plan will identify what events and uses are appropriate and desired, and it will outline a calendar and permitting process. It would inform the governance structure necessary to manage the new arts corridor and address how these new spaces and uses will impact traffic, city services, local businesses, patrons and of course, parking.
A perfect example of why a road map is essential is the recent discussions, meetings and commentary on social media around replacement parking and the Nadine Baum Studios.
Yes, customers need proximity parking to replace what will be lost with the new civic plaza in the West Avenue lot. However, replacement parking is not enough. New parking options should be developed with growth in mind -- not just built to meet today's needs. The civic plaza represents additional growth and should be viewed as a new venue capable of serving thousands of additional people.
Walton Arts Center, TheatreSquared, George's Majestic Lounge and Dickson Street merchants already serve thousands simultaneously on a regular basis. The addition of the civic plaza will absolutely impact current parking and traffic flow. A cultural arts master plan would acknowledge such realities and the obvious need for new parking -- not just replacement parking. Fayetteville is growing, and we must keep our sights on that growth.
In addition, some have suggested razing and replacing Nadine Baum Studios to make way for parking. Nadine Baum Studios is part of Walton Arts Center and has a 95 percent occupancy rate.
The original home of TheatreSquared, these studios now house Trike Theatre for a short-term residency, and the University of Arkansas Department of Theatre and Community Creative Center, which both have long-term leases within this space. The facility is an active, heavily utilized theater and art maker space, and it is already a vital part of Fayetteville's creative economy.
Relocating these art makers to create parking might address one immediate need, but it creates other problems that would need to be addressed. Who will pay the estimated $15 million necessary to replace the existing Nadine Baum Studios? That was not part of the bond. Where would the new building be situated such that these art makers can remain anchors in the cultural arts corridor? Again, a master plan would help answer those questions but absent one and because time is of the essence -- we need to move forward with other options.
For now, let's focus our collective efforts around the city's two most viable proposed parking locations. We support the mayor's recommendation to utilize the lot at the northwest corner of West Avenue and Dickson Street as the city could attract a partner to create not just a parking garage but also a mixed-use space with amenities that would benefit the entire area. Let's now spend time understanding how the placement and design would affect area businesses, patrons and traffic flow at both peak and non-peak times. We should also make sure it's designed to meet the city's future needs.
Once the parking location has been finalized, it seems clear all would benefit by briefly pausing this process for some serious conversation about our goals for the cultural arts corridor. That dialog could inform our vision for the community and ultimately be converted into a road map that will take us where we want to go. Existing stakeholders have worked hard to create unique, inviting spaces that draw hundreds of thousands of people to our area every year. Those businesses and cultural destinations are worth saving, and should have a seat at the table with an influential voice. Walton Arts Center has a long and highly successful history of working with the city and other key stakeholders in the cultural arts corridor, and we stand ready to help.
It is good to have conversations and dreams about what we want the cultural arts corridor to be, but we must take the necessary steps now that will change those dreams into actionable, measurable goals with practical strategies that translate to long-term success. It is critical for Fayetteville to get it right.
Commentary on 12/21/2019
Print Headline: Master plan a vital piece for Dickson, arts corridor
Sponsor Content
Comments