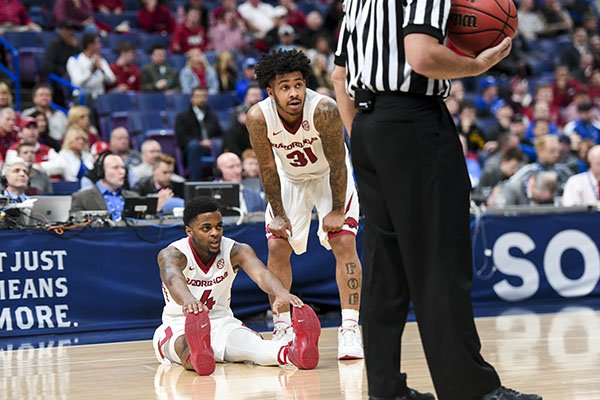 Arkansas guards Daryl Macon (4) and Anton Beard (31) look toward the sideline after Macon was fouled during a Southeastern Conference Tournament game against South Carolina on Thursday, March 8, 2018, in St. Louis. - Photo by Charlie Kaijo
ST. LOUIS -- Normally, the one consistent at the SEC Tournament is that Kentucky is going to have the most fans, not only at their games but at all the sessions.
They get their money's worth, but Thursday night there were only a few dozen Wildcat fans. When the University of Arkansas, Fayetteville fans did a hog call, it could be heard.
And there seemed to be more Razorback fans than in recent years, and they were especially loud when the Hogs went on a run, like they did to open the second half when they converted South Carolina turnovers into seven points and jumped out to a 47-32 lead after Jaylen Barford converted a three-point play.
South Carolina scratched and clawed to get back to 47-37, then used three consecutive three-pointers to pull within 56-53 with 8:07 to play as the Gamecocks outrebounded the Hogs 15-4 to start the second half.
If not for free throws, which the Hogs made 20 of their first 22 to grab a 59-56 with 6:33 to play, the Razorbacks would have been out of it midway through the second half.
No doubt there seemed to be too many whistles on both ends of the court, but the foul differential was not as great as the free throws.
With 3:59 left, the Hogs held a 61-59 advantage, but with one second on the shot clock Barford hit a 26-footer then got a steal and a layup -- those were sandwiched by a big blocked shot by Daniel Gafford -- for a 66-59 lead that slipped to 66-62 with 1:58 to go.
At that point, South Carolina had twice as many threes and Arkansas was struggling in its half-court offense, but Daryl Macon made two free throws -- he was 8 of 8 for the night -- and South Carolina missed a shot. Anton Beard was fouled, made one, and with 13.6 seconds left the Razorbacks had a 69-64 lead.
Tonight they will face the Florida Gators, and if they hope to play Saturday they will have to be more consistent on offense and hit the boards harder. The Hogs were outrebounded in the second half 24-9.
The game started oddly. The Gamecocks obviously were a little tired playing their second game in 24 hours, and Ole Miss stretched them to their limit before falling 85-84. The fatigue really showed up in the second half as Mike Anderson pushed South Carolina almost from start to finish.
At one time, South Carolina had five turnovers and only two field goals, but the Razorbacks led by only five. The Gamecocks had no limits -- they could miss inside and out and even from the free-throw line, where they were 2-7 in the first half, including missing the front end of a one-and-one and all three after a foul on a three point shot.
In less than two minutes that changed, at least momentarily.
Arkansas missed three consecutive shots and got no rebounds, and South Carolina hit three consecutive three-pointers to tie it at 26-26 with 4:07 to play.
The Razorbacks wouldn't score another field goal in the half, getting only three shots, but they went into intermission with a 36-28 lead as they made 10 consecutive free throws, including four on one possession when South Carolina head Coach Frank Martin got a technical foul after Adrio Bailey had made the first of two free throws.
Macon stepped in and nailed the technical free throws, and Bailey made another. All the Gamecocks could manage was one field goal on seven shots to close the half.
Saying they had cold spells would be like saying St. Louis is a great baseball town, but maybe not so much basketball, as attendance was sparse and it wasn't just the Big Blue staying away.
Sports on 03/09/2018
Print Headline: Razorbacks survive droughts, hear hog calls
Sponsor Content
Comments