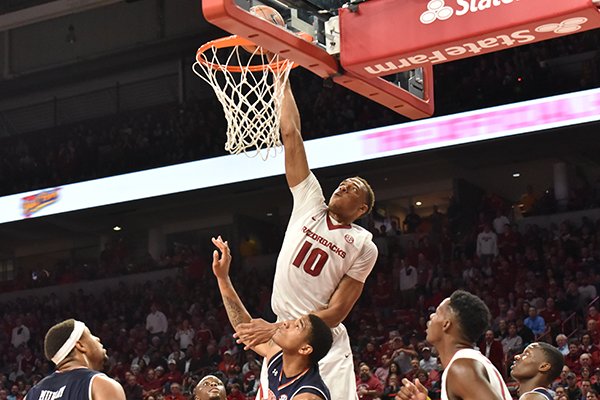 Arkansas beat Auburn 91-82 Tuesday Feb. 27, 2018 at Bud Walton Arena in Fayetteville. - Photo by J.T. Wampler
It is now fairly simple.
If the University of Arkansas, Fayetteville beats Missouri tomorrow in Columbia, Mo., the Razorbacks will be the No. 4 seed in next week's SEC Tournament.
If they lose, they fall to No. 6 if LSU beats Mississippi State. They would be No. 7 if the Bulldogs beat the Tigers, meaning those 40 free throws the Bulldogs shot to the Razorbacks' 12 on Jan. 12 could still bite the Hogs in the behind.
Both of those SEC Tournament games are on Thursday.
Here's how it plays out if Arkansas wins, regardless of the MSU-LSU game: The Razorbacks would tie for third with the winner of tomorrow's Kentucky at Florida game, but that winner would win the tiebreaker for best winning percentage among teams tied for third and get the No. 3 seed.
If Arkansas loses and Mississippi State wins, the Hogs would be tied for fourth with the loser of the Wildcats-Gators game, Missouri and MSU. All of those teams would have a better winning percentage among those tied for fourth than the Hogs.
As old as the cliche is, the Hogs control their SEC Tournament destiny, but if they play great defense and take smart shots tomorrow, they won't play until Friday.
Kentucky seems to have finally found its stride, and it may not be a coincidence that it was at the same time it clicked for 6-9 freshman Jarred Vanderbilt.
The McDonald's All American missed the first 17 games because of injury, and when he was cleared to play seemed out of sorts.
Until the last four games he averaged just 4.2 points and 6.7 rebounds off the bench.
He's still coming off the bench, but during the win streak that started with Alabama and continued with Arkansas, Missouri and Ole Miss, he is averaging 9.5 points and 11 rebounds per game, plus he's blocked five shots.
When Florida beat Kentucky 66-64 at Rupp Arena earlier in the season Vanderbilt logged 13 minutes, four points and six rebounds.
Tomorrow the Gators will have to have an answer for Vanderbilt, the player.
It is probably a long shot the University of Arkansas at Little Rock and Arkansas State University men's teams will have their final shots at the NCAA Tournament when they travel to New Orleans for the Sun Belt Tournament.
UALR is in last place with a 3-13 conference record, and ASU is next-to-last at 5-11 in Sun Belt play.
On the other hand, Joe Foley's Trojans are favored to win the Sun Belt women's tournament and advance to his fifth NCAA Tournament.
Foley is one of only 12 Division I coaches to win more than 750 women's basketball games.
UALR still will get some publicity during the NCAA Tournament as two former coaches are poised to make the field of 68.
Chris Beard who led the Trojans to 30 wins and a first-round upset of Purdue in the 2016 NCAA Tournament has Texas Tech in a great position. The Red Raiders are in third place with a 10-7 conference record and 22-8 overall.
Porter Moser, who coached the Trojans from 2000-2003 and was 54-34 in his three seasons, has led Loyola-Chicago to the Missouri Valley Conference regular season crown with a 15-3 league record and 25-5.
Of those three MVC losses two were without Clayton Custer, who was injured. Custer is a conference player of the year candidate.
Moser, a native of Chicago, left UALR for Illinois State, and after four seasons there he left to be an assistant for Rick Majerus at Saint Louis University for five seasons.
The lure to return home was too strong when Loyola called and today the Ramblers begin play as the No. 1 seed in the MVC Tournament.
Beard and Moser's success at UALR really started their careers, and that will be mentioned during March Madness.
Sports on 03/02/2018
Print Headline: Hogs looking at four seed with a victory
Sponsor Content
Comments