Christopher Monroe White
Huntsville, AR, 1980 - 2021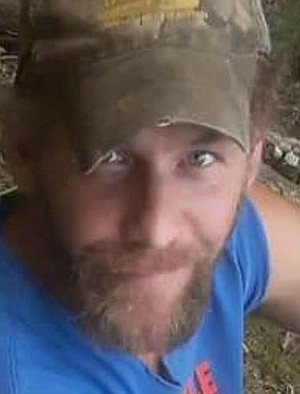 Christopher Monroe White, 40, of Huntsville, passed away Tuesday, August 31, 2021, at Huntsville. He was born Tuesday, October 7, 1980, at Fayetteville, to Silvester Monroe and Brenda Leverne Burkes White.
Christopher married Kelly Joe Williams on Saturday, December 1, 2001, at Hindsville; and together they were parents to four children. He was a carpenter and a Baptist. Christopher enjoyed Boy Scouts with his dad and loved camping with his family and friends.
Christopher was preceded in death by his grandparents, Talbert White and Godard and Louise Burkes. He is survived by his wife, Kelly, of the home; his children, Kaitlynn Joe White, Brookelynn Joe White, Josslynn Monroe White, and Christopher Monroe White, Jr., of the home; his sister and brother-in-law, Mandie and Juston Ramirez of Hindsville; his brother, Joshua White of Huntsville; his grandmothers, Carolyn White of Goshen and Louise Casebolt of Huntsville; Trevor Williams, Austin Williams, and Danielle Davidson whom he helped to raise; 25 nieces and nephews whom he loved, and a host of friends. Chris is loved by many and has touched the lives of so many and He will always be a Legend to the ones closest to his heart.
Visitation will be 9 a.m., Wednesday, September 8, 2021, at Shorty Burkes Cemetery, Hindsville. Graveside services will begin at 10 a.m., with Max Bowlin officiating. Pallbearers will be Wesley Thomas, Joshua White, Trevor Williams, Austin Williams, Juston Ramirez and Martin White. Special thank you to Marty and Melinda White, Jimmy and Mae White, Robin Lane, Herbert Williams, JR Williams, Casey and Debbie White, Marlaina "Doodle" Tipton, Sunshine, Sydnee, Zayia and Lastly, the hard working people of Washington Regional Hospital. Services are entrusted to Brashears Funeral Home and Crematory of Huntsville.
Published September 8, 2021
OBITUARY SUBMITTED BY:
Brashears Funeral Home
509 North Gaskill Street, P.O. Drawer B, Huntsville, AR
Phone: 479-738-2123
http://brashearsfuneralhome.net/