Peter Caviness Anderson
Odessa, TX, 1929 - 2021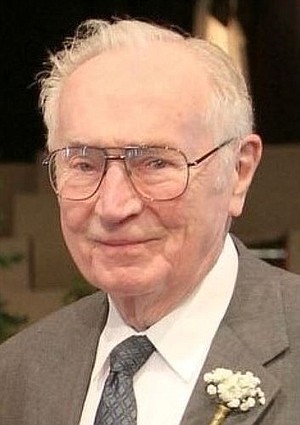 Peter Caviness Anderson, 91, of Odessa, Tesas, entered His eternal rest on Friday, February 12, 2021.
Peter was born in Ann Arbor, Mich., on October 5, 1929, to the late Dr. Leigh Charles Anderson and Alloa Caviness Anderson. He graduated from University High School, Ann Arbor, Mich., and continued on to receive a Bachelor's and Master's Degree from Eastern Michigan University. He married Maureen Stienon in 1956; they were married for 64 years. Together they lived and worked in Ann Arbor, Michi.; Ft. Wayne, Ind.; Plymouth, Mich.; Poughkeepsie, N.Y.; River Ridge, La., until retiring to Fayetteville, Ark., and in latter part of life, to Odessa, Texas.
Peter worked as a Systems Analyst for a number of colleges and universities over the years until retiring from The Louisiana State University System in 1997. In 1961, Maureen introduced Peter to Barbershop singing and he was involved in Barbershop Choruses throughout his life. He was a member of the Society for the Preservation and Encouragement of Barber Shop Quartet Singing in America, Inc. (now known as Harmony Foundation International), since 1961. A follower of Christ, Peter was also an active member of St. Thomas Episcopal Church of Springdale, Ark.
Peter is preceded in death by Dr. Leigh Charles Anderson, father; Alloa Caviness Anderson, mother; Leighton Charles Anderson, brother; David Layton Anderson, son; and, Khrystina-Marie Alloa Anderson, granddaughter.
Peter is survived by brother, Robert Keith Anderson, Signal Mountain, Tenn.; sons, Richard Leigh Anderson, Tucson, Ariz., and Peter Jerome Anderson, Dodge City, Kan.; daughters, Carol Marie Brent, Gilbert, Ariz., and Laura Kristen Smiley (Scott), Odessa, Texas, and daughter-in-law, Sheri (Ashton) Anderson, Orlando, Fla.; in addition to 10 grandchildren and 9 great-grand children, and a number of other nieces and nephews.
A memorial service will be held Saturday, March 6, 2021 at 11 a.m. at Hubbard-Kelly Funeral Home in Odessa, Texas.
In lieu of flowers, the family wishes you to consider making a memorial donation in Peter Anderson's honor to the Parkinson's Foundation https://www.parkinson.org/.
The family of Peter Anderson wishes to thank Star Hospice and Buena Vida Nursing of Odessa, TX for their care and comfort during this time.
Published February 28, 2021