Jeanne Desrocher
Bedford, TX, 1928 - 2013
0

comment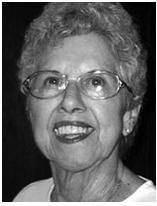 Jeanne Francis Desrocher, 84, of Bedford, Texas, died Thursday, May 23, 2013, at a local nursing home.
Celebration of life: The family held a gathering at 1 p.m. Saturday, May 25, at Bluebonnet Hills Funeral Home. Burial: Will be held at a later time in Dallas-Fort Worth National Cemetery.
She was born in Park Rapids, Minn., on July 15, 1928, the daughter of Estelle and Floyd Perkins. As a teenager, Jeanne grew to love the outdoor chores and spent most of her time milking the cows, feeding the chickens at their family farm in Nimrod, Minn. She graduated from Sebeca High School in 1948 and moved to Los Angeles, Calif., where she worked for a time for Hughes Aircraft.
She married Marvin Peter Desrocher in Verndale, Minn., on Dec. 20, 1953, who survives her. Marvin enlisted in the U.S. Navy, where he was promoted to commander and the couple spent many memorable years traveling the world together, at times living in Morocco, the Philippines, Bermuda and Hawaii.
They retired in Bedford and were members of the American Legion, where they volunteered for projects and developed many lasting friendships. Jeanne had an infectious, roaring laugh and often became the life of many of the parties she hosted.
Survivors: She is survived by her husband, Marvin; son, Jack M. Desrocher and wife, Sheilah, of Rogers, Ark.; daughter, Tami Holmesley and husband, Greg, of Cortez, Colo.; brother, Ronnie Perkins and wife, Vonnie, of Littleton, Colo.; brother, Jack Perkins and wife, Audrey, of Bloomington, Minn.; and grandchildren, Addy Chipouras and husband, Mike, of Fayetteville, Ark., Kylee Reed of Loveland, Colo., and Hannah Hankins and husband, Russell, of Rogers, Ark.
Published May 29, 2013
Comments