Thurman Wesley Claypool
Springdale, AR, 1919 - 2013
0

comment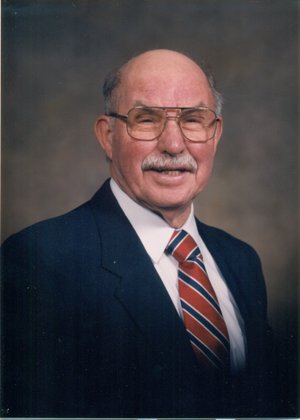 THURMAN WESLEY CLAYPOOL, 93, of Springdale, passed away Friday, May 24, 2013 at the Springdale Health and Rehab.
Thurman was born on Sept. 20, 1919, in Stoney Point, Ark., a son of John Paul Claypool and Bertha Kirk Claypool. Thurman worked for the Civil Conservations Camps in several states from 1937 to 1938 helping support his family. He joined the U.S. Army during World War II, serving from 1943 to 1946 in the Pacific Theater under General MacArthur in New Guinea, the Philippines and Occupied Japan. After the war he went to work for the Steele Canning Co in Springdale for four years before going to work for Arkansas Western Gas Co, where he worked for 31 years, retiring as a Master Serviceman. He served in the Arkansas National Guard for over 15 years, was a member of the American Legion for over 20 years, a member and volunteer for the VFW and a member of the AARP. Thurman attended and was a Deacon at the Silent Grove Baptist Church before moving his membership to Oak Grove Baptist Church. He was the Secretary/Treasurer and caretaker of the Forest Park Cemetery in Springdale for over 50 years. He raised cattle, loved horses and gardening and was an avid reader.
Thurman was preceded in death by his first wife, Margaret Jane Beasley Claypool, on May 3, 1990. He married Mary Louise Burnett on May 22, 1993, celebrating 20 years of marriage.
Thurman is survived by his wife, Mary Claypool of the home; two daughters, Marlene Sue Senyard of Fort Smith, and Sharon Kay Balloun and husband Lynn of Dardanelle, Ark; two sisters, Betty Jewell Louge of Ojai, Calif., and Peggy Sue Gage of Broken Arrow, Okla.; three stepchildren, Carol Woolly and husband Jim of Little Rock, Ark., Jerry Burnett and wife Bonnie of Overland Park, Kan., and Linda Garrelts and husband Greg of Leawood, Kan.; 10 grandchildren, Barbara Smith, Kenny Evans, James K. Evans, Carrie Evans, Roy Senyard Jr, Anne Marie Lisko, Jan Bryant, Sabrina Sayre, Teresa Balloun and Laura Conover; 13 great-grandchildren and numerous nephews and nieces.
He was preceded in death by his parents; one son, Wesley Allen Claypool; two daughters, Patricia Ann Evans and Bonnie Gayle Sayre; one brother, Johnie C. Claypool; and four sisters, Goldie Bernice Sizemore, Ola Mae Teague, Florence Pauline, and Mary Jane Argo Smith.
Visitation for Mr. Claypool will be at the Backstrom-Pyeatte Funeral Home on Monday, May 27, 2013, from 6 p.m. to 8 p.m.
Funeral services will be held at the Backstrom-Pyeatte Funeral Home on Tuesday, May 28, 2013, at 3 p.m. Burial will be conducted at the Forest Park Cemetery with Military Honors under the direction of the Backstrom-Pyeatte Funeral Home of Springdale. Please visit www.backstrom-pyeatte.com to sign an online guest book.
In Lieu of flowers memorials may be made to the Forest Park Cemetery
Published May 26, 2013
OBITUARY SUBMITTED BY:
Backstrom-Pyeatte Funeral Home
2230 North Thompson Street, P.O. Box 6294, Springdale, AR
Phone: 479-756-2010

Comments