FARMINGTON — "Ms. Voss!" a student exclaimed, proudly holding a syringe full of fake blood that's a shade or two lighter than the real item.
The spontaneous celebration of success was part of a lab activity in Principles of Biomedical Science, a course Laurie Voss teaches at Farmington Junior High School.
On this February morning, freshmen received a phlebotomy lesson and drew imitation blood from artificial arms. They cycled through three stations, honing venipuncture techniques. Nobody seemed squeamish about tying latex tourniquets, finding veins on the dummy arms, inserting needles and collecting samples.
Biomed, as it's called, is part of Project Lead The Way, a national curriculum.
Charts featuring the skeletal, respiratory, muscular and nervous systems adorn the walls in Voss' classroom. Microscopes, books and typical tools of the trade fill the room. But students said the hands-on work and real-world instruction they receive separate this class from others.
It's open to freshmen at Farmington Junior High School who must meet strict academic and attendance requirements and sign a contract before being selected. Thirty students are enrolled, Voss said.
There are no official figures to track the number of students who've completed the entire course pathway — ninth through 12th grades — and found work in the medical profession, Voss said.
What a lot of them do, once they get in and get bitten by the health care bug, is to enroll in post-secondary classes for nursing or X-ray or other certifications, she said.
From listening to Voss' students, the selection process attracts those motivated to work and learn.
"I just originally took this course because I wasn't sure what I wanted to do," said Darrin Nelson. "But this has really led me to more of a medical career aspect. I've come to find I have a lot bigger interest in biology than I thought."
Chloe Neighbors said she enjoys challenges and always wanted to pursue a medical career.
"It's made me kind of want to be in a psychiatric unit, not specifically because of this class, but just like helping people," Chloe said. "As long as you enjoy medical and science stuff and are very task-oriented, you'll do fine."
Whittney Cook likes that biomed is about more than paperwork.
"I love learning, and I also love how it's hands-on," Whittney said. "You're getting up, getting to do stuff. You're getting a pre-experience so you know if you want to do it before you have to go into it."
The labs in the class have Lexus Rochelle thinking about the future.
"When we did the toxicology labs, it really made me interested in working with medicine," Lexus said. "So I think I might want to be a pharmacist. If not, then maybe drawing blood. Definitely try to look into every lab as maybe a future job opportunity. Even if you don't think you'll like it, just give it a try."
One-year demand estimates from the Arkansas Bureau of Labor and Statistics for Washington and Benton counties show a need for 2,500 health care positions (1,500 in practitioner/technical positions and 1,000 in support positions), according to the Northwest Arkansas Council.
An estimated $240 million spent on health care for Medicare enrollees in Northwest Arkansas was spent outside the region in 2019, a recent analysis of prepandemic data shows. The analysis of Medicare data was released last month by the Arkansas Center for Health Improvement.
The data seem to show that population growth in Northwest Arkansas exceeded the health care system's capacity even before the covid-19 pandemic, according to Dr. Joe Thompson, president and CEO of the nonpartisan health policy center. The regional circumstances are different than some other parts of the state, where rural hospitals may be struggling and the population may not be growing, he said.
Principal Teri Morris said the biomed program has a budget of just over $7,000 per year and she sees it as an investment in the students.
"This class also allows students to see if biomedical science is the way they want to go in their future careers," she said.
"This class is highly engaging, and our students really enjoy it. This class also supports higher literacy and mathematical skills due to the rigorous coursework and intensive labs and background knowledge the students need to complete the assignments that are required inside the course."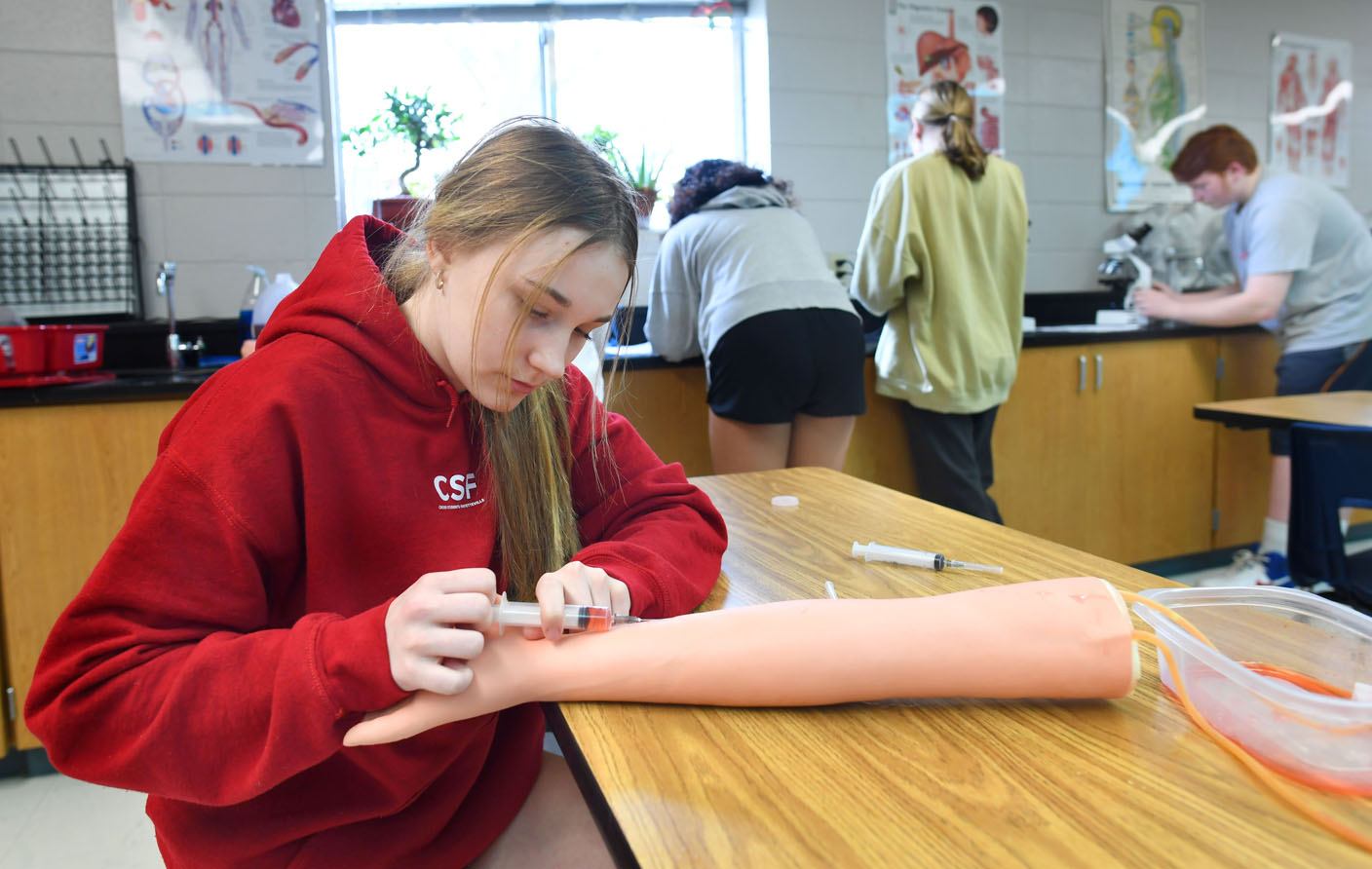 Mia Jones (left) practices drawing blood Tuesday, Feb. 21, 2023, using a training device during a biomedical class in Laurie Voss' classroom at Farmington Junior High School. The class prepares students for medical careers. Visit nwaonline.com/photo for today's photo gallery. (NWA Democrat-Gazette/Andy Shupe)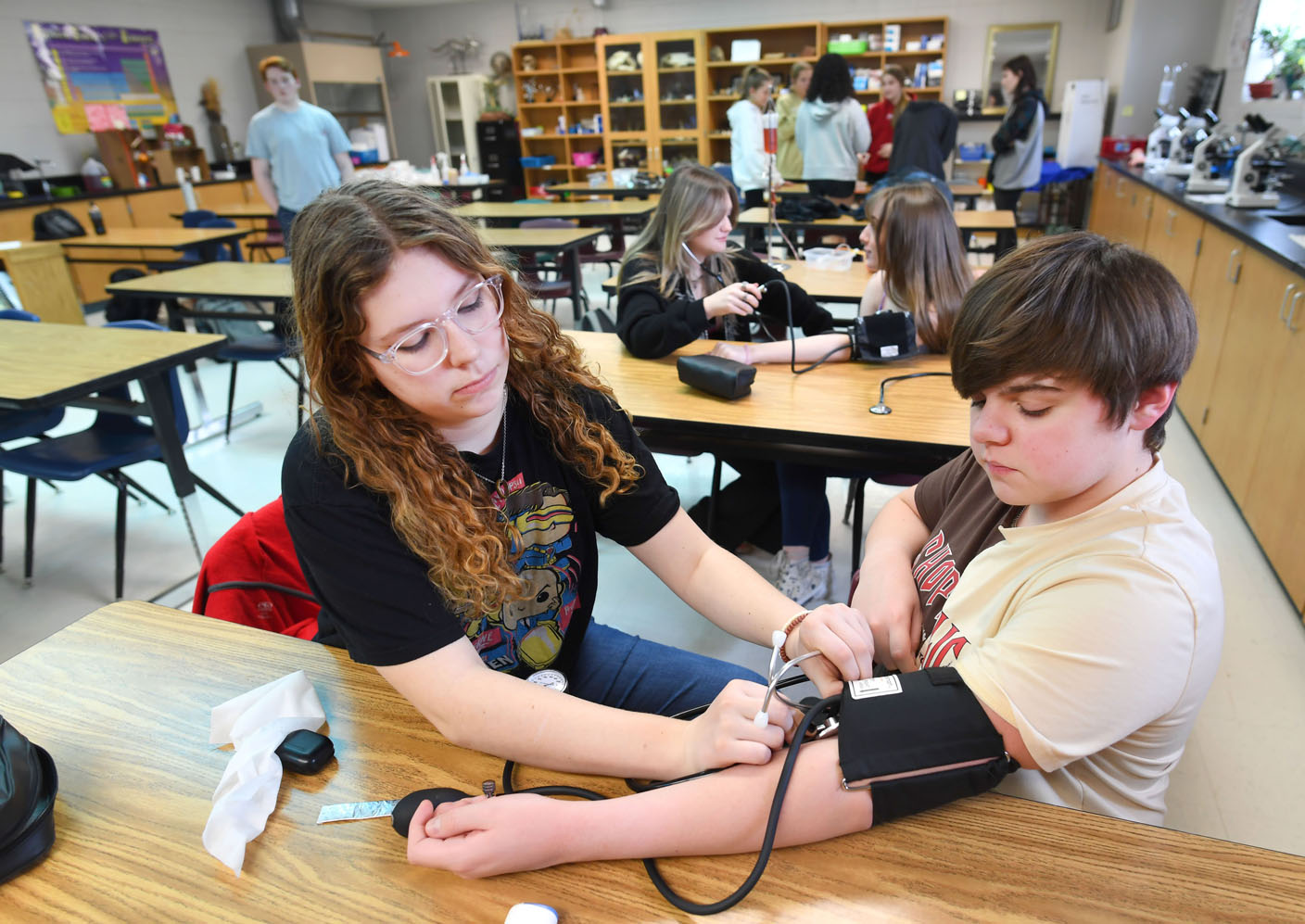 Chloe Neighbors practices checking blood pressure Tuesday, Feb. 21, 2023, on classmate Stephen Heim during a biomedical class in Laurie Voss' classroom at Farmington Junior High School. The class prepares students for medical careers. Visit nwaonline.com/photo for today's photo gallery. (NWA Democrat-Gazette/Andy Shupe)
Teacher Laurie Voss (center) helps student Hope Lee to view slides using a microscope Tuesday, Feb. 21, 2023, during a biomedical class in Voss' classroom at Farmington Junior High School. The class prepares students for medical careers. Visit nwaonline.com/photo for today's photo gallery. (NWA Democrat-Gazette/Andy Shupe)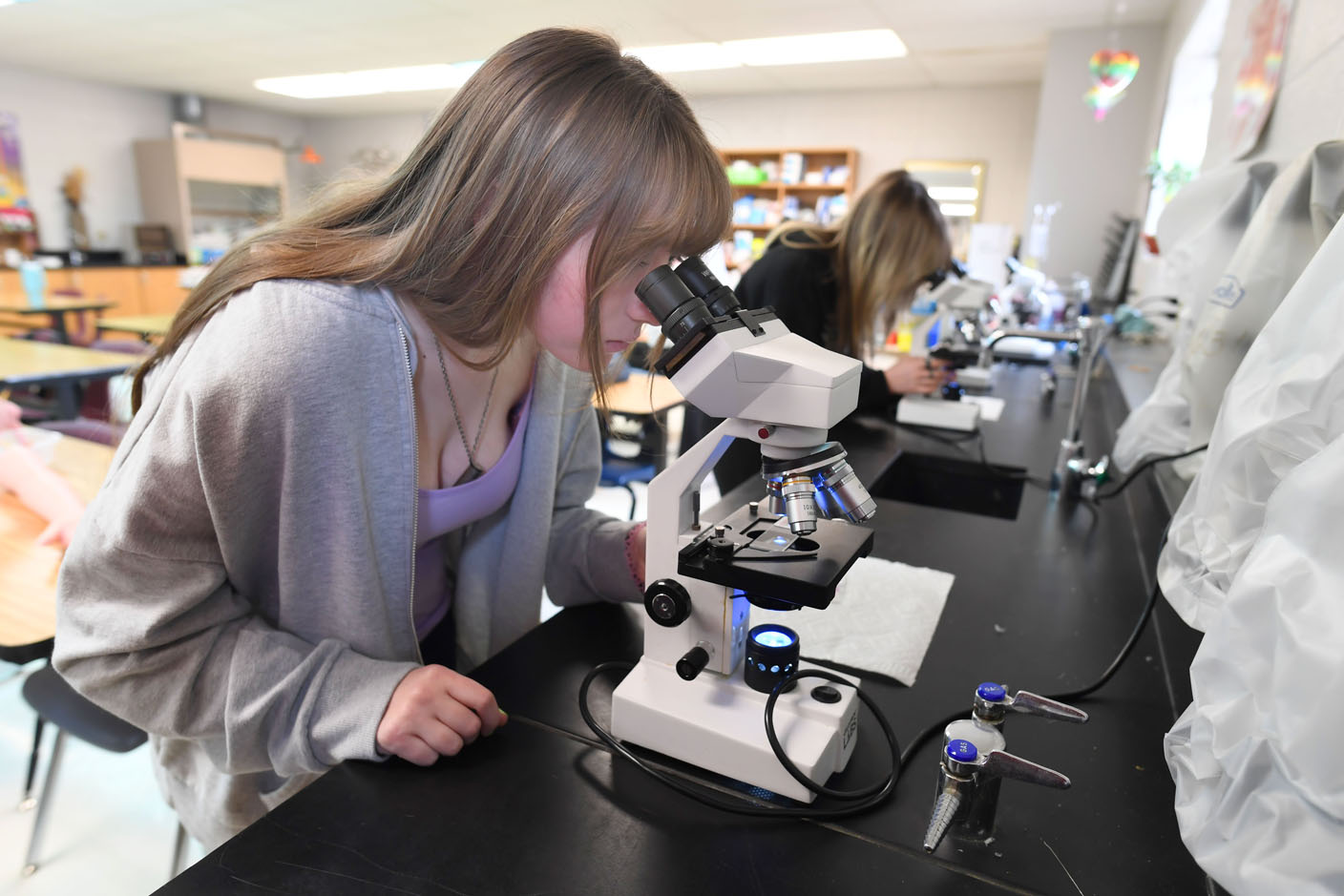 Student Hope Lee looks through a microscope Tuesday, Feb. 21, 2023, during a biomedical class in Voss' classroom at Farmington Junior High School. The class prepares students for medical careers. Visit nwaonline.com/photo for today's photo gallery. (NWA Democrat-Gazette/Andy Shupe)