We arrived at Dapur Bali Mula in the village of Desa Les along the rugged northern coast of Bali just in time to prepare lunch. We were there to cook with chef and village priest Jero Mangku Dalem Suci Gede Yudiawan.
Once a busy restaurateur in Kuta, chef Yudi, as he's affectionately known, has found solace in this tranquil seaside community, hours from the island's busy beach towns. During the pandemic, he opened a small restaurant where he showcases the bounty of his ancestral land: fresh-caught seafood such as tuna and octopus; juruh, a housemade palm sugar syrup produced from lontar palm nectar; and sea salt harvested from the nearby coast.
Yudiawan led us into the open kitchen with adjacent workbenches, one topped with an enormous volcanic-stone batu base (mortar and pestle) and another with two chunky wooden talenan (chopping boards). Glass jars filled with aromatics and spices lined a shelf at eye level. Woven bamboo baskets hung from the rafters above an earthen stove.
I studied a large metal bowl filled to the brim with ocher-colored spice paste. It was, as I learned, base genep (pronounced baa-ser geh-nep), an important, versatile spice paste used in many Balinese recipes, including ceremonial dishes such as duck roasted in palm leaves (bebek betutu) and everyday meals like shredded chicken (ayam suwir).
Base means "spice" and genep is "complete" in Balinese. And the multilayered paste lives up to its name.
Yudiawan pointed to an assortment of ingredients in a wooden bowl on the workbench: long red chiles, galangal, turmeric, kencur (sand ginger), ginger, makrut lime leaf, bird's eye chiles, lemongrass, Indonesian bay leaves, candlenut, long pepper, black peppercorns, nutmeg, fermented shrimp paste, garlic and shallots. They all have a place in his base genep.
Combined, these ingredients layer the six tastes of the Ayurvedic tradition: sweet, sour, salty, bitter, pungent and astringent. The Balinese also believe that the skin of rhizomes and roots has medicinal benefits and that when left unpeeled, it results in a more aromatic paste.
While the list of ingredients may seem daunting, spice pastes are the backbone of Balinese — and all Indonesian — cooking, and every Balinese cook has their own version of base genep. I've seen recipes with only a handful of ingredients — garlic, candlenuts, kencur and turmeric — and others with even more.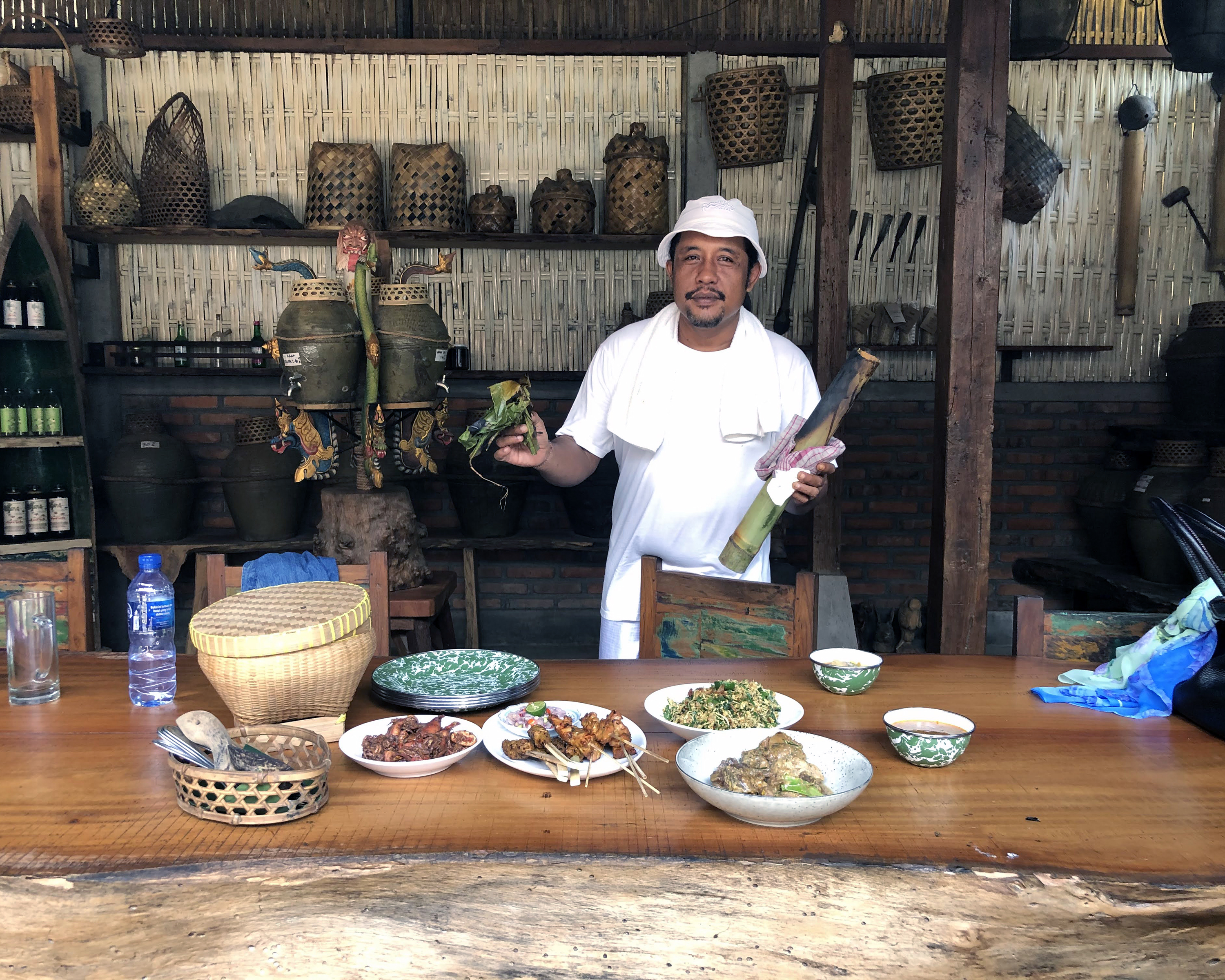 Chef and village priest Jero Mangku Dalem Suci Gede Yudiawan at his restaurant Dapur Bali Mula in Bali, Indonesia in 2022. Chef Yudi, as he is affectionately called, is holding a bamboo tube used to cook a tuna dish. (Patricia Tanumihardja) Traditionally, spice pastes are made with a mortar and pestle. Some pastes, such as base rajang, are finely chopped with a heavy-bladed cleaver called belakas. It does take muscle power, but there is a system to the pounding and grinding. First, the ingredients are chopped into small pieces. Then they're added to the mortar with a pinch of salt to create friction. Harder ingredients such as galangal or turmeric go in first, followed by softer ones — garlic, shallots and the like. Dry spices such as nutmeg and peppercorns can be ground separately.
However, Yudiawan assured me that using a small- to medium-size food processor (not a blender) is OK.
Still, the rhythmic nature of pounding food with a mortar and pestle can be remarkably meditative: The act of handworking food connects cook and ingredients, allowing them to channel themselves into every dish. Hence it's vital for the cook to have the right constitution: Think good, say good and be good, advises Yudiawan.
While he uses fresh ingredients — the Balinese way — it's not always possible outside of Bali. In his cookbook "Paon," chef I Wayan Kresna Yasa recommends substituting one fresh spice for ground in a 3-to-1 ratio (the ground ingredient should weigh a third of the fresh one). And, like Balinese cooks, feel free to substitute or omit ingredients as necessary.
While making spice pastes certainly takes time — you fry the paste in coconut oil anywhere from 10 minutes to two hours — they can be prepped ahead and used at a moment's notice. The longer the paste is fried, the longer it'll keep, so if you plan to use the paste the same day, 10 minutes should suffice.
When I asked Yudiawan for the proportion of ingredients that go into his base genep, he shrugged and smiled: Balinese cooks use their fingers as measuring tools and their tongues to taste, cooking with intuition and feeling rather than with instructions.
This became evident when he performed his culinary magic on the tuna brought in by local fishermen that morning.
Each dish is braced by base genep, and enhanced with rempah — various aromatic extras such as torch ginger or turmeric leaves — and penyedap, ingredients such as shrimp paste or fried shallots.
When we sat down to eat, I reflected on what I had learned that morning. In trying to emulate Yudiawan, I didn't take down exact measurements or cooking times. How was I going to replicate these dishes in my home kitchen, I wondered.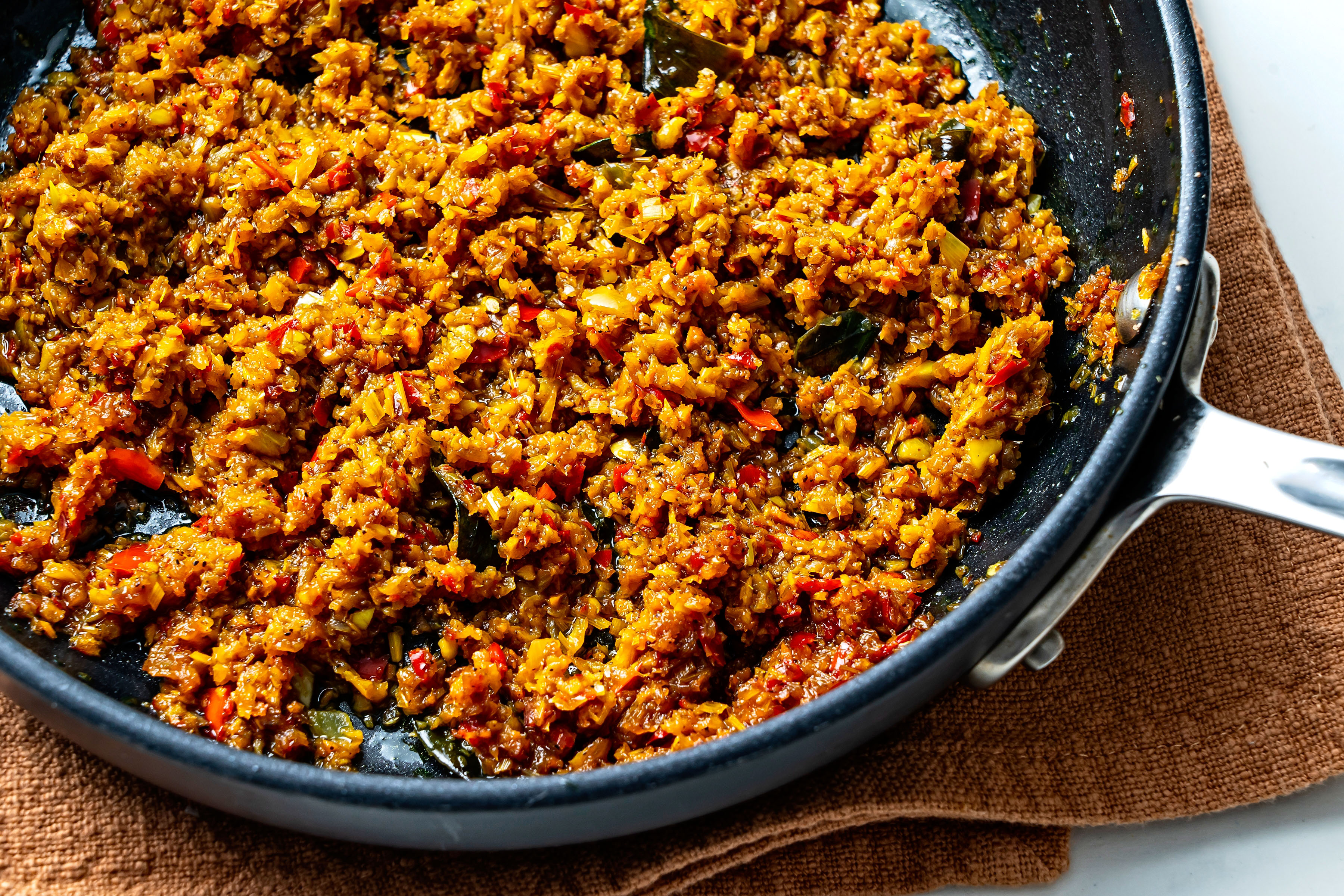 Base Genep (Balinese Spice Paste) (For The Washington Post/Scott Suchman) In some way, I was given the freedom to experiment with what I learned — and my own senses — to create my version of base genep using ingredients available to me, and subsequently a recipe for ayam suwir (shredded chicken with Balinese spice paste). So even though I didn't bring home any written recipes from my trip, I know that with practice and the right constitution, I can cook the Balinese way.
While spice pastes are traditionally made with a mortar and pestle, this recipe calls for a food processor to pulse — not puree — the ingredients. If using a mortar and pestle, don't grind the harder herbs. Instead, slice the galangal into ¼-inch rounds, smash the lemongrass and add them when frying the paste.
Fresh turmeric, galangal, makrut lime leaves and shrimp paste can be found at Asian markets.
Remember: If you can't find an ingredient, it's fine to omit it.
Base Genep (Balinese Spice Paste)
5 ounces shallots (about 4 small), peeled and coarsely chopped
8 cloves garlic, peeled and smashed
2 long, fresh red chiles, such as serrano or cayenne, stemmed and seeded, if desired
4 fresh red Thai chiles, stemmed and seeded, if desired
1 (4-inch) piece fresh turmeric, coarsely chopped
1 (2-inch) piece fresh ginger, coarsely chopped
1 (½-inch) piece galangal, coarsely chopped
2 lemongrass stalks, outer layer removed, tops and bottom root ends sliced off (reserve the tops), tender white bulbs chopped into thin slices
4 tablespoons coconut oil, divided use (may substitute with another neutral oil such as canola or safflower)
½ teaspoon shrimp paste (optional; may substitute with fish sauce)
2 makrut lime leaves
4 whole cloves, finely ground
1 teaspoon grated nutmeg
¼ teaspoon ground black pepper
In the bowl of a food processor, combine the shallots, garlic, red and Thai chiles, turmeric, ginger, galangal, chopped lemongrass bulb, 2 tablespoons of coconut oil and shrimp paste, if using. Pulse (don't process) until a paste resembling cooked oatmeal is formed — a few coarse bits here and there are fine.
In a large skillet or wok over medium heat, melt the remaining 2 tablespoons of coconut oil. Add the spice paste and cook, tossing constantly to ensure it doesn't burn, until fragrant, 3 to 4 minutes. Add the reserved lemongrass tops, lime leaves (crumpled to release their essential oils), cloves, nutmeg and black pepper and continue cooking, stirring every few minutes and adjusting the heat as needed to prevent the paste from burning, until it turns several shades darker to golden brown/ocher, about 30 minutes. Remove from the heat and let cool completely. Discard any large herbs, transfer to a lidded jar and refrigerate until needed, up to 2 weeks.
Makes about 1 ¼ cups.
Recipe adapted by food writer Pat Tanumihardja from chef and Hindu priest Jero Mangku Dalem Suci Gede Yudiawan of the restaurant Dapur Bali Mula in Desa Les, Bali.
■ ■ ■
In Bali, this simple dish is usually served with a scoop of rice and a side of fresh vegetables called lalapan, such as sliced cucumbers and tomatoes. A superb way to use up leftover rotisserie chicken, this recipe also works well with canned tuna. For a cross-cultural culinary twist, serve ayam suwir as a taco filling!
If using cooked chicken, simply shred it as directed, and where the recipe calls for reserved cooking liquid, use water or chicken broth.
Coconut or palm sugar can be found at Asian markets or online. If you can't find it, use brown sugar.
Ayam Suwir Bumbu Bali (Shredded Chicken With Balinese Spice Paste)
1 pound bone-in skin-on chicken thighs or breasts OR 2 cups (8 ounces) shredded cooked chicken (see notes)
2 makrut lime leaves OR ½ teaspoon fresh lime zest, divided use
½ teaspoon fine salt, plus more as needed
6 tablespoons Base Genep (see related recipe)
¼ cup unsweetened full-fat coconut milk
1 teaspoon coconut or palm sugar OR ½ teaspoon brown sugar
2 teaspoons fresh lime juice
¼ cup chopped red bell pepper (optional)
Sliced long red chiles (optional)
Cooked jasmine rice, for serving
Sliced cucumbers, for serving (optional)
Sliced tomatoes, for serving (optional)
Place the chicken in a small saucepan and add enough water to cover by 1 inch. Crumple 1 lime leaf (or ¼ teaspoon lime zest) and add it to the saucepan, along with a pinch of salt. Set the saucepan over medium heat and bring to a boil, skimming off any scum that rises to the surface.
Cover, remove from the heat and let sit until the chicken is cooked and registers at least 165 degrees on an instant-read thermometer inserted into the thickest part of the chicken away from the bone, 15 to 20 minutes.
Let sit until cool enough to handle, then shred the chicken with your fingers or two forks and reserve the cooking liquid (see notes).
In a medium skillet over medium heat, stir together the Base Genep, coconut milk, 2 tablespoons reserved cooking liquid and the remaining lime leaf (or zest); bring to a simmer.
Add the chicken, sugar and ½ teaspoon of salt. Adjust the heat as needed to maintain a simmer, and cook until most of the liquid has evaporated but the chicken is still moist, 5 to 6 minutes. Add the lime juice, taste, and season with more sugar, salt and/or lime juice, if desired. Stir in the bell pepper and chiles, if using, until combined and remove from the heat. Remove the lime leaf.
Divide the chicken among shallow bowls and serve with rice and vegetables.
Makes 4 servings.
Notes: If using cooked chicken, simply shred it as directed. Where the recipe calls for reserved cooking liquid, use water or chicken broth.