You're probably familiar with Argentina's vibrant green chimichurri, but did you know this flavorful sauce also comes in red?
This Red Chimichurri, adapted from the July/August 2019 edition of Milk Street magazine, is the pantry-friendliest chimichurri I've seen. The only perishable ingredient in it is garlic, which has a pretty long pantry shelf life. All that is to say, you probably have everything you need to make it in your kitchen right now.
I served it with seared sea scallops, but it'll complement any grilled or roasted meat, poultry, seafood, fried eggs or even potatoes.
[Video not showing up above? Click here to watch » arkansasonline.com/412burner/]
Red Chimichurri
6 tablespoons neutral oil
2 tablespoons sweet paprika
2 tablespoons red pepper flakes (I used Aleppo for more flavor and less heat)
2 tablespoons dried oregano (Mexican or Mediterranean)
1 medium clove garlic, finely grated OR 1 teaspoon garlic paste
¼ cup balsamic vinegar
Up to ½ teaspoon salt
In a small saucepan over low, combine the oil, paprika, pepper flakes and oregano. If you'd like a milder garlic flavor, add it now too. For a more pungent garlic punch, wait and add it when you remove the pan from the heat. Cook, stirring occasionally, until the mixture begins to bubble, 5 to 7 minutes. Remove from the heat (and stir in garlic, if necessary). Let cool to room temperature.
In a medium bowl, combine the vinegar and salt, then stir until the salt dissolves. Slowly whisk in the cooled oil mixture.
Makes about ¾ cup.
Recipe adapted from Milk Street (July/August 2019)
If the vinegary bite of most chimichurris is too much for you, consider this one which gets all its acid from fresh lime juice. In addition to that citrusy punch, this green version gets a boost of flavor, fat and fiber with the addition of an avocado. I cobbled this recipe together after reading a variety of similar recipes online. It, too, is delicious with grilled or roasted meat, poultry, seafood, fried eggs or in place of salsa or pico in your favorite Mexican-inspired recipes. It's even good on tortilla chips. Of the two chimichurris here, this one is my favorite. It's so cheerful and bright — just perfect for spring.
Avocado Chimichurri
5 tablespoons sunflower or safflower oil
¼ cup fresh lime juice
1 clove garlic, minced
Salt
1 cup finely chopped parsley (tender stems and leaves)
1 tablespoon finely chopped fresh oregano
1 tablespoon minced fresh jalapeno or Fresno pepper (optional)
1 ripe avocado, diced
In a medium bowl, whisk the olive oil with the lime juice, garlic and a pinch of salt. Stir in the parsley, oregano and pepper; let stand at room temperature for 30 minutes. Fold in the avocado; taste and add more salt if needed.
Makes 1 to 1 ½ cups.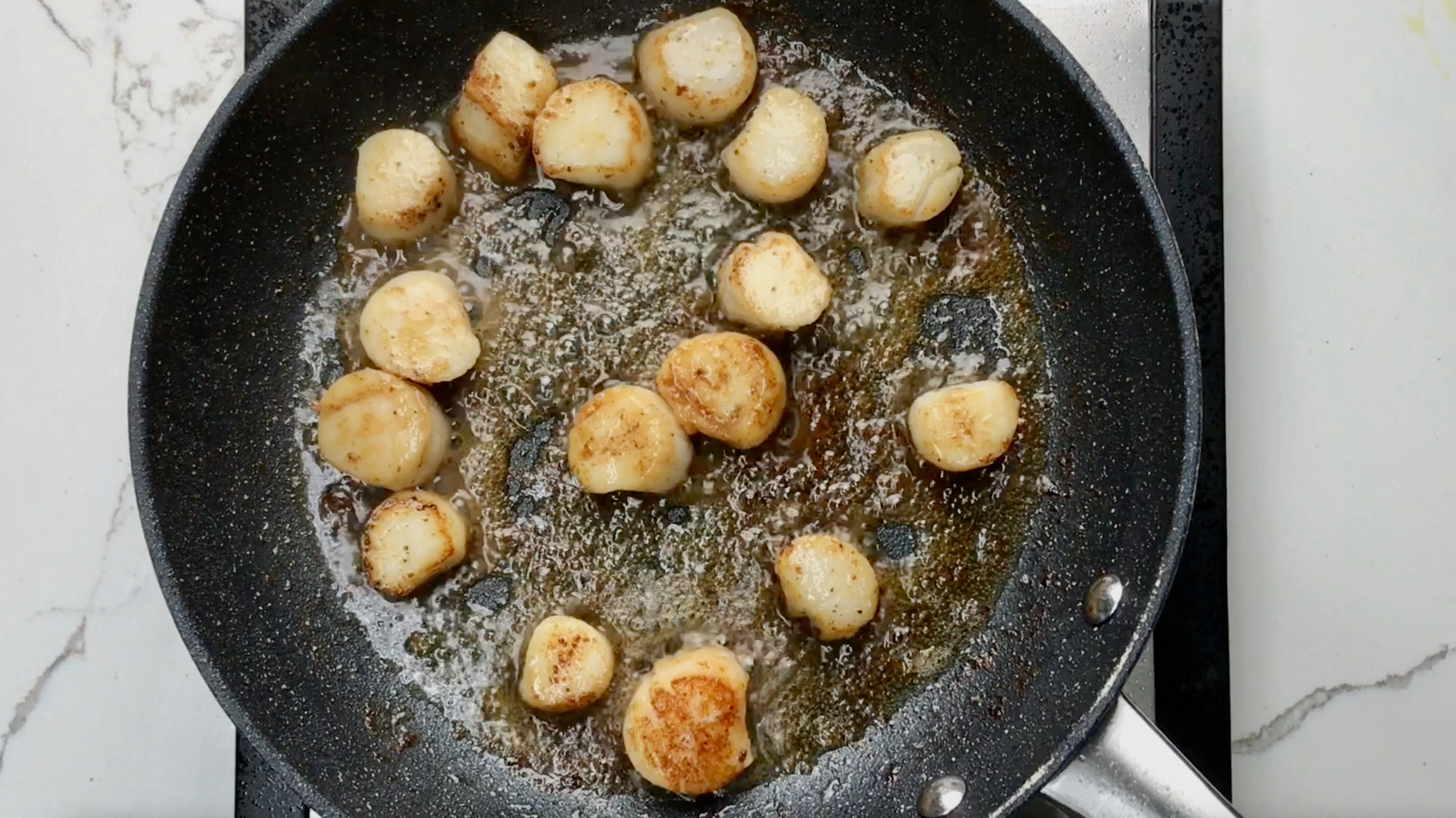 Seared Scallops (Arkansas Democrat-Gazette/Kelly Brant)
Pan Seared Scallops
8 to 10 sea scallops, abductor (side) muscle removed, patted dry
Salt and ground black pepper
Vegetable oil
1 tablespoon butter
Season the scallops on both sides with salt and pepper.
Heat just enough vegetable oil to coat in a nonstick skillet until smoking over medium heat. Add the scallops in a single layer. Cook for 90 seconds and then add the butter. Once the butter melts, turn the scallops and tilt and swirl the pan to distribute the butter. Continue cooking for 1 to 2 minutes until the scallops are cooked to your liking. Avoid overcooking.
Makes 2 servings.