TOPDOG Hot Dogs and Beer, 308 Main St., Little Rock, has closed. Its owners announced it July 29 via the Facebook page (facebook.com/TOPDOGLR), with the tease that the "good news is something really good is taking over the space!" What that is remains to be seen. "We look forward to making a return one day but at a new location," the post continues. "Any interested investors, we are open to franchise TOPDOG!" A second post explains, "We gave it our best shot with what we were doing, loved our supporters and hated to end it but ... [f]inding employees was the biggest obstacle EVER!!!! Food cost was out the roof, and it would have been hard to sell a $20 hot dog, but that's about the hard truth with the economy right now." The place opened in the waning hours of 2021 in a shotgun space that had previously been a deli outlet for next-door Bruno's Little Italy and subsequently the too-short-lived Donuts & Deli.
If you've been following the details on the burgeoning area brunch boom that involves Big Bad Breakfast (open) and Another Broken Egg (seeking area franchisees and locations), you may have overlooked, as we have, the advent of The Toasted Yolk Cafe, a Houston-based brunch-centered chain and franchise operation, that's poised to open at 5,435-square-foot Suite 230 of the Shoppes at Chenal shopping center, 17406 Chenal Parkway, Little Rock. We don't yet have a target, but a street-side banner has been erected that proclaims "Brunchin' Soon." The website, thetoastedyolk.com, still lists it as "coming soon." That shopping center, by the way, will also be the location of a Chicken Salad Chick outlet, which its franchisees hope to open later this year.
And while we're in that neighborhood, an Aug. 4 post on the Facebook page (facebook.com/KemuriWest) for Kemuri West, the second location of Kemuri sushi seafood robata, in what had been Kiyen's Seafood Steak and Sushi in the Centre at Chenal shopping center, 17200 Chenal Parkway, Little Rock, reports that "light fixtures, tables, and chairs" are in place, and "little by little, we're getting ready for you, West Little Rock! We've been going through inspections this week and more next week, then we will hopefully be closer to an official opening date for you." The original restaurant is at 2601 Kavanaugh Blvd. in Little Rock's Hillcrest.
And Leiva's Coffee has opened a coffee shop inside of the Aloft Little Rock West Hotel, 716 Rahling Road, just off Chenal Parkway. leivascoffee.com; facebook.com/leivascoffee.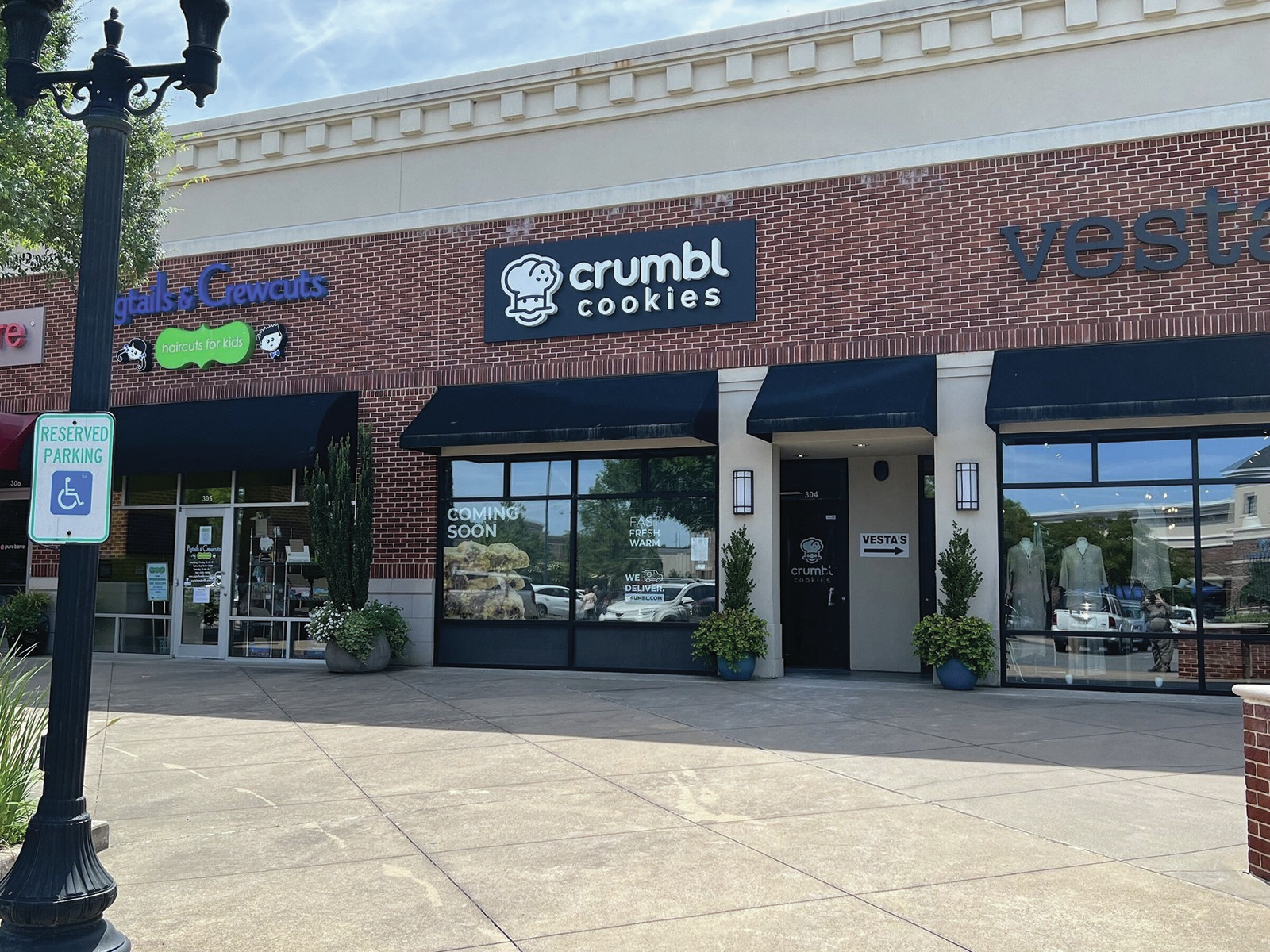 Crumbl Cookies' first Little Rock outlet is set to open Friday on Cantrell Road in west Little Rock. (Arkansas Democrat-Gazette/Eric E. Harrison)
The long-awaited west Little Rock Crumbl Cookies outlet, in the Pleasant Ridge Town Center, 11525 Cantrell Road, opens Friday. Order in-person only for their first five days of operation; starting Wednesday, delivery, curbside pickup, catering and nationwide shipping will be available via the crumbl App and online at Crumbl.com. Hours are 8 a.m.-10 p.m. Monday-Friday, 8 a.m.-midnight Friday-Saturday. It's Little Rock's first; other Arkansas outlets are in Benton, Bentonville, Conway, Jonesboro and Rogers. Grand opening week menu includes Milk Chocolate Chip and five other of the chain's 200+ weekly rotating flavors, which include Cornbread, Cookies & Cream, S'mores, Key Lime Pie, Peppermint Bark, Caramel Popcorn, Buttermilk Pancake and Galaxy Brownie. (501) 333-9080; crumblcookies.com.
All in a Bowl, on the back side of 3000 Kavanaugh Blvd., in Little Rock's Hillcrest, is open, at least softly, and vending a few bowl items, according to its Facebook page (facebook.com/allinabowl). We're still trying to track down a telephone number, hours of operation, a menu or any other details, but the Facebook page is showing photos of a Chicken Avocado Bowl and a "Simple Bowl in A Bowl!!! Avocado, chicken, almonds, pecans, cucumber, tomatoes, spinach."
Owner Oki Sutanto says he plans to open Goku Ramen Bar, 1900 Club Manor Drive, Maumelle, on Monday. Hours will be 11 a.m.-2:30 p.m. for lunch and 4:30-9 p.m. for dinner, Monday-Friday, and continually, 11 a.m.-9 p.m., Saturday. Sutanto has said the menu will be similar to that of his Aji Ramen Bar, 301 N. Shackleford Road, Little Rock, but with a different chef, he expects the flavors of many of the dishes to be different. (501) 734-8064.
And speaking of Asian restaurants, one of our readers spotted a sign for the pending Bamboo Hibachi Airport Japanese Steakhouse & Sushi, at the intersection of Roosevelt Road and Springer Boulevard, Little Rock. As yet we've been unable to track down any details, but it appears to be the latest in a growing mini-chain that includes locations at 4511 Camp Robinson Road, North Little Rock; 6606 Colonel Glenn Road, Little Rock; and the Bamboo Hibachi Express at 13420 Otter Creek Parkway, Little Rock.
Has a restaurant opened — or closed — near you in the last week or so? Does your favorite eatery have a new menu? Is there a new chef in charge? Drop us a line. Send email to: [email protected]