BENTONVILLE -- City Council member Gayatri Agnew said she was shocked to learn one of the city's firefighters was arrested in connection with attacking an Asian man in Hot Springs.
Agnew was one of the organizers and speakers at Friday's event to recognize the day as a national Day of Action and Healing to Stop Asian Hate. The event was held at The Momentary.
Agnew said she's the only elected Asian woman in the state. She was elected to the council last fall.
"I'm Asian," she told several dozen people at the vigil. "My father was Asian. That gentleman in Hot Springs could have been my brother. He could have been my son."
She described the incident involving the firefighter as a hate crime.
News of the incident comes at a time of increasing attention nationally to reports of violence against Asian Americans, particularly since the March 16 shootings at three spas in the Atlanta area that killed eight people, including six Asian women.
Benjamin Snodgrass, 44, resigned Friday from the Bentonville Fire Department. He was charged with misdemeanor battery and public intoxication in a March 13 incident outside the Oaklawn casino in Hot Springs. He pleaded not guilty to the charges. His trial is set for May 6 in Garland County District Court.
He told a Hot Springs police officer he confronted the Asian man for not being American, according to court documents.
The man told police Snodgrass approached him outside the casino, asked if he knew he was in America and started pushing him, and the two fell to the ground, according to court documents. The man said Snodgrass hit him in the face and he fought back in self defense, according to court documents.
Snodgrass worked for the department for 14 years and was promoted to captain in 2019. He "expressed regret and an apology for any embarrassment to his family, fellow firefighters, friends and the city of Bentonville," according to Debbie Griffin, a spokeswoman for the city.
Agnew said the incident hit closer to home because she's Asian.
"When you feel and see it could be one of your family members then it is more personal," she said.
Julie Thibodaux of Fayetteville came to Friday's event with her family. She said it's important for her family to show they support Asian Americans.
Thibodaux believes Snodgrass' resignation from the department was the appropriate step considering the events that have happened in the country.
Monica Kumar, another organizer of Friday's event, urged people to stand together to end the hate and violence. Kumar tearfully read the names of the six women killed in the Atlanta area shootings.
The crowd also read "I Too," a poem by Langston Hughes. Ashlie Ivey then led the crowd in singing "This Land is Your Land."
Agnew urged people to speak up against hatred and violence.
"Silence is inaction," she said.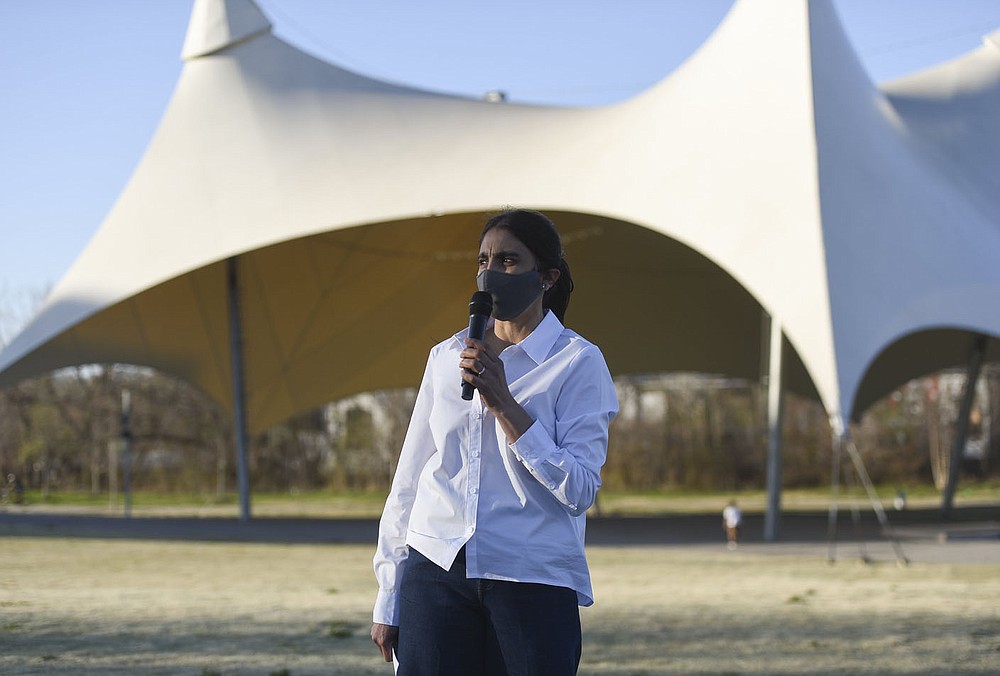 Community Organizer Monica Kumar of Bentonville speaks, Friday, March 26, 2021 at The Momentary in Bentonville. People gathered for a Stop Asian Hate vigil to stand against racism and discrimination. Check out nwaonline.com/210327Daily/ for today's photo gallery. (NWA Democrat-Gazette/Charlie Kaijo)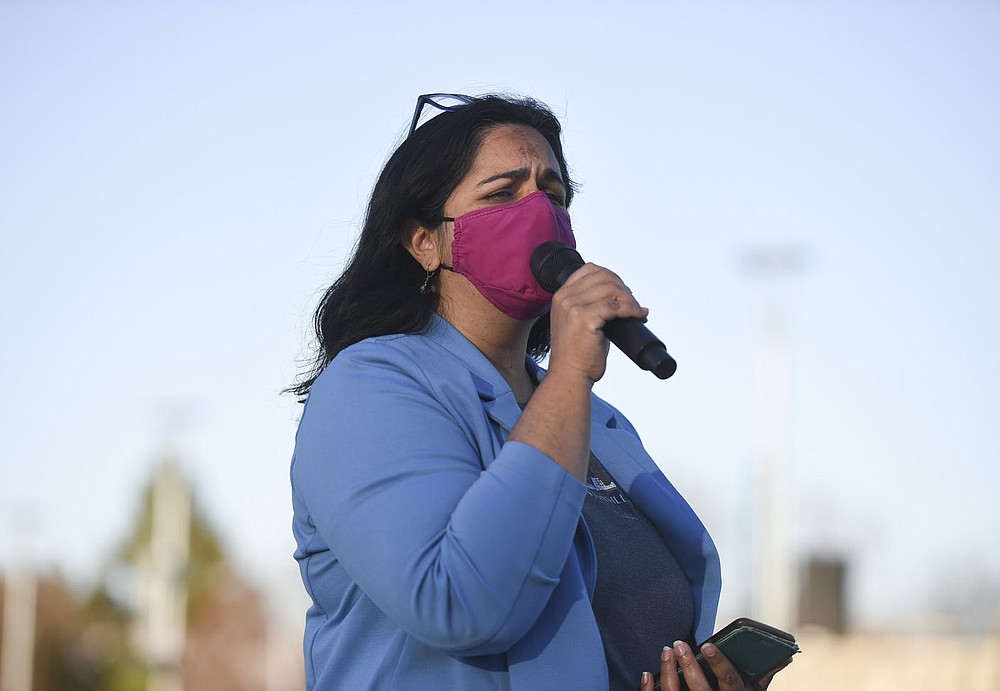 Bentonville City Council member Gayatri Agnew speaks, Friday, March 26, 2021 at The Momentary in Bentonville. People gathered for a Stop Asian Hate vigil to stand against racism and discrimination. Check out nwaonline.com/210327Daily/ for today's photo gallery. (NWA Democrat-Gazette/Charlie Kaijo)