For two nights only, you can be among the first audiences to experience the next musical sensation to take the theater world by storm. It's a show no one's even seen yet -- because the actors will make it up on the spot.
"Broadway's Next Hit Musical" blends "Whose Line Is It Anyway?" with the Tony Awards as a troupe of master improvisers creates a new, completely improvised show each night.
When audience members arrive, they are welcomed to the prestigious Phony Awards, where they are about to see performances of four Phony-nominated songs from four of Broadway's (fake) musicals this year. Each song is improvised based on a previously submitted audience suggestion, and the cast and talented piano player bring it to life in dramatic fashion. After the performances, and some fun moments with the emcee, the audience will vote on the nominees to choose the winner of the Phony Award for Best Song. In the show's second act, they'll see the winning song's whole "show."
"So, if 'Mirror' from the musical 'Bedroom' won, in the second half, we would see the musical 'Bedroom.' But the crazy part is, at some point, we have to get back and sing that song 'Mirror,' again. And that's a fun challenge for an improviser," shares Rob Schiffmann, co-artistic director and a 20-year cast member.
As a seasoned improviser, Schiffmann reveals that the process for pulling out the best material is more straightforward than people may think. Almost everyone has heard of the "yes, and" rule -- a guide to improv where the receiver of the action does not disagree with the speaker's last action, even if it contradicts his own initial vision for the scene and, instead, builds on that action. But, Schiffmann reveals, no one on stage is trying to do anything that is inherently interesting. The best scenes come from a place where each performer is just trying to do something simple and predictable.
"But what makes it fun is that we're all different people. So what's predictable to me might not be predictable to you. And suddenly, we hit these moments where we get to the unexpected simply because of our differences," he outlines.
When a performer is just starting out in improv, "yes, and" can be a difficult rule to accept -- it's hard to let go of one's expectations for the scene, Schiffmann says. Experience, and a solid trust within the group, though, will eventually change the outlook on "mistakes."
"As you keep progressing as an improviser, you start to feel joy in those moments. You start to roll up your sleeves and get excited, because those are the moments where you're going to go to a place you didn't expect."
One place Schiffmann certainly didn't expect to find himself is doing improv during a pandemic. When "Broadway's Next Hit Musical" visits the Walton Arts Center, it will be the first time the troupe has performed the show since covid shut down the theater world, and it will be their first socially distanced performance. It will be a new challenge to play off his fellows from 6 feet apart on stage, but Schiffmann feels improv may actually have a slight advantage in being able to respond to covid restrictions.
"Constraints can be real gifts to artists," he offers. "As a matter of fact, the other day, our social media director put up a post that says, 'What inspires you on stage?' And the first thing that came to my mind was constraints, because you're just forced to think outside the box. It's going to be hard to not be able to run around and hold on to each other and whatnot, but I'm up for the challenge. I really want to see what this does. All of these things are challenges, but they also have great potential."
---
The Year Ahead
As the WAC prepares to host Schiffmann and his team, staff members also remain busy looking for any and every opportunity to provide the community with arts engagement. The new In the Atrium series -- which welcomes a limited number of guests into the Walker Atrium lobby space for a live performance -- has been a welcome chance for many to ease back into live music, and the upcoming shows in Baum Walker Hall are selling well.
"For the immediate future we are focused on variety -- in the types of performances we are offering and in how they are available to patrons," reveals PR Director Jennifer Wilson. "We realize that people are at different comfort levels right now, so we are trying to offer something for everyone. Socially distanced performances in our large hall, smaller socially distanced performances in our atrium and free performance options. And the types of programming range from improv to dance to comedy to live music. If you are looking for a fun performing arts experience, we have something for you."
Here, Wilson answers a few questions for What's Up! about looking to the year ahead and the optimistic outlook of throwing the doors open to all again soon.
Q. What did you accomplish in 2020 that was way better than you hoped it would be?
A. Even in the middle of canceling and rescheduling the remainder of our season, we were able to pivot pretty quickly. We created and launched a free weekly webcast by April that continued through June featuring local artists. We transitioned two of our Mosaix Festival performances to virtual performances in April and May. And in May we started hosting blood drives with live entertainment which helped meet a community need and support artists. Then we rolled right into the launch of our P&G Ghost Light Programming with movies and small performances.
All of this happened during a time when a lot of performing arts centers went completely dark. So the fact that we were able to adjust and keep presenting, even though it was different than what we had originally planned, was a huge success. This was possible because of those Ghost Light Recovery Fund donors who supported us, which allowed us to keep the majority of our full-time staff employed. That staff just pulled together to make things happen.
And, I have to say, hosting Holidaze [pop-up bar] was one of the truly fun things we did. It was great for our staff. It was great for the hospitality workers and charities that Holidaze supports, and it was a good thing for the community overall. Hannah [Withers] and her team do an amazing job, and we were happy to come alongside them to end a really challenging year on a high note.
Q. What's your biggest goal for 2021 for the Walton Arts Center?
A. While we have learned how to do lots of new things over the last year, our biggest goal for 2021 is to be able to have a full house again. We love opening our doors to the community and introducing them to amazing performing arts experiences, and we can't wait to do that again with engaged audiences. Those shared arts experiences are things that just cannot be replaced.
Q. Are you still planning events according to WAC's typical timeline?
A. We are working on a couple of different timelines currently. For our P&G Ghost Light Programming, the smaller scale performances that we are offering until touring shows return, we work about a month out. That allows us to be a bit nimbler and more responsive in case there is a need to make changes due to health and safety concerns.
For our traditional, larger scale performances, including Broadway, we are working on finalizing shows for the 2021-22 season which would start this fall, as well as booking shows for the next season.
Q. Are there changes that came from covid that will be permanent, in some form or fashion?
A. We have learned to do things in new ways because of covid -- from creating a weekly webcast to hosting a pop-up bar. I think the ability to be creative and responsive is something that Walton Arts Center has done well in the past, but it was based on a specific way of presenting or operating. This past year we had to find ways of presenting performances and staying connected to and relevant in the community when we couldn't operate as normal. That push to be creative really was a gift and something that we hope to continue.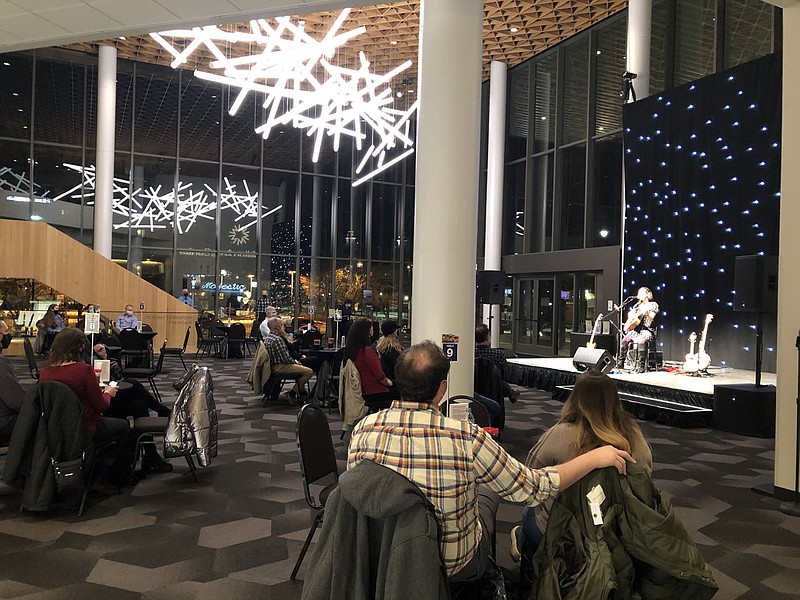 The Walton Arts Center continues to ease into performance offerings to fit all comfort levels as the programming staff looks to the year ahead. The new In the Atrium series brings music, comedy and dance lovers back into the Walker Atrium lobby space for free, live performances for limited, distanced audiences. The series will continue through the spring with a minimum of two events per week. (Courtesy Photo)
More News
FAQ
'Broadway's Next Hit Musical'
WHEN — 7 p.m. March 18 & 19
WHERE — 495 W. Dickson St. in Fayetteville
COST — $25
INFO — 443-5600, waltonartscenter.org