Sit down; let me tell you a story.
You'll hear it more than a few times during Dixie Longate's new virtual show, "Dixie's Happy Hour." Between mixing drinks, a few dances and cheeky jokes, Longate, the drag persona of comedian/actor/writer Kris Andersson, shares chaotic stories from the trailer park and her childhood, while also regaling her audience with her experiences in, and tips for, finding the little Happy Hours in life.
Stuck at home with the kids — "which is just so gross!" — Longate was forced to take a break from the road for the first time in 12 years thanks to the pandemic. Arkansas audiences might remember her from her Off-Broadway hit "Dixie's Tupperware Party," which stopped at the Walton Arts Center in 2019. All that time away from touring left Longate hoping there will even be "the-A-ters" to come back to when all this is over, so she decided to craft a show that will fund-raise for performing arts venues, hopefully bring viewers some joy and laughter, and — maybe most importantly — give her an excuse to drink!
I'll admit, going into "Dixie's Happy Hour" on its opening night streaming via the WAC, I was expecting a more booze-centric show. Don't get me wrong — Longate puts her love of "the four main food groups: rum, gin, vodka and tequila" front and center. But "Dixie's Happy Hour" is also a full one-woman stage play with Longate diving deep into rabbit holes about living with her Meemaw, buying Bedazzlers, and Donna Summers leaving her cake out in the rain.
For having a screen between myself and Longate, I appreciated the directorial effort that went into making "Dixie's Happy Hour" feel like a night out at the theater. Multiple camera angles and Longate's directly addressing the camera create the illusion that she's keeping eye contact with various audience members from the stage. And every now and then, she pops back behind the bar to toss together the next drink of the evening.
The point of the show, Longate told me in a preview interview, is that we're all drinking together. So she definitely encourages the audience to mix the cocktails alongside her, giving the performance an interactive element. Longate makes four drinks during the show: a margarita, Tom Collins, rum and Coke, and a screwdriver. The WAC has partnered with four liquor stores in Northwest Arkansas to offer a cocktail kit to-go that includes all the ingredients you'll need to follow along with Longate at home (except garnishes). My kit came from Buster's Liquor in Rogers, and after picking it up, I was even more excited about the show.
Though "Dixie's Happy Hour" is 90 minutes, making our cocktails alongside Longate left our viewers without enough time between drinks to finish them; I wasn't going to just throw them back! And, as the show is not meant to be paused, hopping over to the kitchen counter to pour a drink per Longate's instructions had me in a bit of a tizzy trying to not miss anything. My recommendation for those who want to drink along would be to mix the cocktails beforehand — maybe even on a Zoom or other virtual hangout with friends before the show — and have them ready to go when Longate announces each libation. Some of the recipes are on Longate's social media pages and other are pretty self-explanatory — like a rum and Coke! Just be wary of all the sugar you're knocking back if you attend the show on a Thursday night, like I did. There may have been one or two Advil involved in my morning routine the next day…
"Dixie's Happy Hour" may not be quite the same as experiencing Longate's chaotic energy in person — with her pulling audience members up on stage and working the crowd. But for the ticket price, the fun interactivity of mixing my own drinks alongside the performance I'm watching, and knowing that 80% of the ticket sales support the WAC (or whichever performing arts venue you purchase tickets from), "Dixie's Happy Hour" was a really fun way to spend an evening during this d*ed pandemic. And that's certainly something to be happy about.
---
FAQ
'Dixie's Happy Hour'
WHEN — March 4-7; 8 p.m. Thursday through Saturday, 3 p.m. on Sunday
WHERE — Streaming online; patrons will receive email with show link
COST — $35 per household; tickets must be purchased two hours prior to show time
INFO — 443-5600, waltonartscenter.org, dixieshappyhour.com
FYI — Listen to my preview interview with Dixie here.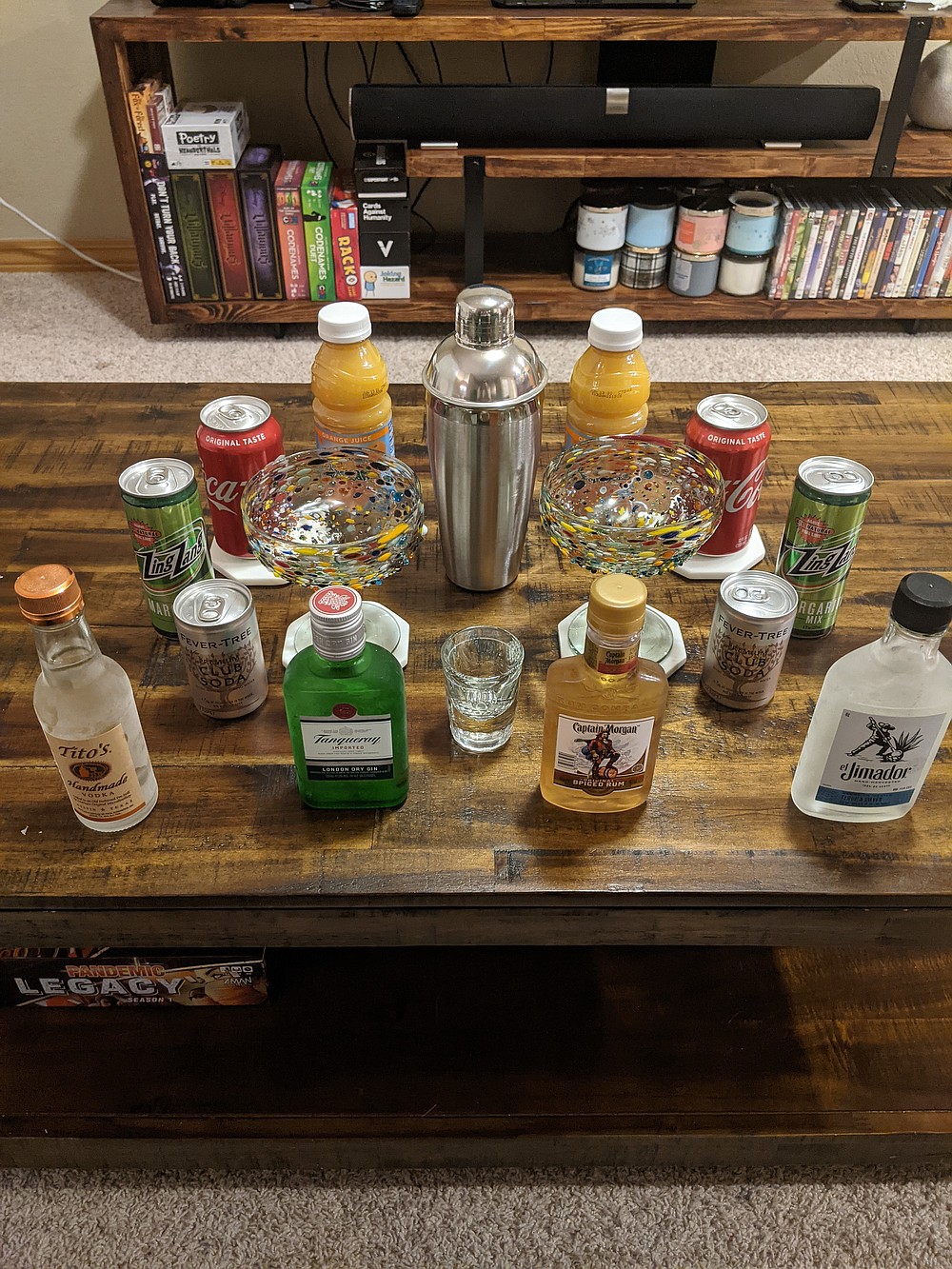 Buster's Liquor in Rogers is where my cocktail kit to-go came from. I busted out my favorite margarita glasses for the occasion and was ready to get mixing with Dixie!