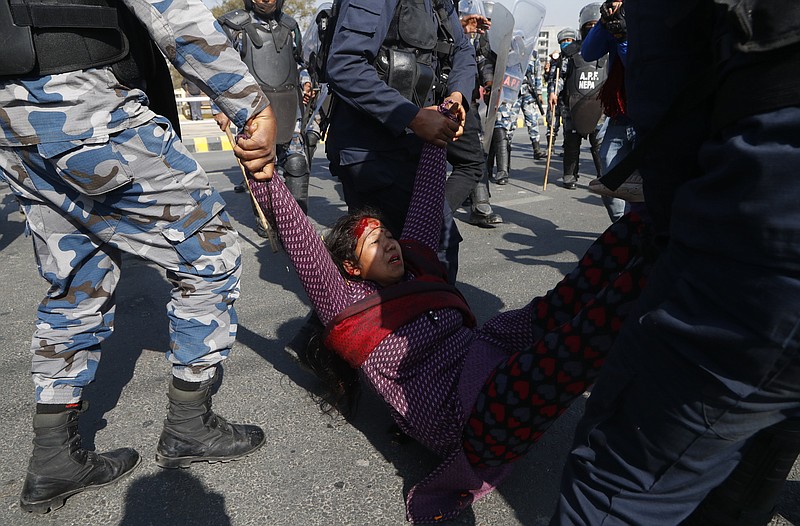 A pro-king supporter injured during clash with riot police is carried away as they march demanding reinstating monarchy that was abolished more than a decade ago in Kathmandu, Nepal, Monday, Jan.11, 2021. Monday's protest was the latest anti-government protest against Prime Minister Khadga Prasad Oli who has been facing street demonstrations against him from a splinter faction of his own Communist party and more from opposition political groups for dissolving parliament. Nepal's centuries-old monarchy was abolished in 2008 by the parliament and replaced by a republic where the president was elected as the head of state. (AP Photo/Niranjan Shrestha)
Pro-royalty protest turns violent in Nepal
KATHMANDU, Nepal -- Riot police in Nepal clashed for hours Monday with thousands of protesters demanding a return of the monarchy that was abolished more than a decade ago and the reinstatement of a Hindu state.
Police blocked the main road to the prime minister's office, using batons to beat the protesters, who responded by throwing rocks and sticks. There were no reports of serious injuries.
It was the latest in a series of protests against Prime Minister Khadga Prasad Oli's government by a variety of groups, including a faction of his governing Communist party.
The unrest, fueled by Oli's failure to honor an agreement to split his term as prime minister with the co-leader of the governing party, has increased distrust of the political system.
The protesters Monday accused the government of corruption and using force against peaceful rallies.
"King, please come back and save our country. We want the monarchy back, abolish the republic," the demonstrators chanted as they waved the country's flag.
Weeks of street protests in 2006 forced then-King Gyanendra to abandon his authoritarian rule and introduce democracy. Two years later, a newly elected parliament voted to abolish the monarchy and declared Nepal a republic with a president as head of state.
Monday's protesters also demanded that Nepal again be declared a Hindu state. Most Nepalis are Hindu, but soon after the king's rule ended, parliament also decided to turn the country into a secular state.
N. Korean leader receives higher title
SEOUL, South Korea -- North Korean leader Kim Jong Un was given the title of general secretary of the ruling Workers' Party formerly held by his late father and grandfather, state media reported Monday, in a move apparently aimed at bolstering his authority amid growing economic challenges.
The designation was North Korea's latest step taken during its first ruling party congress since 2016.
During the meeting, Kim vowed to build more sophisticated nuclear weapons, disclosed economic developmental goals and reshuffled party officials. But observers doubt whether such moves can offer North Korea any substantial solutions to difficulties that include coronavirus-related economic shocks, natural disasters and persistent U.S.-led sanctions.
The congress announced Kim's new title during the sixth day of the meeting Sunday. A congress statement said Kim "has gloriously realized the historic mission to complete the country's nuclear build-up plan," according to the official Korean Central News Agency.
Kim already was the party's top leader. During a 2016 party congress, he was named party chairman and before that had led the party with the title of first secretary. But general secretary has important symbolism in the country led by dynastic rule since it was the title held by his father, Kim Jong Il, and grandfather, Kim Il Sung.
Truck rear-ends bus; 4 Russian troops die
MOSCOW -- At least four Russian soldiers died and more than 40 were injured Monday in a traffic crash near Moscow, officials said.
The Defense Ministry said a truck driver lost control of his vehicle and rammed into a convoy of military buses on a highway just northwest of the capital. Two of the victims were killed on the spot and two others died on their way to a hospital.
Authorities said more 40 servicemen were injured, and those in grave condition were rushed to hospitals by helicopters.
Russian news reports said the convoy of buses had stopped after the leading vehicle had a malfunction, and the truck crashed into them from behind.
Pakistan starts polio vaccination drive
ISLAMABAD -- Despite a steady rise in coronavirus cases, Pakistan on Monday launched a five-day vaccination campaign against polio amid tight security, hoping to eradicate the crippling children's disease this year.
The drive is the first anti-polio campaign of 2021. The previous campaign took place in August -- during a brief decline in fatalities and infections from the coronavirus -- and included former Taliban strongholds bordering Afghanistan.
This time, polio workers will try to vaccinate 40 million children across Pakistan while following social distancing measures and other precautions, said Zulfiqar Babakhel, a spokesman for the program.
Supplementary vitamin A drops will be given to "help build general immunity," he said, adding that the polio workers will don gloves and face masks and go house-to-house.
Pakistan had hoped to eliminate polio in 2018, when only 12 cases were reported. But in the years since there has been an uptick.
Pakistan and neighboring Afghanistan are the only two remaining countries in the world where polio is endemic, after Nigeria was last year declared free of the wild polio virus.
Eradicating polio requires that more than 90% of children be immunized.
-- Compiled by Democrat-Gazette staff from wire reports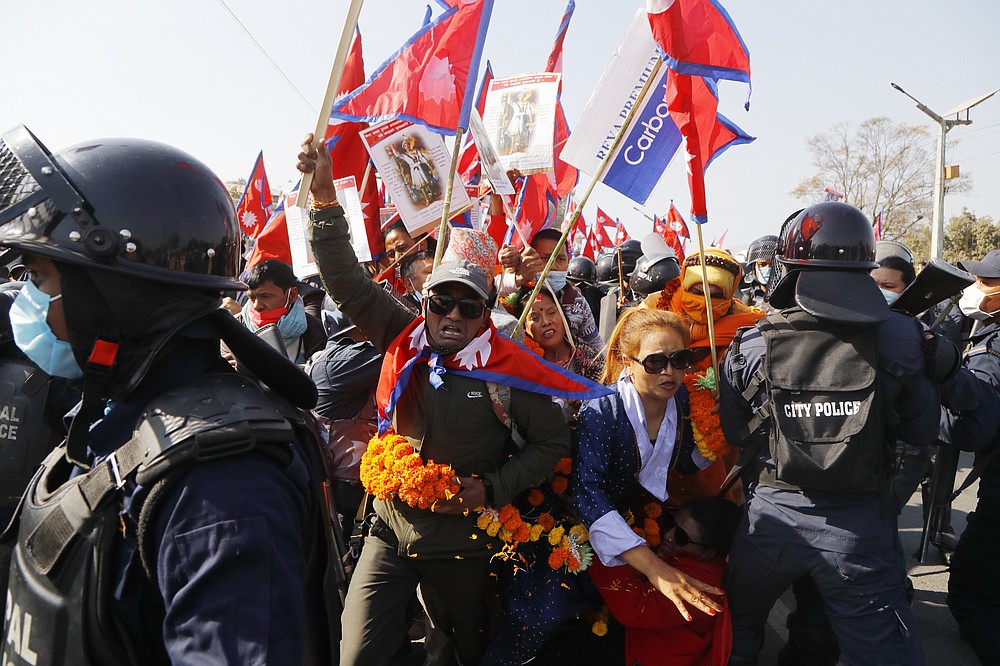 Pro-king supporters are stopped by riot police as they march demanding reinstating monarchy that was abolished more than a decade ago in Kathmandu, Nepal, Monday, Jan.11, 2021. Monday's protest was the latest anti-government protest against Prime Minister Khadga Prasad Oli who has been facing street demonstrations against him from a splinter faction of his own Communist party and more from opposition political groups for dissolving parliament. Nepal's centuries-old monarchy was abolished in 2008 by the parliament and replaced by a republic where the president was elected as the head of state. (AP Photo/Niranjan Shrestha)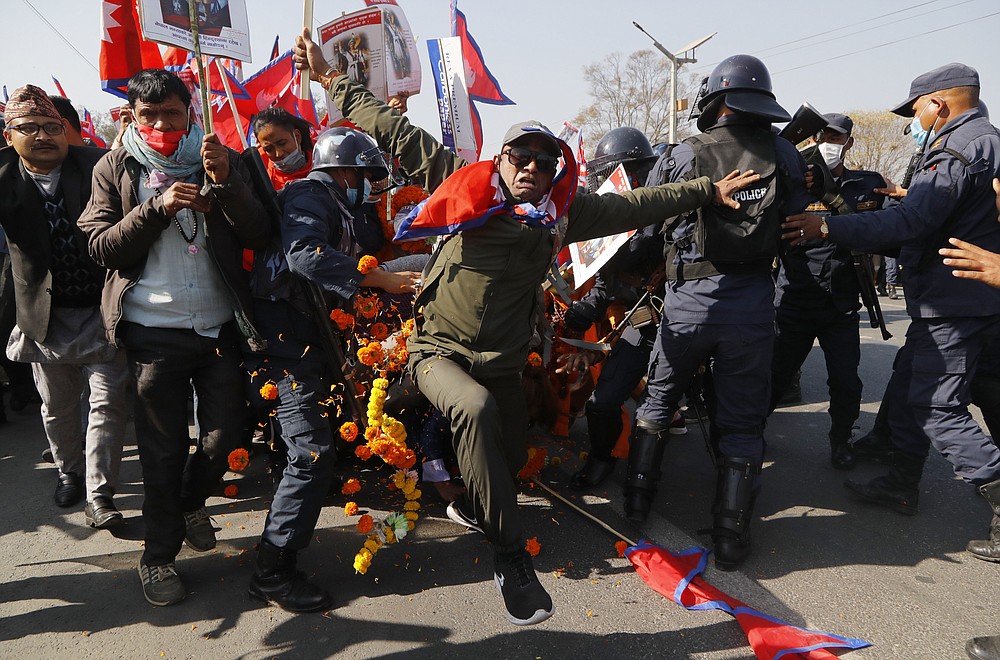 Pro-king supporters clash with riot police as they march demanding reinstating monarchy that was abolished more than a decade ago in Kathmandu, Nepal, Monday, Jan.11, 2021. Monday's protest was the latest anti-government protest against Prime Minister Khadga Prasad Oli who has been facing street demonstrations against him from a splinter faction of his own Communist party and more from opposition political groups for dissolving parliament. Nepal's centuries-old monarchy was abolished in 2008 by the parliament and replaced by a republic where the president was elected as the head of state. (AP Photo/Niranjan Shrestha)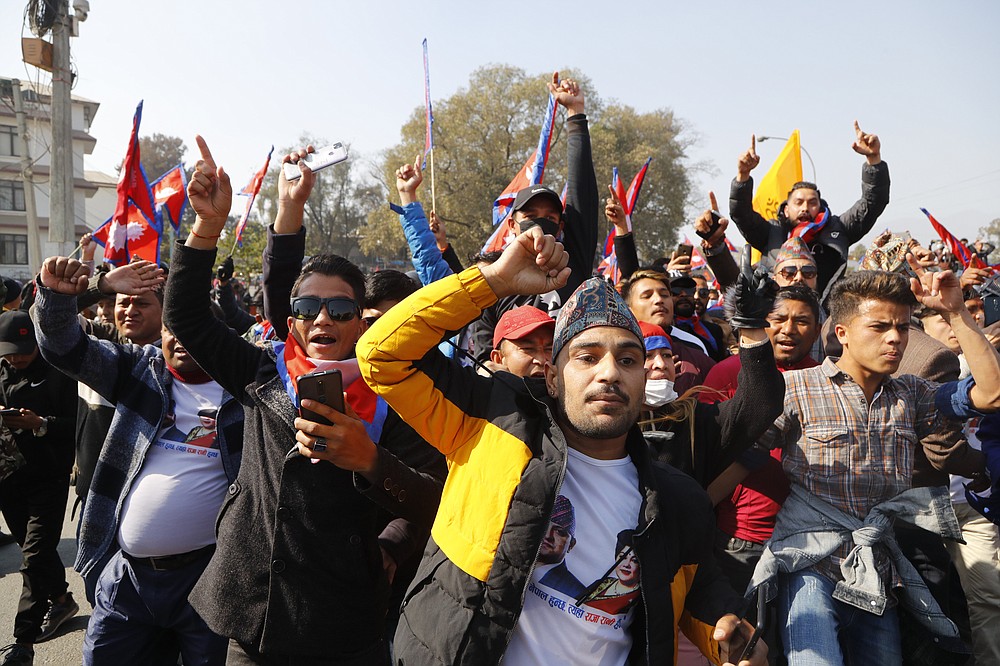 Nepalese pro-king supporters march demanding reinstating monarchy that was abolished more than a decade ago in Kathmandu, Nepal, Monday, Jan.11, 2021. Monday's protest was the latest anti-government protest against Prime Minister Khadga Prasad Oli who has been facing street demonstrations against him from a splinter faction of his own Communist party and more from opposition political groups for dissolving parliament. Nepal's centuries-old monarchy was abolished in 2008 by the parliament and replaced by a republic where the president was elected as the head of state. (AP Photo/Niranjan Shrestha)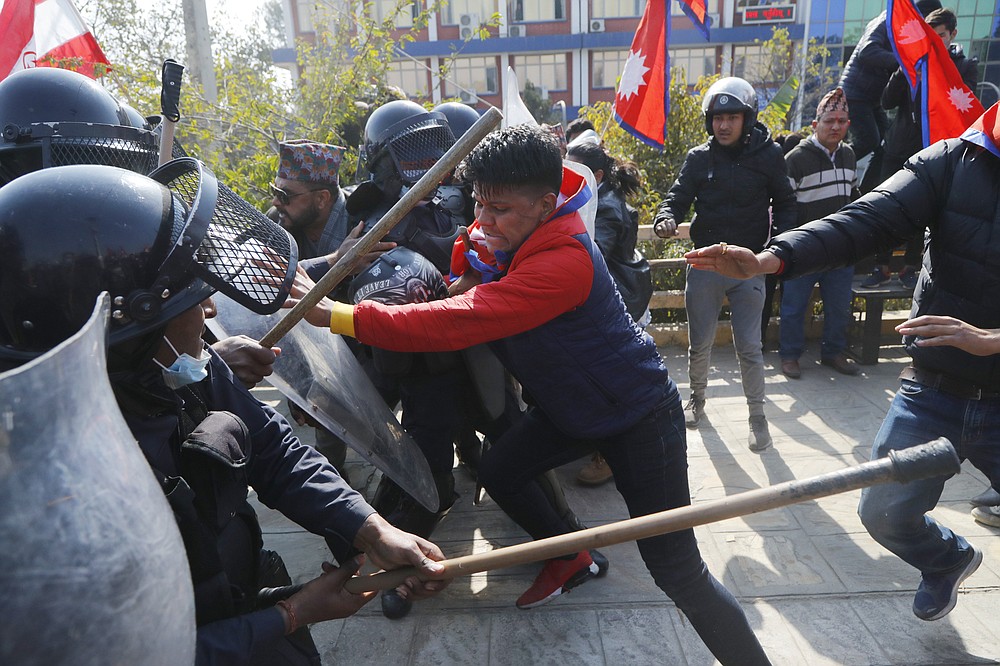 Pro-king supporters clash with riot police as they march demanding reinstating monarchy that was abolished more than a decade ago in Kathmandu, Nepal, Monday, Jan.11, 2021. Monday's protest was the latest anti-government protest against Prime Minister Khadga Prasad Oli who has been facing street demonstrations against him from a splinter faction of his own Communist party and more from opposition political groups for dissolving parliament. Nepal's centuries-old monarchy was abolished in 2008 by the parliament and replaced by a republic where the president was elected as the head of state. (AP Photo/Niranjan Shrestha)
Sponsor Content
Comments