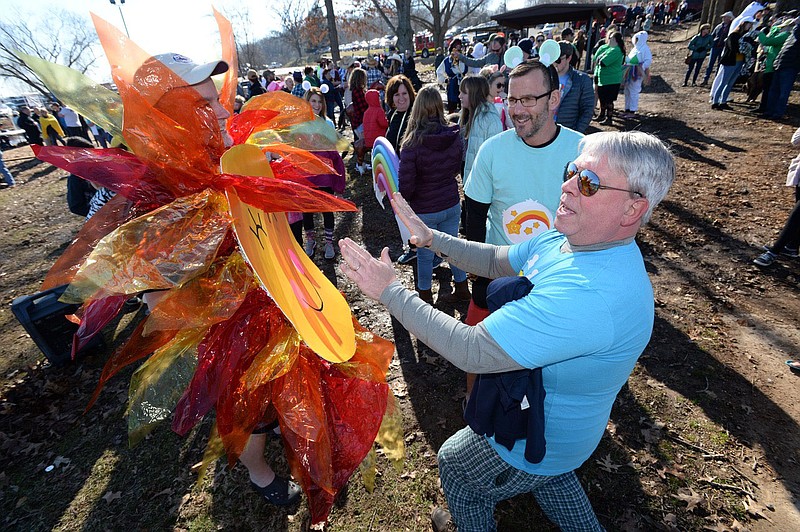 Drew Osborn (right) laughs Saturday, Feb. 8, 2020, as he warms his hands from John Schroeder's sun costume as he and other representatives from Elm Tree Elementary School in Bentonville prepare to take part in the 21st annual Beaver Lake Polar Plunge at Prairie Creek Swimming Area in Rogers. Teams and individuals dove into the 42-degree water to support Special Olympics Arkansas. Visit nwaonline.com/200209Daily/ for today's photo gallery. (NWA Democrat-Gazette/Andy Shupe)
The 2021 Beaver Lake Polar Plunge for Special Olympics Arkansas is set for Feb. 13 at the Prairie Creek Swim Area in Rogers.
Organizers say the Plunge "is a major fundraiser for our program. We offer 24 polar plunges across the state from January through March; however, the Beaver Lake Polar Plunge is the largest in the state and typically hosts more than 150 polar plungers who raise funds and awareness for our program."
The group has put in place a covid-19 safety plan that includes mask requirements for all spectators and volunteers, with "plungers" wearing masks until plunge time; social distancing and safety reminder signage; assigned team plunge times, with no more than 50 assigned per time; and hand sanitizer at each registration station.
Those not ready to attend the in-person plunge may participate virtually. The group says participants may decide how they want to "Experience the Thrill of the Chill." Suggestions include, "Let someone hose you down; take an ice cold shower or bath; water balloon fight (team activity); or run through a sprinkler. Virtual plungers are asked to capture their plunges with up to 60 seconds of video (recorded horizontally) or take a few photos."
The mission of Special Olympics Arkansas is to provide year-round sports training and athletic competition in a variety of Olympic-type sports for all children and adults with intellectual disabilities, giving them continuing opportunities to develop physical fitness, demonstrate courage, experience joy and participate in a sharing of gifts, skills and friendship with their families, other Special Olympics athletes and the community.
The nonprofit organization offers "sports training and competition opportunities free of charge to our athletes. Locally, we offer bowling, basketball, volleyball, floor hockey, aquatics, powerlifting, track and field and bocce competitions. Through these local competitions, our athletes have the opportunity to advance to our state tournaments. We also offer health screenings through our Healthy Athletes program and opportunities for our athletes to speak to organizations about our program by their involvement in our Athlete Leadership program."
Special Olympics Arkansas is divided into 17 areas covering every county throughout the state. Northwest Arkansas is considered Area 3 and covers Benton, Washington and Madison counties.
-- CARIN SCHOPPMEYER
More News
Beaver Lake Polar Plunge
Who: Special Olympics Arkansas
What: Cold-water dive, virtual plunge, prizes, costumes
When: Registration 10 a.m. Feb. 13
Where: Beaver Lake Prairie Creek Swim Area in Rogers
Attire: Costumes encouraged
Information: (479) 366-3216 or [email protected]
Sponsor Content
Comments