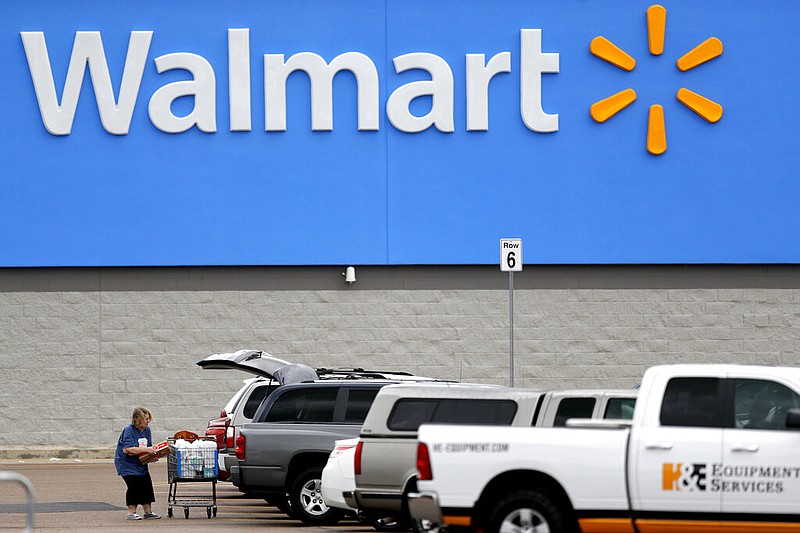 FILE - In this March 31, 2020 file photo, a woman pulls groceries from a cart to her vehicle outside of a Walmart store in Pearl, Miss. (AP Photo/Julio Cortez, File)
Walmart Inc. is ending stores' one-way aisle restriction that it implemented as a safety measure to help prevent the spread of covid-19, a Walmart spokesman said Wednesday.
Many of the Bentonville-based retailer's stores already allow two-way traffic, and the rest have until Oct. 1 to do so, Walmart spokesman Kory Lundberg said.
Customers have generally taken safety guidelines seriously by wearing masks and practicing social distancing, Lundberg said. This has allowed Walmart to ease some measures, including opening a second store entrance as well as lifting the one-way shopping restriction.
"For the foreseeable future, we will continue with most of the measures currently in place, such as requiring masks; enhanced cleaning routines, including spraying carts after use; plastic shields at our registers; and doubling the number of health ambassadors to staff both entrances," Lundberg said. Walmart also will continue to follow all local and state government mandates.
"The health and safety of our associates, customers and communities will continue to guide all our decisions," Lundberg said.
Sponsor Content
Comments