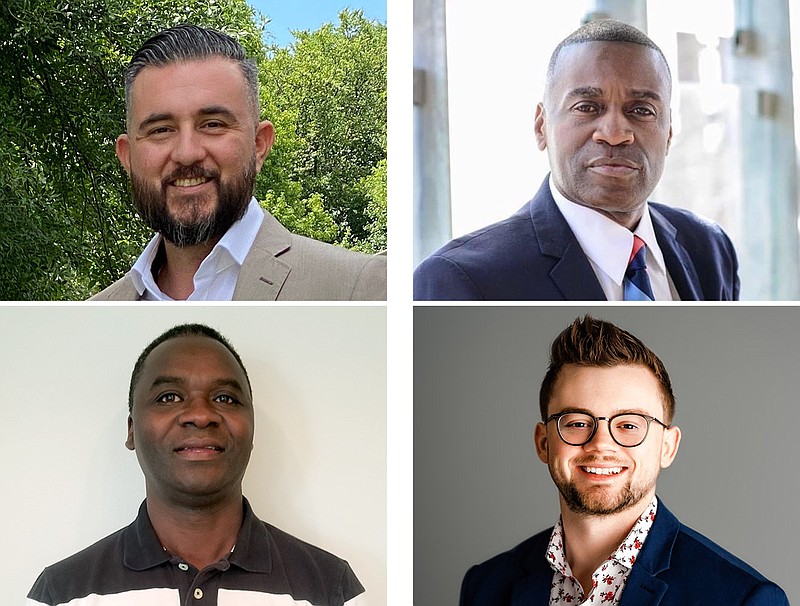 Pedro Fimbres Jr. (top left), D'Andre Jones, Oroo Oyioka (bottom left) and Tanner Pettigrew filed to represent Ward 1.
FAYETTEVILLE — Four candidates are seeking the open seat on the City Council to represent the south part of town.
Pedro Fimbres Jr., D'Andre Jones, Oroo Oyioka and Tanner Pettigrew are seeking the Ward 1 Position 2 seat. Sarah Marsh didn't run for reelection.
Ward 1 covers most of the southern half of the city, including 15th Street, South School Avenue, Huntsville Road and Martin Luther King Jr. Boulevard.
Boulevard. Walker Park, Lake Sequoyah, Kessler Mountain Regional Park, Fayetteville High School and Ramay Junior High all are in Ward 1.
Council members earn $1,042 per month and serve four-year terms. The positions are nonpartisan.
The election is Nov. 3. A candidate in a municipal election with more than two challengers can win outright with a majority, which is 50% plus one vote. Or, a candidate can win with 40% of the vote by being ahead of the second-closest candidate by 20%.
Otherwise, a runoff between the top two vote-getters will be Dec. 1.
The Northwest Arkansas Democrat-Gazette emailed the same questions to the candidates. Their responses are below.
QUESTION: What does affordable housing mean to you and how do we achieve it?
Fimbres: Typically, the criteria for a home value relies on the quality of the school district, employment opportunities and proximity to the shopping, entertainment and recreation centers. When taking this into account, the infrastructure of new housing developments that exceed city boundaries usually do not meet these home value criteria. Therefore, it makes the value of these homes more affordable. Because home values have certain criteria, by creating an excessive supply of subdivision units within the city limits, and the collaborative effort between key players (bankers, law firms, consultants, developers and local government), the excessive supply can contrast and lower the average cost of homes within the city limits, and it's a win-win for a homeowner and local business. For the city of Fayetteville, building an excessive amount of subdivision units for college students in the city limits has taken priority in recent years. Once the infrastructure requirement for student housing is met, subdivision infrastructure within the borders of city limits should be looked at for the everyday citizen looking to be a homeowner or renter. As a City Council member, zoning policies should be revisited with the intent to be viewed from a future standpoint for the sake of development of our city.
Jones: Affordable housing means that Fayetteville's low-income residents are able to spend 30% or less of their monthly income on their housing. Or, even better, their housing plus transportation expenses (most households' two largest expenses) total no more than 45% of their monthly income. This result would be that families in Fayetteville are more financially stable and resilient. Ensuring affordable housing is a big part of community development, making sure longtime residents, low-income residents and many people who live on fixed incomes can continue to live in Fayetteville even as many others move in. Oyioka: It is no surprise Ward 1 finds itself at the center of the issue of the affordable housing crisis. We are in close proximity to the university and walking distance to downtown. So the prices of real estate and older homes have doubled over the years. With the developers moving in and homeowners cashing in, it has become unstoppable to stop gentrification, which has pushed prices of newer homes and apartments through the roof. I'm a proponent of affordable housing and keeping communities together.
Pettigrew: Practically speaking, it means that someone who wants to live in Fayetteville can afford to live here, but the official definition from the U.S. Department of Housing and Urban Development describes a dwelling that can be obtained for 30% or less of a household's income. The average price of a home in Fayetteville is $248,500 and the average two-bedroom rents for $807. With those averages, it is far too common that even those making above minimum wage have difficulty finding safe and affordable housing in Fayetteville. For the minimum wage worker, it is practically impossible.
Two factors are at play: housing prices and wages. As a City Council member, I want to help clear the path for both increased wages and more affordable housing.
QUESTION: What are some ways you want to usher the development of affordable housing in the city?
Jones: Expand the city's Hearth program to address supportive housing needs for those who experience longterm homelessness and have disabling conditions; explore direct general fund expenditures supporting supportive/ affordable housing projects in partnership with social housing partners; explore a municipal housing trust fund (or participation in a regional housing trust fund) to aid with financing affordable housing projects; explore inclusionary zoning (requiring a percentage of units in certain zoned areas be set aside for low-income tenants); support zoning changes which allow for increased density, especially in areas of town that are already centers of employment; support affordable build options in the city's preapproved development book to incentivize affordable units (coming online soon?); identify opportunities for partnership in line with the regional affordable housing report issued a year or so ago, such as public properties that could be leveraged for social housing partnerships; expand public transit, especially in service to low-income neighborhoods to reduce the housing and transportation cost for families.
Oyioka: I will work hard with the mayor, other council members and city planners to promote affordable housing zones. I propose this in the properties south of 15th Street or toward Greenland. I'm aware Ward 1 residents have concerns about some facilities such as the Arkansas and Research Technology Park displacing some of our residents. I had the opportunity to tour the facility, and I would say its presence in Ward 1 is an economic boost to our ward. However, any facilities, including ARTP, have to cooperate with local residents to maximize the benefits to our community. I would propose the facilities replace any home torn down with an affordable home in a specified "displacement zone.
Pettigrew: We obtain more affordable housing by increasing supply, proper zoning and through partnerships with the private sector.
People will be moving to Fayetteville for years to come. We just don't have enough units. Housing prices will continue to rise due to demand unless we build more. However, there is a trade-off and some tough choices we have to face. If we increase the housing supply, we must increase density. It is understandable to want to preserve the Fayetteville we know and love, but we have to do that in ways other than preventing responsible growth.
Often a change in zoning can open the door to more affordable housing opportunities. It is evident from conversations I have had with residents of Fayetteville that there may be some misunderstandings about the different types of zonings which make some hesitant to support a rezone in their neighborhood. Community involvement and broader discussions of the ways zoning can be used to allow for more affordable units that mesh with the existing neighborhood growth are key.
Since my background is in homebuilding, I see even more opportunities to work with private developers to determine what can be done as a city to help keep their costs down to provide lower-priced options for Fayetteville residents. This is not a magic fix but it could be a helpful tool.
Fimbres: Affordable housing must be looked at as a collaborative team effort between local governments, businesses and other functions that play vital roles in helping individuals purchase or rent homes. By conducting surveys that gauge an individual's tax bracket, it may help present viable solutions for where a citizen can live within the city limits, especially if an excess amount of new subdivision infrastructures are built with the intent to exceed the high demand of individuals looking for affordable homes. Another viable option is by allocating an annual budget for the Habitat for Humanity program to utilize funds for purchasing land to develop homes within the city of Fayetteville limits. This program specializes in giving citizens an opportunity to own a home by contributing with volunteer efforts and conducting labor work to build their own homes.
QUESTION: The city already has a program to house people and gives money to 7 Hills Homeless Center every year. What new ideas do you have to combat homelessness in the city?
Oyioka: I don't know if our residents know Fayetteville is one of the few cities that have the honor of having a world recognition as a compassionate city (Compassion Fayetteville), and we are at the top of the chart. Because we are a welcoming city, it is no surprise homelessness is more evident in our city more than our neighbors such as Springdale and Rogers. I will work hard to facilitate and encourage private entities' partnership to rehabilitate homeless individuals to prepare them to return to the job market. Most of the homeless individuals are our veterans, and we should be responsive to their predicament.
Pettigrew: The Fayetteville Housing Authority is moving us toward the goal of ending homelessness with things such as the purchase of the old Hi-Way Inn and with the proposal to build more housing at Hillcrest Towers. However, it will take more than this to weather the specific housing crisis we face due to the pandemic. The public and private sectors must work together to help people who are in homes to stay in those homes through this pandemic. It is both a public health and a human rights issue.
For our neighbors who are unsheltered, 7 Hills is crucial. We need more cities in our region to follow our lead in supporting this type of resource. Innovation and noting what has worked elsewhere are the keys to making smart investments that will pay off long term for the overall health of Northwest Arkansas. Things like tiny house villages, Community Development Block Grants and a wider understanding that we have to come at this from all fronts will help. Wages, housing prices, health care and public transit are all included in the broad range of issues we have to consider as we move toward the goal of ending homelessness.
Fimbres: Combating the homelessness in the city should be looked at from the perspective of reintegrating the homeless back into society. It is a collective effort between local businesses and volunteer services (pro-bono services or contracting a wide array of local doctors, practitioners and young medical interns seeking to complete required hours), in addition to having routine vetting programs (drug screenings, wellness checkups, etc.). Conducting initial medical screenings will be essential for homeless personnel to dictate whether they are fit for duty. By coordinating new programs with local businesses or individuals in the community, it is possible to incentivize these programs with possible tax breaks, public recognition and/or endorsements, compensation, etc., who have an interest to give back to the community. This incentivized program will help the city of Fayetteville provide a larger workforce of medical personnel dedicated to providing a solution by assisting and aiding the homeless population in Fayetteville.
Jones: The city's Housing and Urban Development-funded programs are great and the direct expenditure to support 7 Hills Walker Family Residential Community is needed. These efforts need to be scaled to the size of the homelessness problem. A new set of strategies needs to target the development of social or affordable housing to respond to the affordable housing crisis we (nationally) are facing. Both of these will cost money. The city's budget should reflect this priority for ensuring all residents exit homeless and housing and transportation costs are sustainable. Housing is a foundation for health, mental health and economic thriving. We need to see budget commitments expressing the view that housing policy is part of the public safety conversation and the economic vitality conversation. If budget reallocations are necessary to realize this vision, they must be seriously considered. I am open to new ideas; however, we need the political will to combat homelessness.
QUESTION: What would be your No. 1 priority as a City Council member?
Pettigrew: My No. 1 priority will be affordable housing. It's too big of an issue to ignore or treat without the proper urgency. Because affordable housing fuels both economic growth and healthy neighborhoods, I will consider how each matter facing the City Council will affect the goal of providing more affordable housing. It is a goal that will only be accomplished with cooperation from every ward in Fayetteville, so that some parts of town are not absorbing too much of the growth in a way that overloads resources and limits opportunity. We need strong, healthy and affordable neighborhoods throughout Fayetteville that are walkable and close to amenities such as schools, grocery stores and jobs.
Fimbres: As a small business owner who is running for City Council, many of our policies that are made in local government affect small business owners who operate within the city of Fayetteville. These owners are essential in providing employment and help with the growth and development of infrastructures within our city. It is only fair that the city of Fayetteville is invested in passing a policy that returns the favor and allows these small business owners who reside outside of the city limits to participate in local policies, regulations, voting, etc. Each decision that my fellow colleagues and I make as councilmen will affect the entire city of Fayetteville. The current voting system dictates and limits how residents are only allowed to vote for council members according to geographic area. These limitations don't give residents in certain regions the opportunity to vote for elected positions. A new policy needs to reflect this change as we are representing all wards in our community, not just one ward.
Jones: Quality housing is a right of all people and is the foundation of Ward 1 residents. My No. 1 priority will be advocating for accessible and affordable housing. Equity, compassion, respect and acceptance of all others regardless of their background and collaborating with others to solve problems were instilled in me by my mother, grandparents and teachers. Those values were reinforced during many years of mental health awareness and advocacy and by the almost decade I spent tirelessly advocating for my neighbors. I believe now is the right time to put my passion and experience to work for you as your city councilman.
Oyioka: Besides affordable housing, my other priority will be to work to promote locally owned restaurants south of School Avenue. I call it the South Fayetteville restaurants (SOFA) zone. Priority will be given to locals, but any other individuals can own the business. This will give a boost to minorities in the ward and jumpstart the already deserted areas south of 15th Street, including the old IGA building. We also need to partner with Arkansas Research and Technology Park to provide a facility and encourage partnership with a technical institute to offer a one- to two-year year certificate in computer programming to our high school graduates who don't have the privilege of attending a four-year program.
Candidate Bios
Pedro Fimbres Jr.
• Age: 39.
• Residency: Fayetteville, 10 years.
• Employment: Owner and operator of A&P Concrete and Pools and Arkansas Concrete Pumping.
• Education: Attended high school.
• Political experience: None.
D'Andre Jones
• Age: 47.
• Residency: Fayetteville, 14 years.
• Employment: Provisionally licensed social worker.
• Education: Master's degree in social work, Arizona State University; master's degree in management and leadership, Webster University; bachelor of science in education, University of Arkansas, Fayetteville.
• Political experience: Joiner (Mississippi County) City Council, 2001-2005; unsuccessful bid for Fayetteville City Council in 2014.
Oroo Oyioka
• Age: 50.
• Residency: Fayetteville, 21 years.
• Employment: Occupational therapist at Fayetteville Health and Rehabilitation.
• Education: Master's degree in occupational therapy, University of Indianapolis; bachelor in occupational therapy, Nairobi, Kenya.
• Political experience: None.
Tanner Pettigrew
• Age: 27.
• Residency: Fayetteville, four years.
• Employment: Area sales manager and executive broker for Rausch-Coleman Homes.
• Education: Bachelor of business administration, Arkansas State University.
• Political experience: None.
Print Headline: Four hope to represent south Fayetteville on council
Sponsor Content
Comments