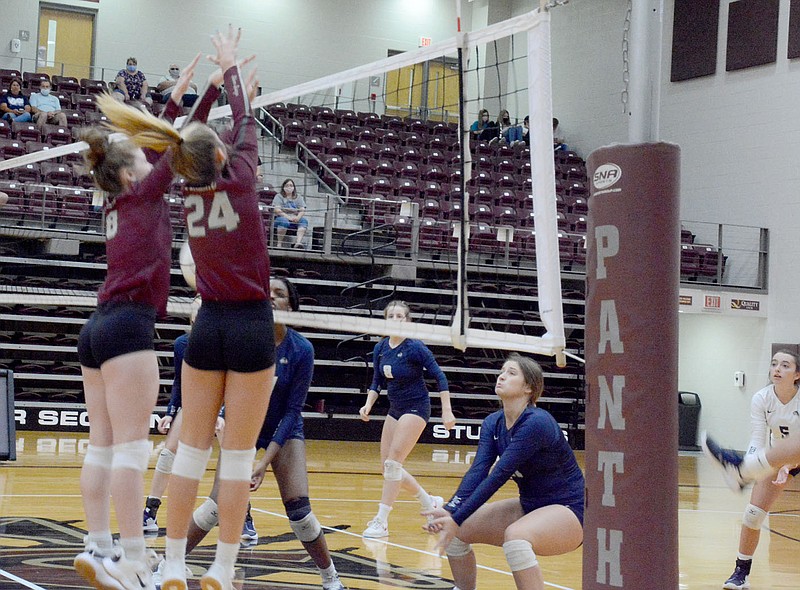 Graham Thomas/Siloam Sunday Siloam Springs volleyball players Emma Norberg, No. 8, and Cailee Johnson go up for a block at the net against Bentonville West on Tuesday in the Lady Panthers' season opener at Panther Activity Center. West won the match 3-0.
Bentonville West's nonconference volleyball match against Greenwood was canceled Monday afternoon following the announcement of a positive test for covid-19, athletic director Scott Passmore said.
"While we always hope to maintain our competition schedules, we opted to postpone (Monday's) game in the interest of safety," school communications director Leslee Wright said in a statement. "As long as we remain in the midst of a global pandemic, we'll continue to take these time outs, as needed, to ensure the well-being of our students and families."
Passmore said the school district was in the process of contact tracing Monday afternoon, and the match against Greenwood is the only one affected at this time. The Lady Wolverines are scheduled to play in 6A-West Conference action tonight at Springdale Har-Ber and Thursday at Rogers Heritage.
---
The Rogers High varsity and junior varsity volleyball team practices have been shut down after a player tested positive for covid-19, Rogers Public Schools athletic director Keith Kilgore said.
The Lady Mounties (5-2, 1-2 6A-West) were scheduled to host Springdale High on Tuesday and play at Bentonville on Thursday in 6A-West Conference play. Rogers is also scheduled to host Springdale Har-Ber and travel to Rogers Heritage next week. The four conference matches scheduled for this week and next will be considered no contest, but the nonconference match scheduled for Monday against Huntsville will be rescheduled, Kilgore said. "I've contacted the AAA," Kilgore said. "We will shut down practice for two weeks and err on the side of caution and hope to be back the week of the 28th."
The Rogers freshman volleyball team was not affected and will continue play as scheduled.
Sponsor Content
Comments