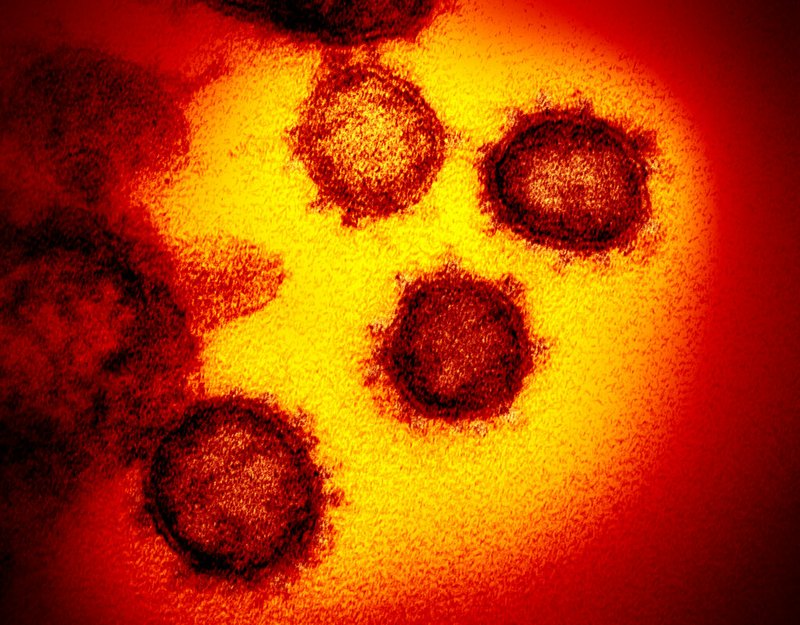 FILE - This undated electron microscope image made available by the U.S. National Institutes of Health in February 2020 shows the Novel Coronavirus SARS-CoV-2. Also known as 2019-nCoV, the virus causes COVID-19. - Photo by NIAID-RML via AP
SPRINGDALE -- A lack of timely covid-19 warnings and information disseminated only in English hampered the state's covid-19 response in Northwest Arkansas, candidates in the region's contested legislative races agree.
Most candidates from both parties also pointed to deeper issues between the government and racial and ethnic minorities in the region.
The candidates gave their opinions in response to a questionnaire from the Northwest Arkansas Democrat-Gazette. The candidates are all on the Nov. 3 general election ballot and are seeking to represent districts that include at least some part of Benton or Washington counties.
All but three of the 26 candidates participated.
A question on the pandemic and the region's minority communities says: "Racial and ethnic minorities have been harder hit by the health and economic effects of the covid-19 pandemic than the population at large. In Northwest Arkansas, that's particularly true of the Hispanic and Marshallese communities, who make up a large percentage of covid-19 deaths in the region, even though they make up a smaller portion of the population. Why did this occur and what should be done to correct the imbalance?"
Pacific Islanders such as the Marshallese make up 4% of all the state's covid-19 cases, according to Arkansas Health Department. Yet this group makes up about 0.4% of the state's population, according to U.S. Census Bureau figures. Hispanic Arkansans account for 21% of the cases and 7% of the population. Similarly, Black Arkansans account for 24% of cases and 15% of the population.
In Washington County, Hispanics make up 17% of the population, according to census figures. State Health Department figures released Friday show 38% of covid cases recorded in the county are Hispanics living there.
Pacific Islanders, a category that includes Marshallese, make up less than 3% of Washington County's population, but almost 19% of the county's covid cases as of Friday. Similar figures for Benton County weren't available.
Both candidates in the District 80 state House race accounted for the disparity by pointing to what Republican incumbent Charlene Fite described as a "a plethora of reasons, such as jobs and social structures."
Fite said she supported a $7 million grant to the Northwest Arkansas Council to pay for contract tracing for workers who speak languages other than English. The council is a group of regional business, political and academic leaders who put together a proposal to serve the medical needs of Marshallese and Hispanic Arkansans. A legislative committee approved the money.
Democrat Lou Reed Sharp, Fite's challenger, is a retired nurse who's founded and run health care companies in Northwest Arkansas.
"Poverty, poor implementation of covid-19 testing and lack of communication from the state have caused the Hispanic and Marshallese communities to be the hardest hit by covid-19," Sharp wrote. "The virus is airborne and quickly spreads through work spaces and households. The Hispanic and Marshallese communities make up a large percentage of our low-wage essential workers. Low wages lead to unaffordable health care."
Sharp said policies in place for low-wage, essential workers force them to either take a covid-19 test and go on unpaid leave while waiting for the results or risk going to work and spreading the virus.
House District 85 incumbent David Whitaker, a Democrat, said the state wasn't prepared for the pandemic, but lawmakers worked together to correct the problems as they were revealed.
"My colleagues and I in the Legislature fought hard to get expanded aid to these communities that are disproportionately impacted by the covid crisis," Whitaker wrote.
"Why them? These communities have a disproportionate number of their members working in poultry processing plants, where the virus spread rapidly. Compounding the problem, the state was not prepared to communicate lifesaving public health information in Spanish and Marshallese until some of my colleagues worked to fund those efforts."
Republican incumbent Sen. Jim Hendren, who represents Senate District 2, agreed the state was caught in a frantic posture of catch-up after the pandemic hit minority groups.
"It occurred because the state did a poor job of realizing the challenges of communicating, testing and tracing people in these communities," Hendren said. A team from the federal Centers for Disease Control and Prevention cited these problems and others.
"It's hard to follow the Department of Health guidelines if they're not in a language you understand," said Rep. Nicole Clowney, D-Fayetteville and the incumbent in House District 86.
"It's hard to social distance when your survival depends upon your carpooling, often with many others, to a job where you are working in close proximity all day," Clowney said. "It's hard to know how and where to get a test if you don't have health insurance or if being tested will impact your ability to continue to work and provide for your family. And if you are undocumented, asking for help -- even just to protect your and your family's health -- becomes even harder. Finally, minority communities are more prone to underlying health disparities due to inequities in our systems, several of which heighten the risk of serious complications from covid-19."
Clowney's challenger, Republican John LaTour, said he wasn't a health care professional, but the lack of relevant material was an obvious problem.
"I support education and training for every people group in language they understand, so that we can minimize the adverse effects on minority groups and non-minority groups," he wrote.
Republican Delia Haak is running to replace state Rep. Dan Douglas, R-Bentonville, who didn't seek reelection in House District 91. She cautioned against drawing conclusions prematurely.
"Research is still inconclusive as to why this coronavirus has had a greater impact among populations by age and ethnicity," Haak said. "Actions to address any disparities among vulnerable populations must be based on emerging science on this aggressive virus."
Democrat Jene Huffman-Gilreath of Rogers, who is running in House District 94, faulted the state for not learning from the weeks of covid-19 outbreaks in others states before the disease reached Arkansas. The disease hit minorities and essential workers first and hardest wherever it appeared, she said.
Her Republican opponent, Jon Carr, said he wasn't prepared to speak on the reasons for the severity of the outbreak because he doesn't have a medical background.
Republican candidate Josh Bryant of Rogers cited how Marshallese and Hispanics in Northwest Arkansas live in tight-knit communities, which he said helped the disease spread.
"Additionally, the delay of available and accurate testing was a contributing factor to the infection rates," he said.
Bryant's opponent in House District 96, Democrat Jon Comstock, blamed a lack of health care for minorities.
"It occurred as a result of the disparity that already exists in the access to health care that these communities don't have," Comstock said. "I do believe it is symptomatic of more serious issues involving implicit discrimination against these groups."
More News
Editor's note
The Northwest Arkansas Democrat-Gazette sent a questionnaire to the 26 legislative candidates in our region in contested races. A questionnaire was chosen because of the ongoing covid-19 pandemic. Restrictions on gatherings curtail the usual sources of information to voters such as debates, forums and "meet the candidate" events.
This is the second of six stories on their answers.
Sponsor Content
Comments