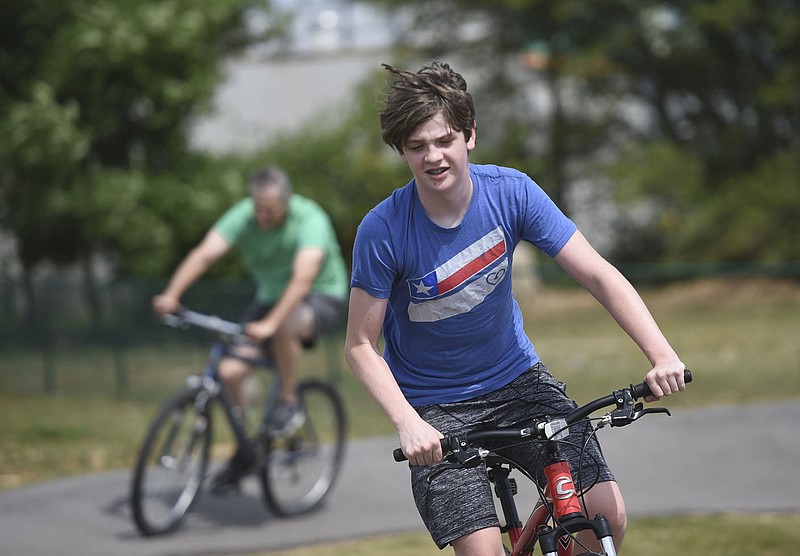 Carson Butler of Springdale (from right) and his dad Gary Butler ride, Sunday, June 21, 2020 at the Runway Bike Park in Springdale. Gary Butler and his son Carson continued their father's day celebration with a ride through the pump tracks. "We drive out here a lot, and I thought we need to do this sometime," he said of the track. Check out nwaonline.com/200622Daily/ for today's photo gallery. (NWA Democrat-Gazette/Charlie Kaijo)
Jill Dabbs, executive director of Downtown Springdale, laughs when she says she's over 40 and mountain bikes every week.
"It's like skiing," she says. "I stay on the easy hills!"
But Dabbs is a perfect example of the bicycling culture that has permeated Northwest Arkansas. She started riding several years ago as a way to rehab after two bouts of pneumonia and later discovered the scenery that can be seen only from a mountain bike. Now she wants people to know there are great rides in Springdale -- and there's an event this month she hopes will help spread the word.
Ride Springdale, a cooperative effort with the Springdale Bike Club, invites cyclists of all persuasions, ages and levels of expertise to learn about the best rides in town. All you have to do, Dabbs explains, is register; download Strava or another GPS ride tracker and track yourself completing Ride Springdale routes; and share your ride on Facebook or Instagram with the #RideSpringdale hash tag. Cyclists get a "swag bag" -- to be collected after the event ends Sept. 30 -- and each completed route gives riders a chance to win prizes donated by Lewis & Clark Outfitters and Arkansas-Missouri Railroad.
More important to Dabbs are bragging rights. Springdale already has bicycle amenities she thinks are less well known than those in other communities in the region, and there are more on the way. So she wants to set the stage for the future.
Among the suggested routes are those under 3 miles, like the Jones Center to Turnbow Park and Murphy Park to Luther George Park; 2-10 mile paved rides, including Lake Springdale to Turnbow Park and Lake Fayetteville to Turnbow Park; 15-plus mile rides, including a Square-2-Square half route from downtown Bentonville to downtown Springdale, a 20-mile route that begins and ends downtown and a 40-mile road trip that also begins and ends downtown; or bikers can go off road at Mount Fitzgerald for rides designated both intermediate and difficult.
"There are simple rides around downtown, easy but beautiful rides north and south, plus great mountain biking opportunities," she says.
-- Becca Martin-Brown
More News
FAQ
Ride Springdale
WHEN — Through Sept. 30
WHERE — In and around downtown Springdale
COST — $10-$20
INFO — https://stubs.net/event/3191/ride-springdale
Sponsor Content
Comments