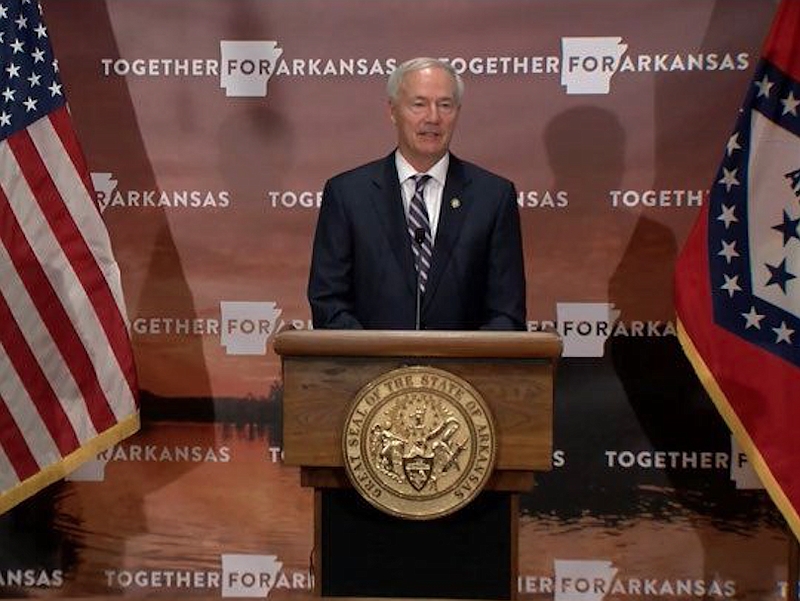 Arkansas Gov. Asa Hutchinson speaks to reporters at the state Capitol in Little Rock on Tuesday in this still of video provided by the governor's office.
The number of coronavirus cases in Arkansas increased by 294, and nine additional deaths have been reported, Gov. Asa Hutchinson said Tuesday.
Three of the new cases were in correctional facilities, with 291 in the community, according to figures provided by the Arkansas Department of Health.
Health Department Secretary Jose Romero said that one of the nine deaths was from a delayed report; the other eight occurred within the previous three weeks.
The new cases bring the cumulative total to 66,021 since the pandemic began, Hutchinson said. The death toll rose to 917.
Ten new hospitalizations brought the current total of people hospitalized as a result of the virus to 409, according to Romero, while the number of patients on a ventilator rose 10 to 84.
A total of 5,844 cases are active, the secretary said; 59,260 are listed as having recovered.
Cross County reported 30 new cases, attributed in part to an outbreak in a nursing home, according to Romero. Washington County had 29 cases; Pulaski County had 28 cases.
A total of 5,154 PCR tests were administered in the previous 24 hours, with an additional 139 rapid-response antigen tests, of which 20 turned out positive and 119 negative.
The governor reported that the state will purchase 120,000 antigen tests to be distributed to local health units, 10 college campuses and community sites. The $4 million price tag is coming out of federal CARES Act funds and won't cost the state anything, the governor said.
State Commerce Secretary Mike Preston announced that the state will send $300 a week — one week at a time, starting with the week of Aug. 1 — in additional unemployment compensation. The money derives from Federal Emergency Management Agency funds and was authorized by an executive order from President Donald Trump, and goes out as the funds become available to the state.
Preston and the governor also announced grants of $5 million to assist in bringing high-speed broadband internet service to four locations in Arkansas — White, Hempstead and Jackson counties and the city of Humnoke.
EARLIER:
Gov. Asa Hutchinson and state health officials will provide an update on Arkansas' covid-19 response at 1:30 p.m.
The total number of coronavirus cases reported in Arkansas remained at 65,727 Tuesday morning, according to a state website. The death toll remained at 908.
Check back to watch the live video.
[Video not showing up above? Click here to view » https://www.youtube.com/watch?v=lS0ZmmKARXE]
Sponsor Content
Comments