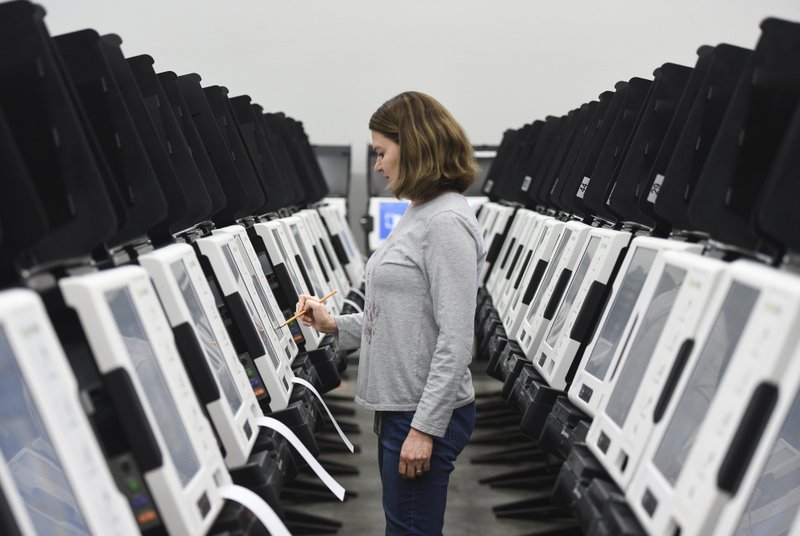 Julie Hall, staff assistant, tests a ballot marking machine, Thursday, January 23, 2020 at the Benton County Clerk's Office in Rogers. - Photo by Charlie Kaijo
FAYETTEVILLE -- The Democratic Party of Arkansas announced a help line for Spanish speakers Friday morning for all voters who seek information on how to vote or who encounter a problem voting, regardless of political preference.
The line is open for poll workers too who, for instance, are trying to assist a Spanish-speaking voter. The lines are answered by either attorneys or others specifically trained in election law, organizers said.
Most of Arkansas' voter information is published in English, party Chairman Michael John Gray said at a news conference at the student union of the University of Arkansas. This makes it inaccessible to many native Spanish-speakers, organizers said.
Many Spanish-speaking voters who also speak English have often never mastered reading in English, said Democratic Hispanic Caucus members Diana Gonzales Worthen of Fayetteville and Maria Baez de Hicks, also of Fayetteville. Worthen is chairwoman of the Democratic Hispanic Caucus.
The Democrat's new Spanish language help line's number is (501) 299-5460. The same service for English speakers is (501) 299-5589.
The Republican Party also answers calls to its headquarters about election issues and answers questions, a spokesman for the party said. The Republican Party of Arkansas' main number is (501) 372-7301.
Calls received so far both by Democrats and Republicans about voting, whatever the language, are mainly questions, not reports of obstacles encountered or problems, spokesmen for each party said Friday.
The largest category of complaints from across the state so far involve polling place access for voters with disabilities, said Hannah Burdette, a voter protection specialist for the Democrats. Burdette and Hispanic Caucus Vice President Manuel Tejada attended the news conference.
Part of the reason for setting up the help line in Spanish is to be prepared if discrimination and voter intimidation become a problem, de Hicks said.
Early voting began Monday. Election day is Nov. 3. The Democratic help line in English has, to date, received about 300 calls, Burdette said. Those calls started last week with questions about the upcoming vote, she said.
Spanish-speaking voters tend to vote on election day itself, Tejada, Worthen and de Hicks said. That is when help line organizers expect the most calls.
Also, a record number of Hispanic candidates running for office may boost Spanish-speaking turnout, they said.
Doug Thompson can be reached by email at [email protected] or on Twitter @NWADoug.
Sponsor Content
Comments