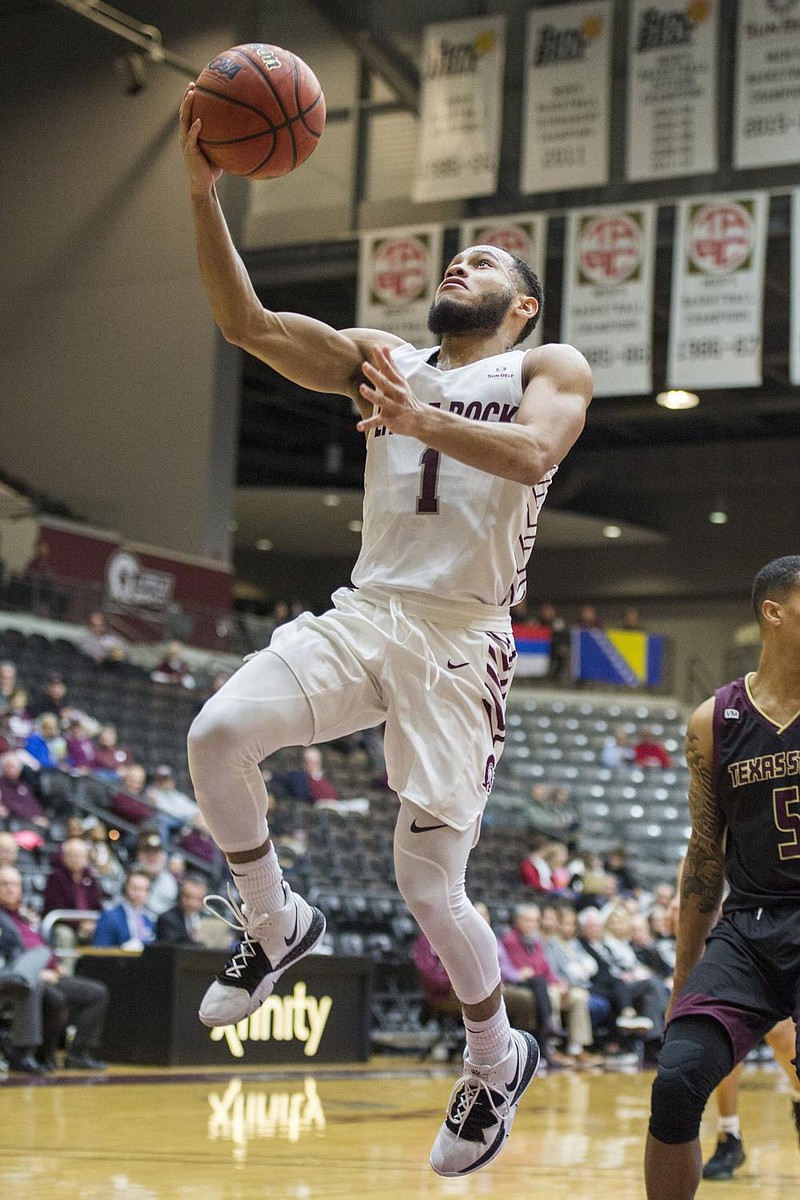 UALR junior guard Markquis Nowell is expected to be one of the top point guards in the Sun Belt Conference this season. He averaged 17.2 points, 4.9 assists and 3 rebounds per game last season on his way to being named a first-team all-conference selection. (Arkansas Democrat-Gazette/Jeff Gammons)
Entering his third season as head coach at the University of Arkansas at Little Rock, Darrell Walker isn't satisfied.
His veteran-laden team, which returns nearly all of its key players, won the regular-season Sun Belt championship last year despite being picked to finished 11th in the conference.
This year, Walker wants more. And in his third year, he's starting to see the fruits of his labor pay off.
"When building this program, we wanted to build the program with good, young high school players -- especially my first year -- and let them play and let them develop and keep adding good pieces," said Walker, who led the Trojans to a 21-10 record last season. "And that's what we've done along with a couple JUCO guys.
"With this upcoming season -- in the climate that we're living in and playing in -- you're lucky to have a nice team coming back ... with some veteran guys."
UALR is led by junior guard Markquis Nowell, who was a 2020 first-team All-Sun Belt selection in 2019-20. Averaging 17.2 points, 4.9 assists and 3 rebounds per game last season, Nowell is expected to be one of the top point guards in the conference.
"If he plays 30 minutes, he should be productive. He's going to get shots, he's going to get assists," Walker said. "My biggest thing is for Markquis to grow as a player -- more of taking care of the basketball, getting his assist-to-turnover ratio up at a good level, being a leader on the court and getting everyone involved in the offense. We know he's capable of getting 15-20 points every night, but I want his assists to be up to about eight a game if possible."
Nowell is one of six juniors on UALR's roster, which also boasts four seniors, making the Trojans one of the more experienced teams in the country.
But one player UALR will be without is forward Kamani Johnson, who announced Tuesday his decision to transfer to the University of Arkansas. The 6-7, 215-pound junior played in 27 games with 15 starts as a freshman, and as a sophomore he averaged 11 points, 6.7 rebounds and 2.2 assists per game.
Walker was blunt when asked about Johnson's departure.
"Players leave all the time and somebody steps up. Him leaving, we're just going to keep rolling," Walker said. "No one player is bigger than the program. Nobody. I wasn't bigger than the program at the University of Arkansas. And nobody's going to be bigger than the program here at the University of Arkansas at Little Rock."
Without Johnson, UALR will have holes to fill on both offense and defense, but Walker is confident in his group.
In practices that started last week, he's emphasizing intense defense and precise passing -- two skills he believes his team needs to focus on if it wants to repeat as Sun Belt champions and make the NCAA Tournament.
"They will defend, and they will share the basketball. Those are two big things for me," Walker said. "I want to make sure we're passing the ball to the open guy and then we're guarding. I challenge these guys every day in practice. It's a lot of defensive drills, it's a lot of teaching -- I love it.
"We've got a great group of guys that I really, really like coaching. They've bought in, and they know we have unfinished business."
UALR's full nonconference slate has yet to be released, but the Trojans are expected to play in a tournament hosted by Louisville over Thanksgiving.
ARKANSAS STATE
Learning the basics
Unlike UALR and Walker, Arkansas State University Coach Mike Balado has a lot of young and new players on his team, which went 16-16 last year.
Balado has eight new players -- four true freshmen, two redshirt freshmen and two junior-college transfers. In the first week of practice, Balado said his team focused mostly on fundamentals.
"We have a lot of new guys," he said. "I wanted to see our new guys pick up our basic skeleton for our system, and the old guys have been really good mentors for the new guys."
One of those new guys is freshman forward Norchar Omeir, who Balado expects to be a key contributor in his first season, comparing him to now-NBA Sixth Man of the Year and Los Angeles Clippers forward Montrezl Harrell.
"He's an exceptional talent. He's got an exceptional ability to rebound the ball, just a knack for it, something you cannot teach," Balado said. "He reminds me a lot of a young man I coached at Louisville by the name of Montrezl Harrell -- same type of game, same type of motor, same type of enthusiasm, same type of approach and tenacity that he practices with every day. He's a guy that I'm tickled to death for fans to get to know."
Balado does return two key players in seniors Marquis Eaton and Christian Willis. Starting at guard for the Red Wolves last season, Eaton averaged 13 points and 2.5 assists per game. Willis averaged 5.3 points, 1.3 rebounds and 1.3 assists per game last season.
"Marquis Eaton and Christian Willis both have been with me for four years now. Those are the two guys that have been with me from Day One," Balado said. "And Marquis has obviously been a good leader for us. He's very talented player and someone guys look up to. And then Christian Willis, his experience and the amount he's played the last couple years -- both guys have been really good leaders for us.
"I think we have one of the best backcourts coming back in Marquis Eaton and Caleb Fields, and Fields has also been a good leader for us. But I've been especially happy with the two seniors and the way they've acted, especially with all the new guys coming in."
Arkansas State is set open its season Nov. 25 playing in a tournament hosted by Ole Miss.
CENTRAL ARKANSAS
Early obstacles
University of Central Arkansas Coach Anthony Boone is entering his first official season as the head coach after taking over as the interim halfway through last season.
It hasn't been the easiest of starts for Boone, who said his team has been dealing with covid-19 and injury issues to start practice, leaving him with just 10 players last week. Despite the setback, Boone said he's been "pleasantly surprised" by the players who have been able to practice.
"The guys have been working extremely hard," Boone said. "We're kind of low on numbers now due to some covid issues and some injuries. But they've been very competitive. The guys have been very energetic and have worked really hard. One thing we're trying to do is be a more physical team than we've been. And so far, in the first days, it's been great."
Coming off a 10-21 season, the Bears are striving to bounce back in 2020-21. Boone believes Pittsburgh transfer and 6-7 forward Samson George might be the spark his team needs.
"He's come in and provided a pretty good physical presence for us," Boone said. "Decently skilled guy for his size. I think his tenacity and his willingness to do well will suit us very well. I think people will appreciate seeing that on the floor from him."
UCA does return three seniors, including starting point guard Deandre Jones and former BYU transfer Rylan Bergersen. Jones averaged 12.9 points and 3.9 rebounds per game, while Bergersen averaged 15.8 points and 4.5 rebounds per game.
"Deandre Jones has been an incredible point guard for us, and he's always been pretty quiet and that's just his personality, but he has stepped in and stepped up quite a bit with his voice," Boone said. "And Rylan Bergersen has been great for us as far as leadership goes. He was a great player for us last year also, but he's been a great leader. We've had several guys step up."
UCA, like Arkansas State, will also play in Ole Miss' tournament Nov. 25.
Sponsor Content
Comments