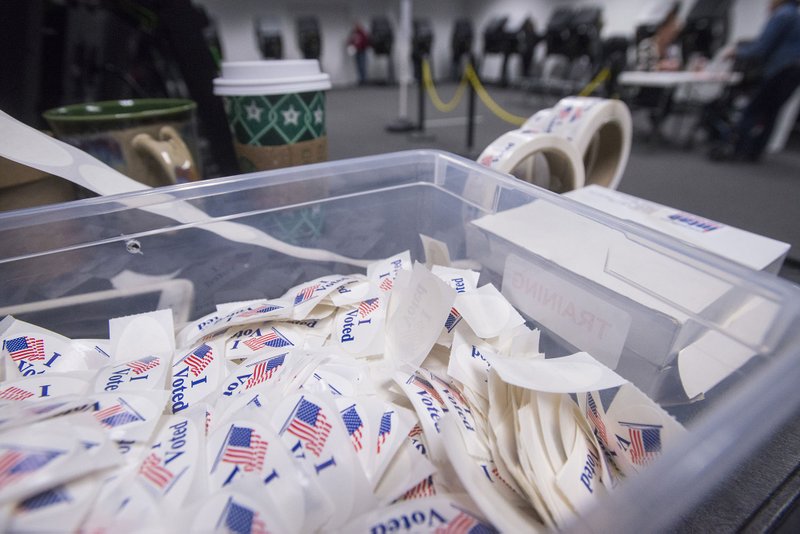 "I Voted" stickers for early voters Saturday, Nov. 3, 2018, at the Benton County Election Commission office in Rogers. - Photo by Ben Goff
SPRINGDALE -- Legislative candidates running in Northwest Arkansas hold wish lists involving everything from health care reform to renters' rights.
Hate crime legislation, tax cuts, overturning the prohibition of local civil rights ordinances, expanding access to state nutrition assistance for children, protecting victims from domestic violence, rural economic revitalization, more support for public transportation and workplace safety also made the lists.
The candidates gave responses to a questionnaire from the Northwest Arkansas Democrat-Gazette. The candidates are all on the Nov. 3 general election ballot and seek to represent districts that include at least some part of Benton or Washington counties. All but three of the 26 candidates participated.
The questions included: "If you could pass only one bill in the Legislature's next regular session -- one that would unquestionably pass federal and state court scrutiny -- what would it be? Give details."
Rep. Megan Godfrey of Springdale, a Democrat, gave an answer she credited to her constituents.
"I sent a survey to every voter in my district in May to hear which policies would be helpful to their families," Godfrey said. "Overwhelmingly, they said they wanted voting to be safer, easier and more secure. I hope to pass comprehensive legislation to streamline the voter registration process, permanently expand no-excuse absentee voting and equip counties to invest in secure, inclusive methods to promote and protect the vote."
Jed Duggar is Godfrey's Republican challenger in the House District 89 race.
"As Springdale's state representative, I will work toward tax reform and reducing government bureaucracy," Duggar said.
Rep. David Whitaker of Fayetteville, also a Democrat, put voting rights at the top of his wish list.
"I would pass a law providing for automatic voter registration of every Arkansan on their 18th birthday," he said. "We need the voice of every Arkansan involved in the political process, and there are currently too many barriers to Arkansans exercising the most essential of rights in a functioning democracy. Anyone who wished to do so, would be allowed to opt-out by contacting their county clerk or the secretary of state."
Whitaker's challenger in House District 85 is Republican Brian Hester.
"A couple of the things I hope to do are to work on improving K-12 education and education opportunities for our kids," Hester said. "The next legislation will be my first priority. That would be providing assistance to small businesses and individuals so they can get back on their feet and provide for their families."
School choice and education topped the list of Republican challenger John La Tour, who is running against incumbent Rep. Nicole Clowney, D-Fayetteville, for House District 86.
"I would draft legislation that would give parents meaningful school choice, and give teachers the resources they need to be effective in the classroom," La Tour said.
Clowney's choice for a decree would protect tenants of rental property.
"If I could pass only one bill, it would be to create a warranty of habitability for tenants," she said. "As it stands now, Arkansas is the only state in the country without this protection for renters, meaning that landlords have no legal obligation to provide habitable living conditions to the people who pay them rent. There are so many things we could do to make life in Arkansas better for people, but if they don't have a place to live that is fit for human habitability, little else matters."
Health care topped the list more often than any other topic, with both Republicans and Democrats weighing in. Both candidates in the House District 88 race in Springdale, for instance, cited the issue as their biggest concern.
"From my personal experience, I know how it feels to be treated like a number or a statistic, not like someone who could live or die based on the decisions being made," said Democrat Hawley Woods, who is challenging incumbent Clint Penzo. "I don't want anyone to feel that way."
Penzo said he's working on legislation to reform health care.
"Some other states have implemented unique ways to reduce costs and prevent surprise medical bills," he said. "I will be focusing on increasing transparency in billing and increasing competition between providers."
Josh Bryant, the Republican running in the open House District 96 race, gave the most specific answer regarding health care. District 96 contains eastern Benton County from the Missouri line to Washington County.
"I would codify highlights of the Nuremberg Code into Arkansas law with emphasis on voluntary and fully informed consent for any medical procedure," he replied.
The Nuremberg Code was drafted by judges at the Nuremberg war crime trials after World War II. The judges who drafted this list of principles presided over trials of doctors who performed experiments on prisoners in Nazi concentration camps. The code, accepted worldwide, laid down 10 standards to which physicians must conform when carrying out experiments on human subjects.
Jon Comstock, Bryant's Democratic opponent, also gave an answer related to health care.
"A bill that would declare the state's recognition that substance abuse is a health issue and our fellow citizens who face the struggle of addiction are not criminals, but are persons who need recovery programs offered," he said.
Even a vaping comment was ultimately about health care.
"I will be trying again to pass legislation that restricts vaping similar to other tobacco products," said Sen. Jim Hendren, R-Sulphur Springs. Treating diseases linked to tobacco use cost the state dearly in the past, he said. "We have a looming health care crisis due to an entire new generation becoming addicted through this new delivery method," he said.
Cutting specific taxes rose to the top of the list for Republicans John Carr of the House District 94 race in Rogers and Rep. Robin Lundstrum, R-Elm Springs, the incumbent in the House District 87 race.
"I would introduce legislation to eliminate the grocery tax," Carr said. "Taxing essentials like groceries disproportionately impacts hard-working Arkansans."
Many an Arkansan cannot afford food whether it is taxed or not, Carr's Democratic opponent, Jene Huffman-Gilreath, said in her answers.
"My first priority is to introduce legislation that would increase or eliminate the asset threshold for SNAP benefits," Huffman-Gilreath said, referring to the Supplemental Nutrition Assistance Program, formerly known as food stamps. "Currently, Arkansas uses almost the same asset limit as we did in the 1970s of only $2,500 -- this means that if a family tries to save money, they could lose access to their food assistance."
Lundstrum would do away with property taxes. She said she would replace it with a flat tax, which is a form of sales tax.
"My dream bill would be to remove all property taxes so the people could own their homes, car and farms instead of renting them every year from the State of Arkansas!" Lundstrum said.
Lundstrum's Democratic challenger is Michael Bennett-Spears. He would pass the proposed hate-crime bill already being considered for the next session, he said. The bill would enhance penalties for crimes where a contributing motive was prejudice.
"Our communities deserve the peace of mind of knowing that they are protected from violence perpetrated against them on the basis of their skin color, sexuality or religion," he said.
Democrat Kelly Krout of the House District 90 race in Rogers supports a law prohibiting those convicted of domestic abuse from having access to guns. Her opponent, Republican Kendon Underwood, declined to participate in the survey.
Republican Delia Haak wants to see all jobs in Arkansas as essential. Those designated "essential workers" are exempted from any of the precautions in place during the current covid-19 pandemic. Haak is running to replace Rep. Dan Douglas, R-Bentonville, who didn't seek reelection.
"Determining that some jobs are 'essential' and some workers are 'essential,' but others are not, has huge unintended consequences for society, not the least of which is basic fairness under the law," Haak said.
Her Democratic opponent in the House District 91 race is Nick Jones.
"Based on my experience working with individuals trying to find employment or overcoming addiction, public transportation is one thing that is needed throughout NWA," he said.
[READ ALL THE CANDIDATES bio boxes here: www.nwaonline.com/news/2020/oct/12/candidate-biographical-information/
More News
Editor's note
The Northwest Arkansas Democrat-Gazette sent a questionnaire to the 26 legislative candidates in our region in contested races. A questionnaire was chosen because of the ongoing covid-19 pandemic. Restrictions on gatherings curtail the usual sources of information to voters such as debates, forums and "meet the candidate" events.
This is the fifth of six stories on their answers.
Doug Thompson can be reached by email at [email protected] or on Twitter @NWADoug.
Sponsor Content
Comments