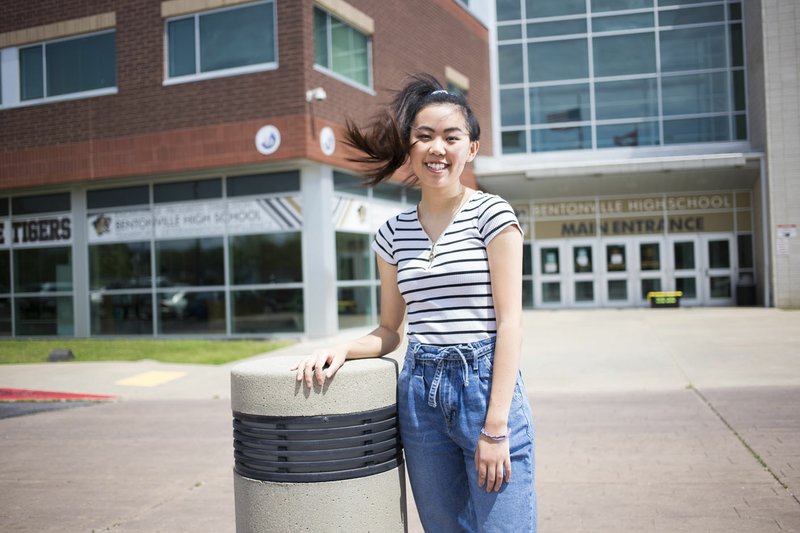 Bentonville High School senior Irene Huang poses Monday at Bentonville High School. (NWA Democrat-Gazette/Charlie Kaijo)
Editor's Note: This is part two of a series featuring 2020 high school graduates. The Northwest Arkansas Democrat-Gazette asked administrators and counselors of each high school in Benton and Washington counties to recommend a senior to interview.
---
Several thousand teens across Northwest Arkansas are graduating from high school this spring and looking forward to a new chapter in their lives.
Each has taken a different path over the past 18 years to get to this point. What did they learn? What motivated them? And what do they plan to do next?
The Northwest Arkansas Democrat-Gazette wanted to honor the class of 2020 by highlighting some of its members.
Here are seven of those students.
IRENE HUANG, Bentonville High School
Most of Irene Huang's favorite memories of high school involve music.
Huang, 17, knew in elementary school she wanted to participate in band. She started playing saxophone in the sixth grade while living in a small town in southeast Missouri.
"I actually wanted to play clarinet, but my mom said sax was her favorite instrument," she said.
Huang was a drum major at her junior high school. She and her family moved to Bentonville the summer before her freshman year. The upperclassmen in the band program made her feel welcome, she said.
She auditioned for drum major of the Bentonville Pride Marching Band and got the job starting her junior year. She was one of three drum majors her senior year.
"I think a lot of our job, as band kids see it, is that we just conduct or help set up equipment for rehearsal," she said. "But there is a lot of other work involved behind the scenes. We talk to a lot of students to make sure they're doing OK with the work load, and stuff like that."
The band won the Class 7A state marching band championship in November with its show, "Grandioso," which Huang calls her happiest memory of high school. She also participated in concert band.
Huang had plenty more going on outside of music during high school. She was vice president of National Honor Society this year. She volunteered at the public library. She helps her parents at Hunan Manor, a Chinese restaurant they own in Fayetteville.
She takes challenging courses and is ranked in the top 5% of her class, according to Alice Haney, postsecondary adviser at Bentonville High.
Huang, while living in Missouri, had a friend whose sister applied to Washington University in St. Louis. It was the first time she'd heard anyone talk about college. The university became her dream school when she was in seventh grade, she said. She applied for early decision last fall and was accepted.
She'd like to study medicine, an interest sparked by a visit a few years ago to China, where she lived for most of the first four years of her life. She got to see her great-grandmother, who was struggling with memory issues.
"I'm pretty sure she has Alzheimer's," Huang said. "Every time I went to visit her, I would have to reintroduce myself to her. That's what led me to want to get in the medical field."
HUNTER "HUTCH" BAILEY, Fayetteville Virtual Academy
Hunter "Hutch" Bailey said he viewed attending Fayetteville Virtual Academy as a means for achieving his goals.
The 17-year-old has lived in Fayetteville the past six years. He previously lived in Atlanta and Edinburgh, Scotland, while his father pursued a career as a pastor, he said.
Bailey transferred from Fayetteville High School to the academy in the middle of his junior year to help pave the way to an internship. The academy provides students with a flexible schedule based on each student's needs, according to the school's website.
"His time management skills for a high school student are unbelievable because he spends a large amount of the work week doing the internship," said Cara Rathbone, Bailey's senior adviser at the school.
Attending the virtual school allowed Bailey to balance his studies with working up to 35 hours a week as an intern on Harvest Group's Walmart team, he said. Harvest Group, a Rogers firm, uses analytical skills to assist clients who sell to retailers such as Walmart and Kroger.
"I'll walk through all the different Walmarts all over Northwest Arkansas and keep tabs on where things are moving on the modular and that kind of thing," Bailey said of store displays. He said he also does statistical data analysis for the stores he serves.
Harvest Group didn't offer high school internships prior to his approaching the business to see if they were interested, he said. He offered to work free for the group on a trial basis of 60 days beginning in January 2019 to prove himself.
"During that time, I really bounced around all over the company and got to get hands on with all sorts of stuff," he said. "They ended up hiring me."
Bailey plans to attend the University of Arkansas to pursue a degree in biomedical engineering. An internship will factor into his education at the university as well, Bailey said.
"I think that I'll be able to really grab that opportunity by the horns without having to spend a lot of time just trying to figure out how the business world works or how interning actually functions," he said.
Bailey received the UA Chancellor's Scholarship and the Arkansas Governor's Distinguished Scholarship, providing a combined $18,000 per year toward his degree, he said.
"He's going to meet his goals and surpass them," Rathbone said. "He's got an exciting future ahead of him."
BEN BURY, Northwest Arkansas Classical Academy
A change in schools made a big difference in Ben Bury's education and his life.
Bury, who has high-functioning autism, struggled to fit in at school for much of his youth. His speech impediment, his learning difficulties and his social anxiety caused others to view him as the "weird" kid, he said.
Bury, 18, attended traditional public schools in the area through seventh grade. Following an incident in which he said another student punched him at school, he decided to switch to Northwest Arkansas Classical Academy, a charter school in Bentonville.
The school emphasizes a classical education, which is based on the teachings of Greek philosophers. Students study Greek and Latin. Historical, literary and artistic studies focus on classic tomes.
"I fit in almost immediately," Bury said. "It was an entirely new experience, which is one of the reasons I fell in love with the school. Everyone accepted me."
His confidence grew. He took up cross country and track and field. He was captain of the track team for three years.
"Let's just say he's not the fastest person on the team," said Hoa Bury, Ben's mother. "But every time he runs, he gets a standing ovation. He never gives up. People always cheer him on."
Bury laughs at the memory of a track meet last year in Harrison, when one of his shoes came loose in the middle of a two-mile race. He shoved it off his foot and ran the rest of the way with one shoe.
"Looking back, I should have shoved off the other shoe as well," he said.
Bury's classmates elected him to student council during his junior year.
Outside school, he volunteered a few hours a week at Crystal Bridges Museum of American Art, helping with public events or in the museum's library. He's put in about 400 hours since 2018, he said.
Bury also worked part-time washing dishes at Ramen Nara in Bentonville for six months. He was laid off in March when restaurants were forced to close their dining rooms but said he expects to return soon.
He's one of 17 students graduating from the Classical Academy this spring. He is going to the University of Arkansas to study exercise science with hopes of becoming a physical therapist.
Bury's career ambition was inspired by the occupational and physical therapists who have helped him over the years.
"They made me the person I am today," he said. "I always thought, why not assume the same path as those who helped me?"
SAI CHITTEMSETTY, Haas Hall Academy Bentonville
Sai Chittemsetty was a seventh-grader at Bentonville's Fulbright Junior High School when she led a fundraising effort for a classmate who developed glaucoma at an early age. The boy had undergone more than 20 surgeries to try to correct his condition.
Chittemsetty and a dozen other students organized a 5-kilometer race around the school and raised a couple thousand dollars for the boy's family, she said.
"I guess that was the first time it touched my heart to help someone," Chittemsetty said. "We put in a lot of work. It really paid off."
Her desire to give back has grown.
She transferred to Haas Hall Academy Bentonville for eighth grade in 2015, when the school opened. She has distinguished herself with her desire to serve those in need, according to Rod Wittenberg, the school's headmaster.
"In the past 4½ years, nearly every fundraiser undertaken by our school has Sai's fingerprints all over it," Wittenberg wrote in an email, listing food pantries, homeless shelters and blood banks among the entities that have benefited from Chittemsetty's work.
Chittemsetty, 18, persuaded Wittenberg to join numerous other school staff members and students in this year's Polar Plunge at Beaver Lake to benefit Special Olympics. The school raised more than $1,200, she said.
"She inspires everyone to give more and be the very best version of themselves," Wittenberg wrote.
Chittemsetty served as president this year of her school's Beta Club, an organization promoting academic achievement, character, service and leadership among elementary and secondary school students. She was president last year of her school's chapter of the National Honor Society, which also emphasizes community service.
Chittemsetty's mother runs a tutoring center in Bentonville. Chittemsetty has helped out teaching classes and assisting with marketing.
Inspired by her mother, she intends to study business when she starts college this fall. She will attend the Olin Business School at Washington University in St. Louis. She would like to start a nonprofit organization.
CHANEY GOGGANS, The New School
Chaney Goggans has helped The New School understand how they can better serve students coping with mental health challenges, according to school staff members.
Goggans, 18, lives in Fayetteville and is part of the school's first graduating class.
She said she has severe anxiety and helped build awareness by sharing her experiences with the disorder.
"I had teachers who had never been around a student with anxiety like I had that was willing to speak up about it," she said. "It helped them understand other kids that are younger than me, too."
Goggans said she recognized the need to give a teen's view on mental health.
"It was adults trying to figure out kids, and they didn't really have a student perspective," she said.
Goggans said she spoke with staff members about her anxiety whenever a natural opportunity arose.
"She's not afraid to be who she is, and she just kind of tells it like it is," said Aaron Giles, who teaches the upper school's visual arts and design classes. "At the same time, she's really aware of other people's feelings and is very sensitive."
Goggans spends her free time competitive horseback riding and creating art. Watercolor is one of her favorite mediums, and she plans to attend the University of Arkansas to study studio art.
"Creatively, if you give her a tiny idea, she will come back to you with this phenomenal interpretation of that," Giles said. "She's not afraid to be original or creative."
The teen wants to continue to advocate for herself and others in college.
"That's still a little scary to me, because I'm going from my class of 11 kids to hundreds, if not thousands," she said.
Goggans is unsure about a career but has considered teaching or running an art gallery, she said. Giles is confident Goggans has a bright future.
"She's someone that's not going to need to make it in the art world," Giles said. "She's going to have a meaningful life and will always be creative no matter what."
MAGDALENA MACIAS, Springdale High School
Magdalena "Mags" Macias has grown as a leader on and off the basketball court, said staff at Springdale High School.
Macias, 18, was born in Chicago and spent much of her childhood living in San Francisco de los Romo, Mexico, before moving to Springdale in 2010, she said.
"We were only supposed to stay here a year or two and then go back," she said. "It kind of ended up being a long-term thing."
Heather Hunsucker coached Macias in basketball the past three years and said she watched Macias grow from a quiet, reserved team member to one who found her voice as a leader.
"She led by example, but then she could also start to lead by her words and by her wisdom," Hunsucker said, noting Macias truly displayed leadership when a teammate committed suicide.
"The first thing that went through my mind was, how is the team?" said Macias, who had previously experienced loss to suicide. "Going through those things, you kind of think it gets easier, but it doesn't."
Macias pulled the team together by checking in personally with each student and arranging gatherings during the crisis, Hunsucker said.
"I just made sure everybody was OK because we all grieve differently," Macias said. "At the same time, we need somebody to check in on us once and a while."
Macias has experience caring for others and helps tend to her father, Juan Macias, 55, who suffers from an undiagnosed condition.
"He's basically catatonic," she said. "He doesn't walk; he doesn't move; he doesn't talk. He's just kind of there."
She helps feed her father, change his diapers and give him his medications. She also helps with cooking and other duties around the house, all while meeting her expectations at school, she said.
Macias said her experiences caring for others and what she's learned as a leader for the Bulldogs helped prepare her to attend the University of San Francisco in the fall to pursue a degree in human biology. The teen intends to work toward obtaining a medical degree with an emphasis in pediatric cardiothoracics.
Macias graduated with a 4.2 GPA and received several local scholarships and grants to attend the private university.
"I really think that all the things that she's doing and she went through will actually produce wins for her in her career," Hunsucker said. "I see a young lady who is poised to do whatever she sets her mind to do."
ERICK SOTO, Springdale Har-Ber High School
Helping others comes naturally to Erick Soto, school staff said.
"Erick and his family have overcome many obstacles, but that hasn't stopped him doing his work or helping others," said Dulce Gutierrez, Soto's French teacher at Har-Ber. "This student is kind, determined and resilient and a role model to many of his peers."
Soto, 18, said he grew up in Springdale, but not with his entire family.
He was raised by his father, Jose, in the United States while his mother, Susana, lived in Queretaro, Mexico, waiting for the opportunity to apply for U.S. residency, Soto said.
"I was only about to turn 9 when my mom was asked to leave the country to apply for her residency," he said. "Once she was out of the country, they told her she had to wait 10 years before she could reapply."
That 10-year period will end in September, Soto said, but he hasn't waited for his mother to return to start making a difference for Northwest Arkansas' immigrant community.
Soto said he's volunteered for two years with Arkansas United, an immigrant rights organization, working the nonprofit's phone bank, registering people to vote, building awareness for the 2020 Census and informing immigrants of their rights.
"I can either cry every day and just be sad every day and just question everything, or I could do something positive about this and help others who might be going through what I'm going through," Soto said.
Soto speaks English, French and Spanish and is learning Italian and Mandarin. Being trilingual has helped him better communicate with the region's immigrants, he said.
Soto plans to major in political science or international relations this fall at the University of Arkansas. He said he hopes those areas of study will prepare him for a career as a lawyer who serves immigrants.
Soto aspires to someday serve with the United Nations as well, but his greatest goal is to make his parents proud and show them their hard work paid off, he said.
Jennifer Sugg, Soto's school counselor, foresees Soto serving the greater good.
"It's kind of an essence of who he is and just a very natural outpouring of who he is as a person," Sugg said. "He's kind of a servant-hearted kid."
NW News on 05/17/2020
Print Headline: Graduates tell of feats and challenges
Sponsor Content
Comments