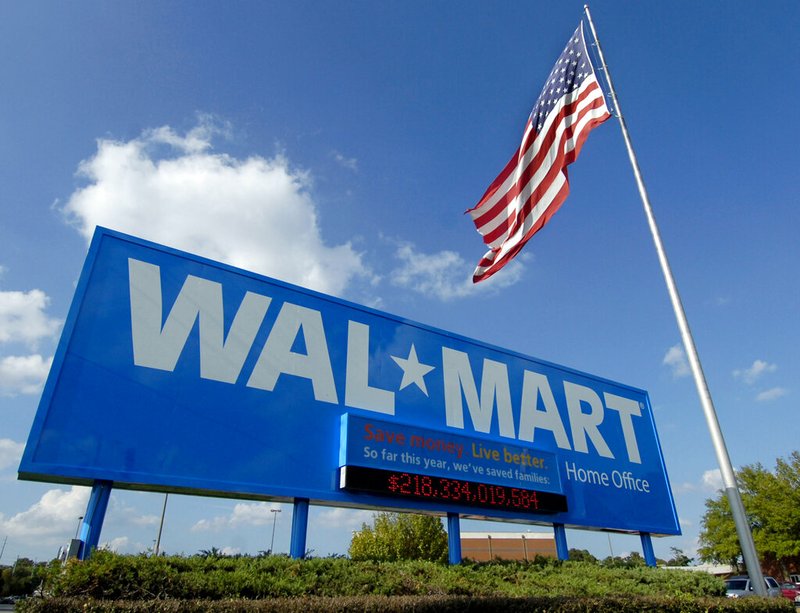 In this Oct. 5, 2007, file photo, an American flag flies in front of the Walmart Stores Inc. headquarters in Bentonville, Ark. (AP Photo/April L. Brown, File)
Walmart Inc. and the Walmart Foundation are donating more than $2 million to help Arkansas organizations meet community needs resulting from the covid-19 pandemic, the retailer said Friday.
Erin Hogue, Walmart's director of community operations and NWA giving, said in an interview with Nelson Peacock, president and chief executive of the Northwest Arkansas Council, that the funds will support organizations providing hunger relief, community resources and health care services.
A portion of the money will go to organizations that connect Arkansans with community resources and to help set up regional covid-19 testing sites along with enhanced screening capacity, Hogue said. The rest will support hunger relief organizations that provide food and meals for vulnerable groups such as senior citizens.
The grants are part of a more than $25 million commitment by the Bentonville-based retailer and its charitable arm to aid organizations that "strengthen the global public health response, bolster food security and support the needs of local communities in the U.S. and internationally," Hogue said.
Sponsor Content
Comments