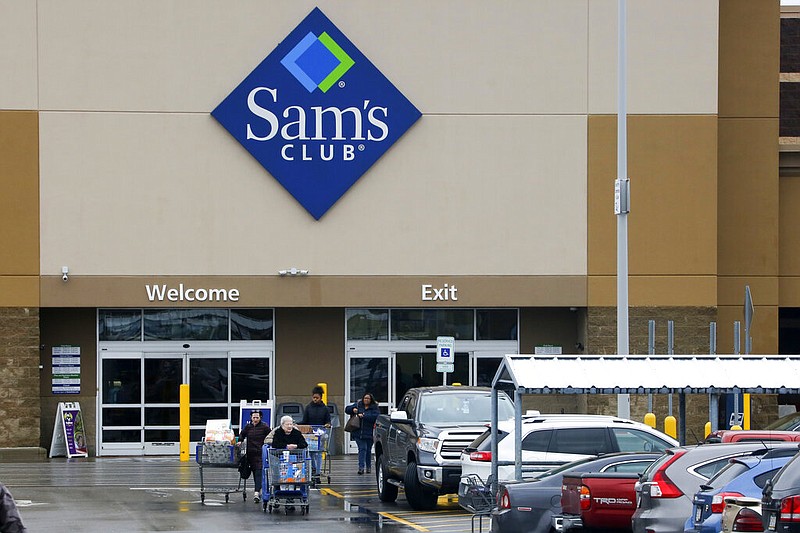 File- This Feb. 23, 2018, file photo shows shoppers leaving a Sam's Club in Pittsburgh. Walmart's Sam's Club is teaming up with several health care companies to offer discounts on everyday care its customers might delay or skip because of the cost. Starting early October, Sam's Club members in Michigan, Pennsylvania and North Carolina, will be able to buy one of four bundles of health care services ranging in annual fees from $50 for individuals to $240 for a family of up to six members. The pilot program could potentially be rolled out to members in all the states, says Lori Flees, senior vice president of Sam's Club Health and Wellness. (AP Photo/Gene J. Puskar, File)
Sam's Club now offers free curbside pickup for its Plus-level members, and to all members for a limited time. The service will be available at all 597 clubs by the end of June, the members-only warehouse division of Walmart Inc. said in a news release.
A pilot program at 16 clubs went well, and Sam's Club decided to expedite taking the service nationwide because of the coronavirus pandemic, the company said.
"While free curbside service is a new Plus member benefit, we recognize all of our members are looking for contact-free shopping options as part of the current environment," said Lance de la Rosa, chief operating officer for Sam's Club. "Because of that, we are going to make the service temporarily available for everyone."
Plus members can schedule pickup between 7 a.m. and 8 p.m. Monday through Saturday, and 10 a.m. to 5 p.m. on Sundays. Pickup slots for non-Plus members aren't available until 10 a.m. Monday through Saturday, however.
A Sam's Club membership costs $45 a year per household. Plus membership, which offers extra benefits, costs $100 a year per household.
Sponsor Content
Comments