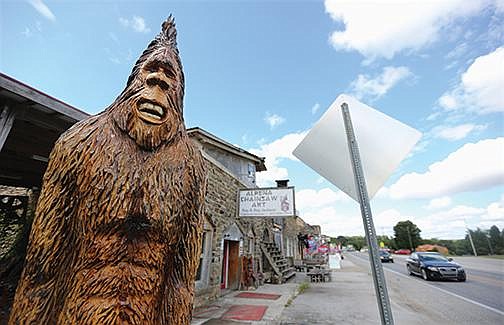 A large chain saw art piece sits Thursday outside a shop in down- town Alpena. A petition drive is underway to oust the town's mayor. (NWA Democrat-Gazette/David Gottschalk)
From beneath the brim of his cowboy hat, Theron McCammond can see the writing on the wall.
Or in this case, on the petitions being circulated around Alpena trying to oust him as mayor.
"Don't forget to go to the axe-throw/gun shop/barbecue place to sign the petition to remove the Alpena mayor from office!" Becky Berryman wrote on a Facebook page for Alpena residents.
If they get enough valid signatures, the question of whether to remove McCammond from office will be on the Nov. 3 election ballot.
McCammond said he may resign before then because he's "tired of fighting a corrupt syndication" by himself.
"I'll save them some money," said McCammond, who has been mayor since January 2019.
But McCammond wants the city to de-annex his property first.
"I'm not leaving my property inside those city limits so they could tell me what I could and couldn't do," he said.
Alpena, population 392, straddles the line between Boone and Carroll counties. Century-old rock buildings still line the south side of Main Street in downtown Alpena, a testament to its heyday as a railroad and timber town.
McCammond has been crossways with his Town Council since November, after a tree mysteriously disappeared from Alpena City Park.
The tree, planted in honor of a deceased fire chief, apparently blocked a new light installed at the park.
A monument at the foot of the tree read: "In loving memory of Walt Record. 1946-2003. You will be missed."
So has the tree.
Suspecting he had a hand in its removal, the council voted unanimously on Nov. 21 to request McCammond's resignation.
McCammond, who hasn't publicly admitted any culpability in the tree-cutting incident, declined to resign at that time.
It has become apparent that the mayor wants to operate independently from the council, said Council Member A.J. Womack, the great-grandson of Bobbie Bailey, who was mayor of Alpena for 24 years until she lost to McCammond in 2018.
Womack said McCammond fired several city employees, bought a police car without council approval and spent $30,000 for water meters all at once. The council had approved buying the meters over three years, at $10,000 per year.
McCammond admits it was a mistake when he swapped the street department's 2006 diesel pickup for a Dodge Charger for the Police Department.
"I did do that wrong, and I admitted that," he said. "I was a new mayor. I didn't realize you couldn't do that."
One of the people McCammond fired was Police Chief Mark Bailey, who is the nephew of the former mayor.
McCammond said nepotism is a problem in Alpena.
Womack said he and his relatives didn't get into Alpena policing and politics to make a profit.
"In fact, my great-grandmother paid for the flagpole in front of city hall with her own money," he said in an email. "She became mayor because she loved this town, and I became a councilman because someone needed to stop Theron from doing the dirty things he was doing."
Regarding corruption, McCammond cited the case of Phyllis McNair, who served as clerk for both the Alpena district court and Water Department.
Arkansas Legislative Audit determined that McNair had been overpaid $3,715 for 266 duplicate mileage reimbursements for the same trips to make bank deposits from 2014-19. She would turn in mileage vouchers for both the district court and Water Department because she was making bank deposits for both entities.
Prosecuting Attorney David Ethredge declined to prosecute McNair. Ethredge didn't return an email or telephone call last week.
McCammond fired McNair from the city Water Department, but she's still the district court clerk.
McCammond said the audit initially didn't involve McNair.
"I didn't set out to see Phyllis McNair put in jail," he said.
"I do not believe that's a true statement at all," McNair said. "I feel like he did not want me in City Hall from the start."
According to a letter Legislative Auditor Roger Norman sent to city officials, "the mayor discovered discrepancies in mileage reimbursements" paid to McNair.
Womack said the council spent eight months trying to work with McCammond, but things were suspicious from the beginning.
"After Theron was elected, quite a few town documents and ordinances went missing," Womack wrote in a July 16 post on the Alpena Facebook page mentioned above.
McCammond said he learned of the disappearance of documents about the time he went into office, but he had nothing to do with it.
According to Womack, McCammond took the documents.
"New ordinances have been passed in an effort to make it to where Theron could not gain access to the documents without the recorder/treasurer being present because it was our belief that he is the one who took the missing ordinances," Womack wrote on Facebook.
McCammond said his resignation hinges not only on his property getting de-annexed, but also the property where the Top Rock restaurant is located. McCammond said he worked to annex that property last year, but the restaurant owners no longer want to be within the city limits.
When asked it he plans to run for another political office, McCammond said, "About a year and a half of nauseating politics is enough for me. As far as running for anything else, whooo I don't know about that."
As mayor, McCammond said he was paid "zero dollars a year."
"They even took away my cellphone," he said.
Sponsor Content
Comments