HOT SPRINGS -- Magic Springs Theme and Water Park says it has met projections on attendance despite the pandemic.
Michael Wampler, the park's director of sales and marketing, told The Sentinel-Record in May that attendance numbers for the park are confidential. State health directives limit the capacities of the theme park and the water park.
Wampler said this week that the park has not reached the capacity where it would have to limit the number of visitors allowed into the park.
As far as masks, "we're staying with guidelines," Wampler said, adding that "masks are highly recommended."
Masks are required on two rides, the bumper cars and The Hawk. Masks are required to enter the restaurants in the park in accordance with Arkansas Department of Health directives.
[CORONAVIRUS: Click here for our complete coverage » arkansasonline.com/coronavirus]
Wampler said social distancing is going well in the park, but noted park employees have had to remind people to keep their distance. "Sometimes they just forget," he said.
Magic Springs added several extras to its schedule this month, including mermaids and movies, and guests can now carry in ice chests on Sundays.
Wampler said the additions have been well received so far.
The mermaids appear in the wave pool on Mondays. They do two one-hour shows per day, at 1 p.m. and at 4 p.m.
Wampler said they have "done two so far," and the "kids just love it." The mermaids, supplied by Fancyful Parties in Little Rock, do both a meet-and-greet with the children, and then they put on a show.
This is the third year that Mermaid Mondays have been a part of Magic Springs. Because of the coronavirus, Wampler said that the meet-and-greets are different this year. He said the kids "still get a photo with them," but they "can't go up and hug them."
Another thing the park is doing this month is Dive-In Movies, where guests can watch a movie while floating in the Wave Pool.
The park closes at 7 p.m., but the pool is kept open until it is dark enough to show the movie, which is around 8:40 p.m., Wampler said.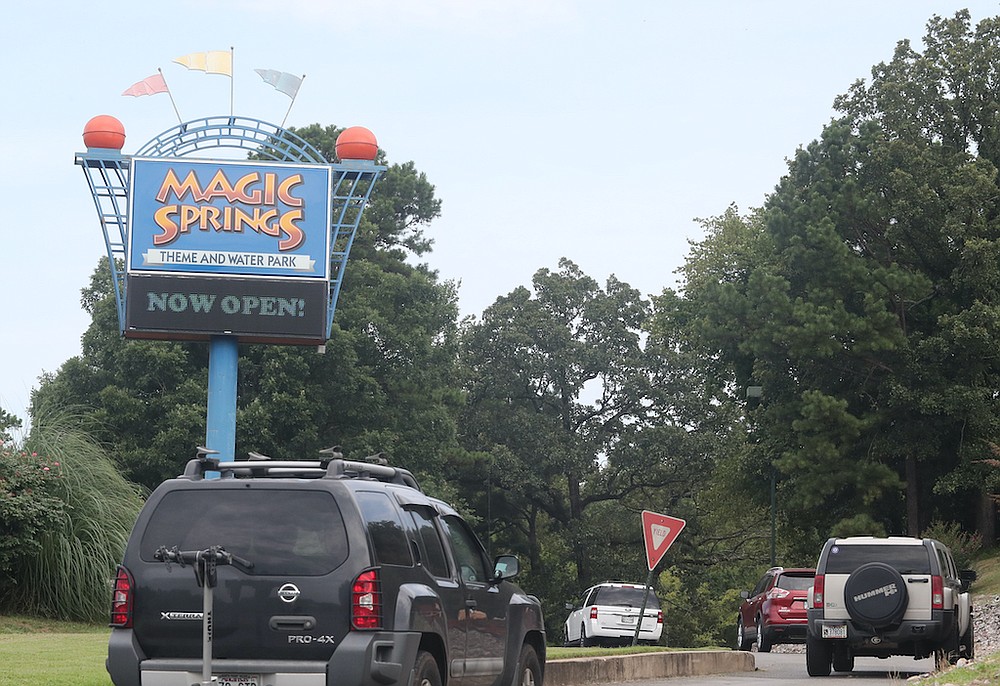 Motorists head into Magic Springs Theme and Water Park on Wednesday. - Photo by Richard Rasmussen of The Sentinel-Record