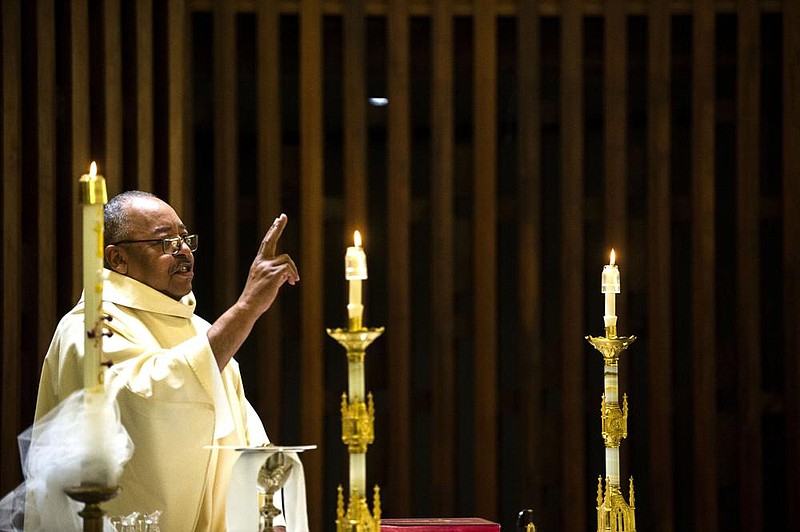 Father Warren Harvey, the bishop's liaison for the Diocesan Council of Black Catholics, conducts a service in the chapel of Little Rock's CHI St. Vincent Infirmary in May. (Arkansas Democrat-Gazette/Stephen Swofford)
The path to racial healing and reform in the Catholic Diocese of Little Rock begins with listening instead of action, according to a liaison for a group in the diocese devoted to spreading awareness about the Black community in the Catholic Church.
Father Warren Harvey, the bishop's liaison to the Diocesan Council for Black Catholics, said the first of a series of listening sessions has taken place as members of the council -- which represents Black parish members -- addressed a group of seminarians and priests at the Little Rock diocese's House of Formation via a Zoom conference July 2 with Bishop Anthony Taylor in attendance.
The session was the first such exchange between white and Black Catholics of the diocese for the purposes of discussing racism in the church since the May 25 death of George Floyd while in police custody in Minneapolis. It came more than a month after protests against police brutality, systemic racism and Confederate monuments became a daily occurrence on an international scale.
"We're not seeking solutions [to racism] in these sessions," Harvey said. "We don't want people coming in there like, 'This is what we've got to do.' We just want them to just hear the pain and frustration. Once we can voice it, and pour it out, then we hope we can move forward together to find a solution."
According to a history of the diocese, the presence of Black Catholics was once larger, with parishes in Little Rock, North Little Rock, El Dorado, Fort Smith, Helena, Hot Springs and Lake Village established during the earlier part of the 20th century. John Morris, the diocese's bishop during that time, engaged in mission work among Black Arkansans as the number of Arkansas Catholics grew.
Of the 129 parishes and missions that comprise the diocese, according to 2018 data from the diocese, there are three predominantly Black congregations today in Arkansas -- St. Augustine Catholic Church in North Little Rock, St. Bartholomew Catholic Church in Little Rock and St. Peter Catholic Church in Pine Bluff. Most worship houses for Black Catholics, the history states, were closed during the Civil Rights Movement beginning in 1954.
Rosalyn Pruitt, a secretary for both the council and St. Augustine, said around 20 seminarians and a small group of priests were present for the initial session.
While noting that she did not want to speak for the entire church, Pruitt emphasized the importance of inclusion -- or the lack thereof -- in the Catholic church and said there have been times, when visiting other churches, that "we either are not welcome or feel like we're not welcome to attend Mass there."
"We want our Black parishes to matter -- like Black Lives Matter ... we want our parishes to matter in our diocese," Pruitt said.
She noted that cultural differences can place priests and parish members on either side of a divide. For example, priests who come to the diocese from other parts of the world may not accept gospel music in the church, she said.
"They may look like us, but they may not understand us," Pruitt said. "They might be from India, Nigeria ... Black [or] white, but they need to be trained [for] our parishes."
"We don't want to break up the Catholic Church," Harvey said of the goal in beginning the sessions. "That's not what we want to do at all. And we don't want everybody changing to become like us ... there's a different way of expressing our beliefs, like there's a different way to get to a location."
The council has the full support of Taylor, who wrote a letter to Arkansas Catholics this month addressing systemic racism evident in areas of law enforcement, employment, health care and education. He also expressed support for the Black Lives Matter movement as offering a way of making others aware of those injustices.
"When people know they matter, things begin to change," Taylor said in the letter. "That is the contribution that the Black Lives Matter movement is offering to us today. All lives matter, of course, but as a society we don't act that way."
The first group of Catholics on the listening end of the sessions is seminarians because they are the future priests of the Little Rock diocese, Harvey said. Seminarians who took part in the July 2 session begin graduating next month, he said, and each can take new knowledge into their leadership.
A fuller plan for speaking with white Catholics in the diocese is still in the works. Members of the Diocesan Council for Black Catholics will first be trained and then meet for similar sessions with members of leadership at predominantly white Catholic churches. The council is also slated to speak to the Catholic-affiliated social justice group Pax Christi next month, said Dr. Sherry Simon, president of that group.
"I hope that this is the beginning of a change," said Simon, who lauded the bishop's work in the state and noted there is more work to be done on the part of Pax Christi and the wider religious community with regard to Black Catholics.
"I'm curious to see if we can continue with this energy and looking at these issues," Simon said of the initial efforts. "It's a harder road, but to me, it's an extremely important one. A lot of change can happen here because things are falling apart.
"I think change only occurs at this level in the midst of chaos," Simon added. "Things have to fall apart before transformation occurs. So they're falling apart. We'll see what happens."
Sponsor Content
Comments