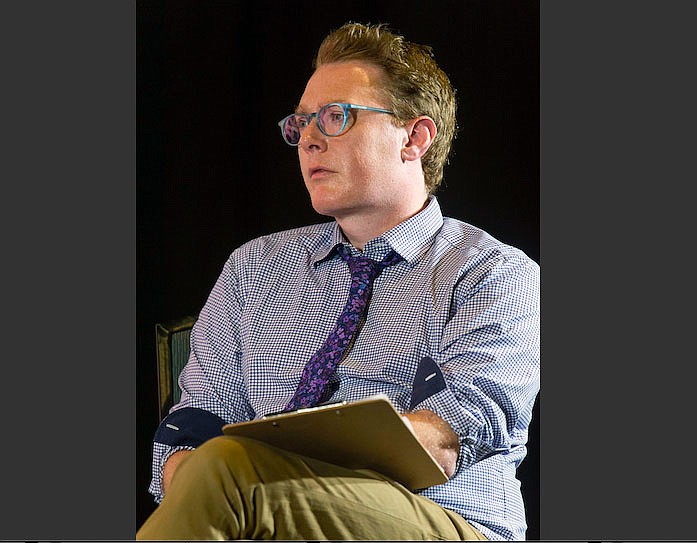 Clay Aiken participates in the fifth annual Politicon, "the Unconventional Political Convention," which features debates, panels, films, comedy and podcasts on the subject of American politics. The former "American Idol" runner-up also hosts the Politicon podcast "How the Heck Are We Gonna Get Along." (Zuma Press/TNS/Brian Cahn)
Never say never, but running for political office -- again -- is not at the top of Clay Aiken's to-do list. And least not anytime soon.
That's even though Aiken, who first gained fame as a runner-up on "American Idol" and then went on to star on Broadway and run for the U.S. House in North Carolina's 2nd Congressional District in 2014, has a new project that's pretty politics-centric.
Aiken is the host of a new Politicon podcast called "How the Heck Are We Gonna Get Along," a sort of roundtable debate of political and current events topics.
Politicon, not to be confused with Politico, started as a Comicon-style convention that melds the worlds of entertainment and politics. As someone who straddles those worlds, Aiken sat on panels at Politicon conventions for several years and was approached by the creators (coincidentally, two former "American Idol" producers) to host the podcast. He says they knew he would not "demonize the people I disagree with."
"I grew up here and a lot of my family and I disagree and vote for different people, and I realize from that -- and from running in a very red district a few years ago -- that I can very adamantly disagree with people from a different party from me and also realize that they are not evil," says the Raleigh native, a registered Democrat.
"And I think that's in short supply nowadays. They knew that I was willing to listen to Republicans and conservatives and not think that they were evil."
Aiken says the podcast aims for conversation without excessive arguing but admits they don't always succeed at that. After a couple of recent episodes about George Floyd, a North Carolina native who died while in police custody in Minneapolis, things "got a little heated," Aiken says, so they started having two guests instead of four. For now, they alternate with progressives for one episode and then conservatives the next.
"We do our best not to choose guests who are dyed in the wool and refuse to listen to the other side," Aiken says. "The goal is to have a conversation where people listen to each other."
-- Brooke Cain
The News & Observer (Raleigh, N.C.)
More News
Go Online!
'How the Heck…'
Subscribe and listen to the podcast "How the Heck Are We Gonna Get Along" at the Politicon website: politicon.com/podcast.
Sponsor Content
Comments