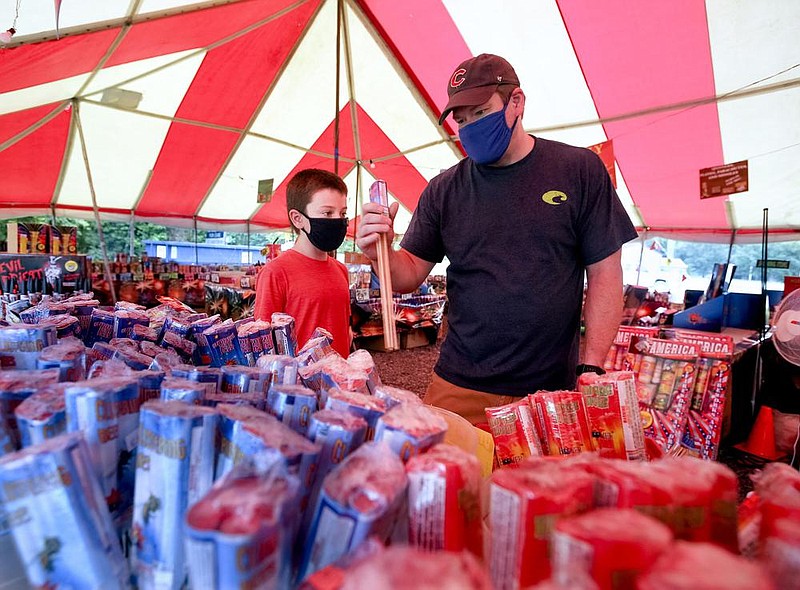 Jason Lynch and his son, Connor, 9, look through bottle rockets Thursday at Deaton Fireworks on Arkansas 365 outside Maumelle. (Arkansas Democrat-Gazette/Thomas Metthe)
Central Arkansas law enforcement agencies are preparing for the Fourth of July weekend even as fireworks already have sporadically lit up the night sky.
National reports indicate that fireworks sales are way up this year, and residents started hearing the bangs and pops before the end of June.
Tom Daniel said his 12 Arnold Fireworks locations across Central Arkansas have been doing a bang-up business so far this year.
"We've been here so long that we have a lot of our repeat customers -- sometimes they wait until the third and the fourth to buy -- but they're coming in early, and then just a steady stream of business we've had," Daniel said. "I would say it's been above average."
In Little Rock, where it is illegal to possess, distribute or shoot off fireworks, police have created a task force to handle fireworks calls, according to Police Department spokesman officer Eric Barnes.
"For Fourth of July [and] maybe a few days around it, we're going to have officers just responding to firework complaints and be able to be in the areas that we're receiving a significant amount of complaints for," Barnes said.
The department is asking people lodging complaints about fireworks not to flood the department's phone lines with calls but instead to email [email protected]
"The big deal is we'd like people to use this email instead of the 911 and nonemergency number simply because if someone were to have a heart attack or an emergency call that we need to get, we would hate for them to be put in the queue waiting to be answered," Barnes said.
Barnes could not say whether the department has already been looking into reports of increased fireworks. But, he said, the department is doing everything it can to dedicate enough officers to the fireworks task force while still having enough officers to cover other calls.
"We always like to have an adequate amount, but we also have to look at other staffing for divisions," Barnes said. "I definitely know we'd like to have a good number of officers."
Some residents may have trouble discerning the sound of fireworks from that of gunfire, but, Barnes said, that shouldn't be a problem for the city's "shot's fired" detection system.
"The way that system works is, after the sound is received, it's sent to their database dispatch center, and they have people that listen [to] those sounds," Barnes said. "And they're able to differentiate gunfire from fireworks."
In North Little Rock, where it is also illegal to possess, distribute or shoot off fireworks, police will have more officers out on the streets over the weekend monitoring for people who may be driving under the influence, department spokesman officer Joe Green said.
Officers won't be looking for fireworks cases in particular, but will respond to calls about them, he said.
"It will just be regular patrol officers responding as needed," Green said.
Pulaski County does not have a restriction on fireworks, but it does answer noise complaints. During the week, the noise must be toned down by 10 p.m., but since July Fourth is on a weekend this year, the noise-makers will have until midnight, according to spokesman Lt. Robert Garrett.
In the past, the department has basically followed the noise ordinance restrictions, Garrett said. "Of course, that's fine during the weekdays and the noise ordinance is 10 o'clock, but when the holiday falls on the weekend that goes to 12 o'clock."
Deputies will also be responding to any calls about improper or dangerous use of fireworks, Garrett said.
"So, if it's used in a dangerous way, there is a misdemeanor statute that covers that," he said. "But for the most part what we will be doing is we will be prepared, as far as manpower goes, to respond if we do have any issues within the unincorporated area of the county."
Sponsor Content
Comments