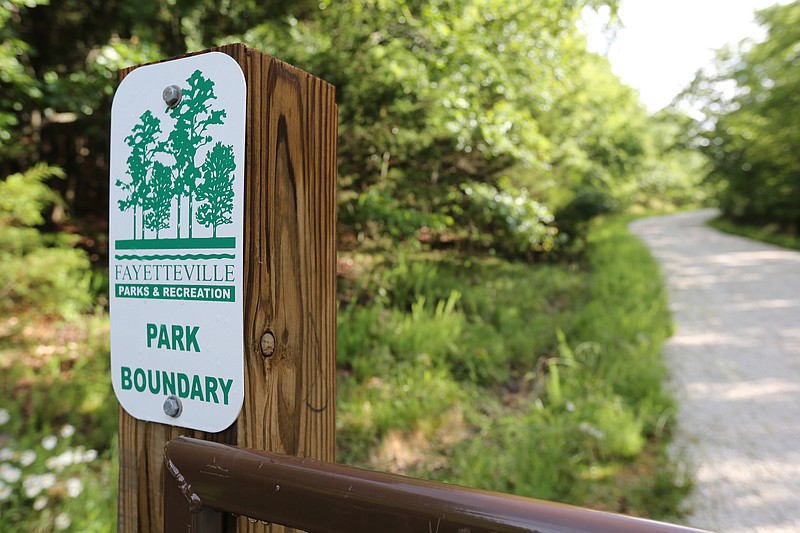 NWA Democrat-Gazette/DAVID GOTTSCHALK A city of Fayetteville Parks and Recreation boundary gate is visible Thursday, June 6, 2019, at the end of Centennial Park Lane on the southwest side of Millsap Mountain in Fayetteville. The City Council on Tuesday approved the conceptual master plan to build Centennial Park at Millsap Mountain, which will be a mountain-biking and cyclocross attraction. The project also is set to receive $985,000 in voter-approved bond money.
FAYETTEVILLE -- The first trail of a planned mountain-biking attraction that's scheduled to host a 2022 world championship event is open to the public.
The "Learner's Permit" trail at Centennial Park at Millsap Mountain is family-friendly and ideal for beginning mountain bikers as well as hikers and runners, according to a city news release.
Visitors can access the trail by Mountain Ranch Road in the north section of the park.
Several more of the park's nine planned trails are nearing completion and are expected to open later this summer, according to the release.
Nonprofit trial-building organization NWA Trail Blazers and Crossland Heavy Contractors are helping with the construction of the cycling trails and a new access road and parking lot, respectively, according to the release.
The park is set to host the International Cycling Union's Cyclocross World Championships Jan. 29-30, 2022. It will be the second time that the event is held in the United States, according to the release.
The city council accepted a matching grant from The Walton Family Foundation in February 2018 to purchase the 228 wooded acres of the park west of Interstate 49 and north of U.S. 62.
Construction of the trail system began in the fall of 2019, supported by a grant from the Walton Family Foundation to NWA Trailblazers.
Sponsor Content
Comments