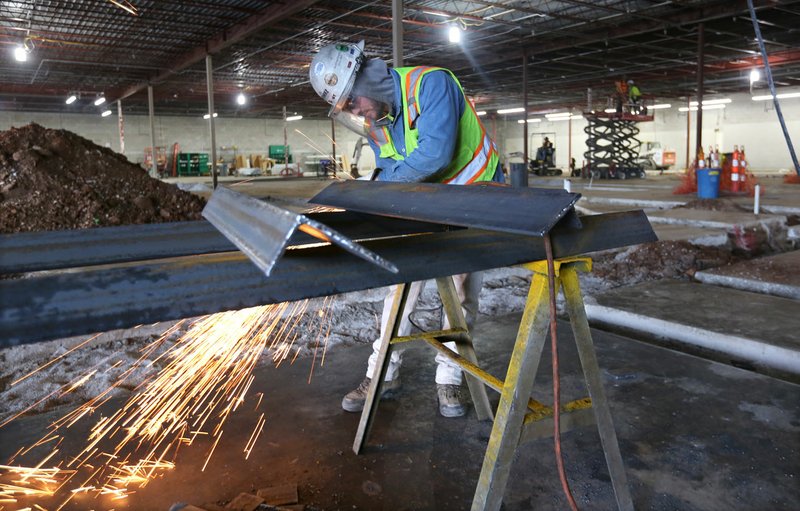 Tanner Myers with Nabholz Construction grinds the edge of angle iron for supports of roof top units Wednesday inside the new location of Ozark Natural Foods, 380 N. College Ave., in Fayetteville. The new store will feature an expanded farm and garden department, taproom and coffee bar, outdoor covered patio, a flexible sit-down space inside, to-go meals and revamped branding. Go to nwadg.com/photos for today's photo gallery. (NWA Democrat-Gazette/David Gottschalk)
FAYETTEVILLE -- Everyone will be welcome at the new Ozark Natural Foods store. It'll say so on the front doors.
The cooperative hopes to open the store in the former IGA building at 380 N. College Ave. this summer. The location is about a mile south of the store in Evelyn Hills Shopping Center.
The cooperative
Ozark Natural Foods is a community-owned grocery store owned by about 11,000 people. Anyone can shop there, not just owners. The cooperative carries products from more than 100 local vendors and farmers within a 100-mile radius of the store's location.
Source: Ozark Natural Foods
Web watch
To see conceptual drawings of the new Ozark Natural Foods store, go to the online version of this story at:
nwaonline.com
It'll boast an expanded farm and garden department, taproom and coffee bar, outdoor covered patio, flexible seating space inside, to-go meals and a new look inside and out, said Leanne Baribeau, architect with Modus Studio, the firm behind the design.
"They're kind of trying to change with the times a little bit," she said.
Baribeau said the idea is for the store to appeal to people with varying interests, whether they walk, drive or bicycle there. That approach also will influence the store's new logo and branding effort, headed by firm BLKBOX.
The cooperative will have a little more room to maneuver at its new location. The IGA building is about 32,400 square feet and about 14,000 square feet will be used for shopping space. The building at Evelyn Hills is about 30,000 square feet with about 10,000 square feet used for shopping.
The rest of the square footage at both buildings is offices, storage, restrooms and other inactive uses.
The parking lot at Evelyn Hills offers more spaces than the 82 at the new location, most of them north of the building with some to the south. Trees and planting areas in the parking lot will collect runoff. The store's 85 employees will park at First Baptist Church's parking lot west of College Avenue.
Meeting demand
Sammi Wilcox was shopping at the store Wednesday. The 23-year-old college student, with dyed, bright red hair, said the wellness section draws her in, especially the oils and vitamins. The plants and zero-waste items available distinguish the cooperative from more corporate stores, she said.
"It feels more like a community, like a mom and pop store," Wilcox said.
The outdoor patio area of the new location, near the main entrance facing College Avenue, caught Wilcox's attention. The 26-foot-deep, 117-foot-long roof will protrude west to provide shade. Bamboo, along with edible and native vegetation, will serve as a sound buffer between cars and loungers. Customers will be able to order a beer or kombucha tea from outside through a window.
"I think it will be really great to have such a nice, beautiful place to go and relax after class," Wilcox said.
Todd Minor, 57, was leaving the store Wednesday with bagged items in-hand. The construction crane operator, wearing a Donald Trump ballcap, has been a cooperative co-owner for about five years. He and his wife's interest in healthy living prompted him to seek out organic fruits and vegetables.
Organic options are hard to find where the couple once lived in central Arkansas, Minor said. The items typically have a short shelf life. He was delighted to see the offerings at Ozark Natural Foods once the couple moved to Fayetteville.
The openness and lighting of the new design, particularly in the fresh foods section, has much more of an aesthetic appeal, Minor said. It also looks like the new design will serve functionality better, making it easier to navigate different sections, he said.
"It's going to be a good change, I think," Minor said. "Since I'm an owner here, I really appreciate seeing my part-ownership go to work."
Customers can pay $10 annually over 14 years or $140 all at once to become an owner. Owners get benefits such as discounts, appreciation events, profit shares and can vote to elect the members of the cooperative's board.
The offerings of a grocery store tend to reflect the community it serves, said Laura Strange, spokeswoman for the National Grocers Association in Arlington, Va. The association is a trade group of independent retail and wholesale grocers.
Customer demand is the driver, Strange said. New grocers sometimes will host town halls before setting up shop, she said.
"A lot of local stores have strong ties to their communities," Strange said. "They really have their finger on the pulse of what their customers want."
People tend to shop differently than they did 20 years ago, she said. Multiple, short trips every few days has become more common than compiling a list and going once a week, she said.
That trend of more visits has prompted many stores to focus on the experience when it comes to remodels or new locations, Strange said.
"A lot of these stores are turning themselves into these community hub spots," she said. "They're offering Wi-Fi, they're offering a place for people to eat on-site, and gathering spots."
Online ordering and monthly subscription services for meal kits also influence how brick and mortar stores operate, Strange said. To compete, stores try to make services as convenient as possible, through methods such as online pickup or selling pre-diced vegetables, she said.
Other grocery stores in the city have gotten creative as well. Whole Foods, for example, sells pizza by the slice. Store orders can be made through Amazon. There's also a taproom and cafe seating.
Harps stores have online ordering and a specialty market of organic, lifestyle and home items. Stores have a bakery and deli and discounts and deals available.
Natural Grocers became the second store in the city to sell exclusively natural and local products when it opened in 2015. The store offers nutritional and cooking seminars and one-on-one health consultations, and large supplements and health and beauty sections.
Walmart also offers local products at its Neighborhood Market locations, as well as natural and organic items.
Building specifics
Ozark Natural Foods bought the new building in October 2018 for $3.6 million. Fayetteville Area Development Association, a group of local investors, bought the building in Evelyn Hills for $3.35 million in September, according to Washington County property records.
Nabholz Construction has been working on the former IGA building since early December. Estimated cost of demolition, construction and equipment purchases is $4.5 million, said Mike Anzalone, Ozark Natural Foods general manager. The cooperative paid the balance of the land and building purchase in cash and took out a loan for the rest, he said.
Some features, such as solar arrays and a cistern system to collect rainwater, will have to happen in later phases, Anzalone said. The cooperative started by imagining its dream store, then worked with Modus and Nabholz to get the new space as close to that dream as it could within an affordable budget, he said.
Ozark Natural Foods will not be the sole occupant at the new building. Generations Health and Wellness Center, a chiropractic clinic at Evelyn Hills, will move with its natural foods neighbor and lease about 1,500 square feet of space. Another tenant could take 3,500 square feet of space, but first, the cooperative wants to see if it can operate adequately with the 2,700 square feet of space designed for offices, Anzalone said.
The community response so far has been positive, Anzalone said. Not just owners, but also residents in the neighborhoods near the new store, have reached out and expressed their support, he said.
"I think this is really going to be a great move for our co-op," Anzalone said. "It's going to be great for our downtown and it's going to be great for our community."
NW News on 01/20/2020
Print Headline: Store intended to be open, inviting
Sponsor Content
Comments