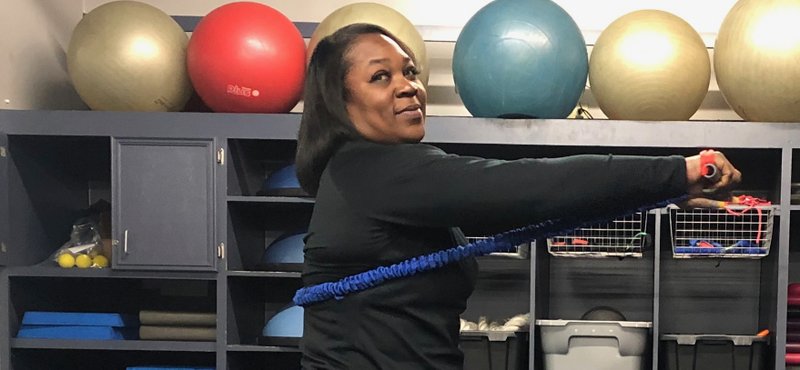 Mavis Pryor of Little Rock Racquet Club demonstrates the Burpee to Standing Chest Press exercise. (Arkansas Democrat-Gazette/Celia Storey 1/8/20)
This time of year, gym crowding frustrates regular exercisers and completely demotivates beginners. It's a problem that afflicts almost every fitness center and millions of fitness center members.
This week, I'll present a few solutions to this seasonal phenomenon and an exercise that could help.
According to fitness industry data, membership sales spike during the first three months of every year. New Year's resolutions are a powerful force in the business, and they dramatically change consumer behavior by getting people off the couch and into the gym. This is great news for those of us making a living in the industry, but it does present a challenge that we have yet to solve.
Just as new customers rush in, established members also are more motivated by their New Year's resolutions. So, the influx of new bodies combined with increased presence of existing members creates bottlenecks. Treadmills fill up; the locker rooms are jammed with people, and lines form at the water station. It's a beautiful sight for a general manager, but it's frustrating for members.
It's unlikely that such seasonal cycles will change anytime soon. But I do have a few tips for those looking to minimize their exposure to the "New Year's rush" this year and beyond.
First, do whatever you can to avoid exercising at a commercial fitness center from 4 to 7 p.m. in January and February. It's going to be a madhouse, and late afternoon is the peak period for all traditional fitness centers that charge membership dues.
A second tip is to select a facility or activity that takes reservations. If your center allows reservations for group exercise classes, reserve your spot as far ahead as possible. Some facilities allow booking 30 days in advance, and I'd recommend taking full advantage of that.
Fitness studios are another good option here because there is no "general use" membership — every member participates in a class that requires a reservation. Although classes may fill up more quickly, your workout will be uninterrupted and organized by a fitness professional.
If these options aren't available, then there's no choice but to alter one's workout to rely less on the most popular equipment — as there is a greater likelihood that a piece will be occupied when you want to use it. Choose exercises that can be done with stretch bands, kettlebells, dumbbells and other ancillary equipment.
You will be more self-sufficient and have an easier time sidestepping the crowd.
This week's exercise is a perfect example of a self-sufficient movement that can be done in a small corner of the fitness center with only a stretch band. The Burpee to Standing Chest Press is appropriate for all fitness levels and easy to learn.
1. Select a stretch band with handles.
2. Wrap the stretch band around your back and hold each handle in your hands.
3. Quickly squat down into the "up" phase of a pushup and perform a pushup.
4. Now, stand back up and perform 5 standing chest presses using the resistance of the stretch band. The hands should press straight out from the chest.
5. If you need more resistance, shorten the stretch bands by wrapping them around your hands.
6. Go back into the burpee with pushup, and then come back up. Again, five standing chest presses.
7. Continue this pattern for four burpees and 20 chest presses.
The Burpee to Standing Chest Press is not only a good tool for avoiding the crowd, it's an awesome total body movement that will challenge the core, legs and upper body. It will also elevate the heart rate to provide some basic cardiovascular benefit.
So, the next time you walk into your fitness center to a sea of people in new, squeaky shoes — don't fret. Grab a stretch band and go to work!
Matt Parrott has a doctorate in education (sport studies) and a master's in kinesiology and is certified by the American College of Sports Medicine.
Style on 01/13/2020
Print Headline: Exercises to help deal with new year gym crowds
Sponsor Content
Comments