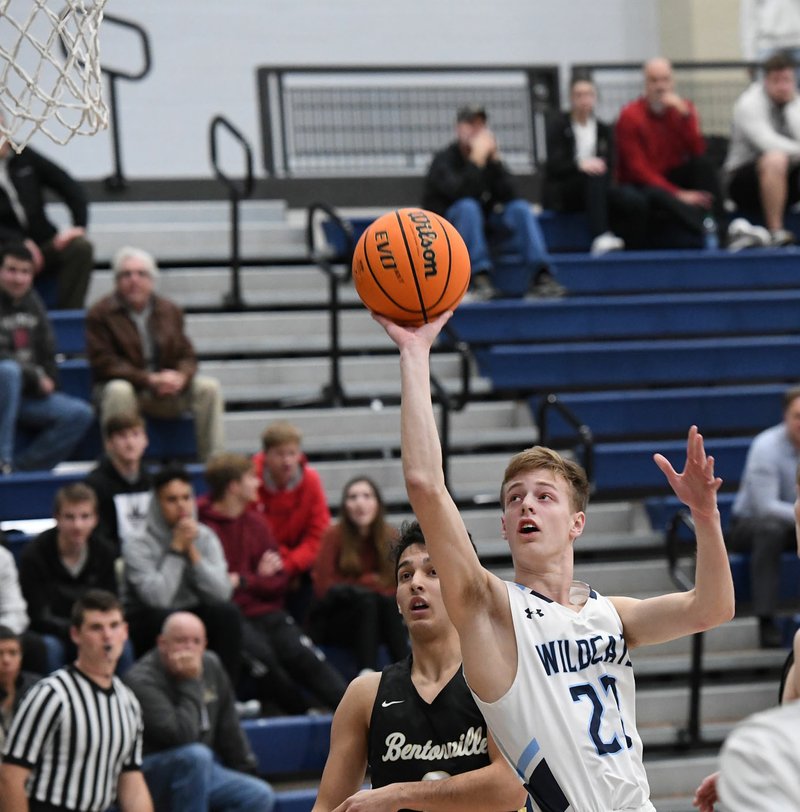 NWA Democrat-Gazette/J.T. WAMPLER Springdale Her-Ber's Lawson Jenkins has become a leader on and off the floor in his second season playing for the Wildcats after moving to Springdale from Valley Springs.
SPRINGDALE -- Lawson Jenkins acknowledged it's taken some time for he and his teammates to jell, but the 6-foot-6 senior is fitting in nicely in his second season at Springdale Har-Ber.
Jenkins led the Wildcats in scoring a year ago after moving from Valley Springs when his mother, Kimberly, got the job as senior girls' basketball coach at Har-Ber.
At A Glance
LAWSON JENKINS
School Springdale Har-Ber
Height 6-6
Weight 175
Class Senior
Notable Earned all-conference honors three times and all-state twice playing his freshman and sophomore seasons at Valley Springs before moving to Springdale Har-ber last season. … Surpassed 2,000 career points this week. … Signed to play at Missouri Southern State. … Averaging more than 20 points and almot 8 rebounds per game and shooting around 50 percent from the floor and more than 40 percent from 3-point range. … His mother, Kimberly, is the Har-Ber senior girls basketball coach and is among the top players ever play at Arkansas.
ON THE WEB
For more on this story, see the video at nwaonline.com/video
But his scoring average of more than 17 points per game has grown to more than 20 this season and that's only one of many aspects of his game that's improved.
Jenkins also surpassed another key number in Har-Ber's 62-45 win over Rogers Heritage on Friday. He finished with 16 points and surpassed the 2,000-point plateau for his career.
The Wildcats also improved to 11-2 overall and 2-0 in the 6A-West after Friday's win. With the victory, they also exceeded the team's win total (10) from the entire season last year and there's at least 12 regular-season games remaining.
Har-Ber coach Tommy Deffebaugh is in his first season with the Wildcats, but he's familiar with Jenkins. He was trying to figure out ways to slow him down last season as an assistant coach at Bentonville High.
"He's a definite threat on the floor," Deffebaugh said. "I hated trying to figure out how to guard him. He's can be a threat from the 3-point line. He's got really good mid-range and you can post him up. Anybody who can score from all three levels is always a hard guard.
"It's fun now that we have him on our team to put him in mismatches and find the right scoring situations. We're excited to have him on our team. He's having a really good year."
Deffebaugh has also seen his judgment improve.
"He understands when you have other good players, other good teammates, that you've got to share the ball," Deffebaugh said. "He can get his shot anytime he wants. The thing I've tried to help him and show him on film sometimes his shots last year were leaned back, off the dribble or off-balance.
"He's just maturing. I think he's enjoying the game more. I think he's having a lot more fun. He knows he's capable of scoring but he also knows that winning is more important than individual awards."
Jenkins said he's grown closer with his teammates, which makes it easier to take that leadership role.
"I try to lead by example, but just being with these guys another year made me more comfortable with them," Jenkins said. "We all got each other's back. It's a really close-knit group of guys so it's easy to lead.
"Last year being my first year here, it took a while to grow and get with these guys because a lot of them have been together their whole lives. Over the summer and this last year, we've grown a lot together. It just helped me be a better teammate."
He's looking to share the ball more and others have taken notice.
Deffebaugh has already heard from opposing coaches talking about Jenkins' improvement, specifically Harrison coach David Stahler.
Jenkins led the Wildcats to the Lendel Thomas Class title in late December, knocking off the Harrison in the finals. He also earned tournament MVP honors, but that's where he took sharing to another level.
After he was presented with the award, Jenkins then handed it to his teammate Nick Buchanan. Jenkins said he just wanted to make sure Buchanan's contribution wasn't overlooked either.
"He's my point guard, I can't do anything without him," Jenkins said.
The part many don't see is Jenkins' leadership in the locker room and practice floor, Deffebaugh said.
The Wildcats were doing post-practice conditioning earlier this week when Jenkins again played the role of senior leader. Everyone else moved on to the weight room but he stayed to run extra sprints with a teammate, who didn't finish in the required time.
"Come on, keep up with me," Jenkins exhorted as they were running.
Jenkins' teammate made it in the required time with him as his rabbit.
The Wildcats have shown they could be a contender in the 6A-West Conference race with Jenkins setting the pace.
Preps Sports on 01/12/2020
Print Headline: Law and Order
Sponsor Content
Comments