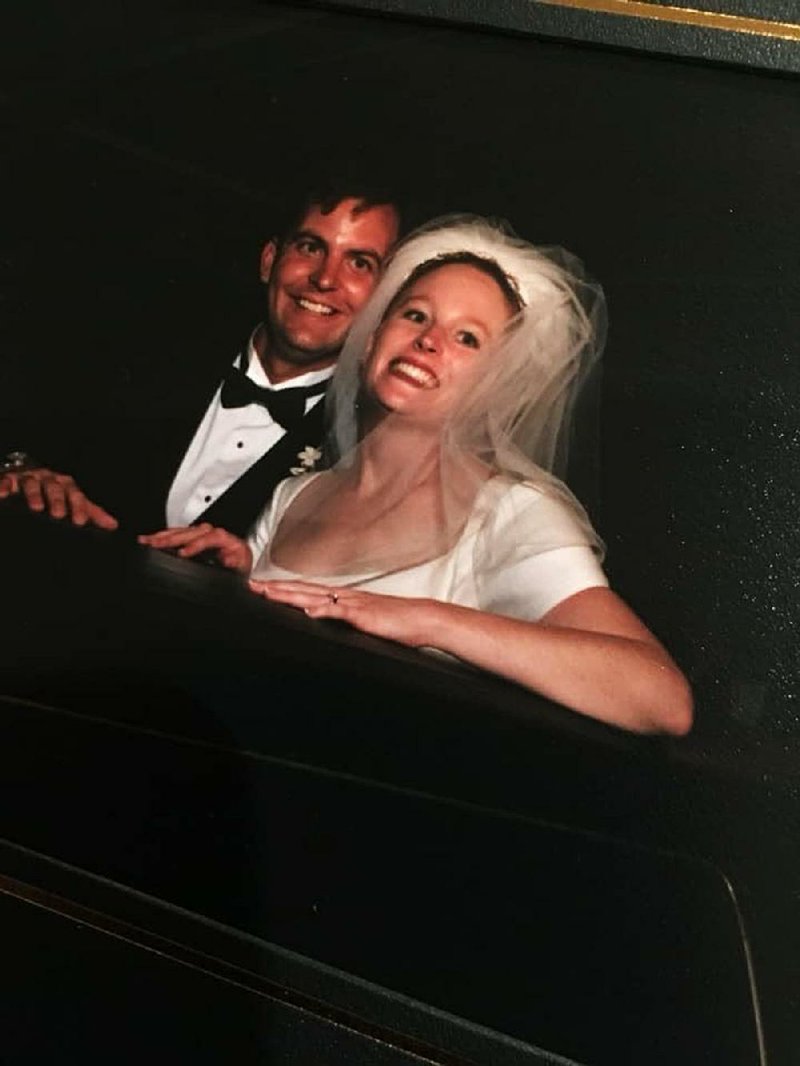 Jamie McLarty and Courtney Cheney were married on Sept. 23, 2000, walking down the aisle right around the time the Arkansas Razorbacks kicked off against the Alabama Crimson Tide. "We were hoping we could get married on an out-of-town football game weekend, but it just didn't work out that way," Jamie says.
Jamie McLarty had good intentions the first time he met Courtney Cheney, but he left her with an indelible impression.
Courtney and Jamie had family connections in Hope, and when she left for the University of Arkansas School of Law in Fayetteville, their mothers insisted that she connect with his sister, Ashley, who was at the university working toward her master's degree. Courtney and Ashley lived in the same apartment complex and became good friends.
The first time I saw my future spouse:
He says: "It was a reaction to her looks: Wow."
She says: "I just thought he was super cute."
On our wedding day:
He says: "A huge storm came through and knocked the power out at the country club, and I just remember all the people that were gathered around the TV watching the Razorbacks play football when that happened."
She says: "I was ecstatic."
My advice for a long happy marriage:
He says: "Don't go to bed mad. Marriage is tough and the key is to work through the adverse times and I think you come out stronger as a couple and as a person."
She says: "Laugh. He makes me laugh."
In 1996, when Ashley got married, she asked Courtney to be a bridesmaid.
"I had known most of Jamie's family for some time, and our families had truly known each other forever," Courtney says. "I think I had maybe met him at a tailgate or something, but I didn't really meet him until Ashley's wedding."
Courtney was at the rehearsal dinner alone, and she and Jamie hung out during all the wedding preparations.
"He's always had a kind of a spark and we just hit it off," she says.
It was after dark when Jamie and Courtney and several of their friends took a ride around the Newport Country Club in his parents' golf cart.
"We snuck his sister out, so she was with us," Courtney says. "People were hanging off the back and I was sitting next to him and we were just having the best time."
The fun screeched to a halt when Jamie took a sudden turn and the cart crashed, tipping over and scattering passengers on the green. There were no serious injuries, but Courtney was left with a gash on her shin.
"I felt terrible," Jamie says. "I was very embarrassed. It's not a memory I want to recall."
After the wedding, Jamie and Courtney went their separate ways. She finished law school and moved back to Little Rock before leaving for the University of Georgia.
"My feelings were a little hurt because my boyfriend had broken up with me," she says.
She was happy sitting at home alone while she wasn't working at the public defenders' office, but in early 1998, her mother insisted that she meet her for happy hour at a bar downtown. Jamie was there with a big group of people.
"My mom gets up to go to the bathroom, and when she comes back she starts talking to him and reminding him about me. I was mortified," Courtney says.
Courtney's mom gave Jamie Courtney's number, but he would tell her later he had lost it.
She saw him again a few months later -- in March 1998 at Shug's in Riverdale -- and they reconnected. He asked her for a date and they went to La Hacienda and then a movie.
"I was very impressed because she didn't hold back," he says. "She ordered from the menu and ate everything on her plate. I had been on dates in the past with girls who were nervous or just didn't have appetites but we were very comfortable on our date."
Fast forward more than a year and Courtney was feeling impatient for Jamie to propose by the time he finally got around to it.
"Not that I didn't think that he loved me," she says. "Marriage is a big deal."
They had dinner at Café Prego in the Heights and then went to Murray Park and walked by the Arkansas River, stopping to watch the water. That's when he dropped to one knee and pulled out an engagement ring.
"I was a little slow to the table," he says. "But I had called my mother and said, 'I'm going to propose to Courtney. Do you want to go with me to pick out a ring?'"
Courtney and Jamie exchanged their vows on Sept. 23, 2000, at St. James United Methodist Church in Little Rock.
The Arkansas Razorbacks were playing Alabama Crimson Tide on the day of their wedding.
"We were hoping we could get married on an out-of-town football game weekend, but it just didn't work out that way," Jamie says. "I think the kickoff was almost exactly the same time we were walking down the aisle at the church."
He was being forward-thinking, choosing an early fall date so that he wouldn't create a conflict between hunting season and their wedding anniversary.
Courtney is a lawyer at Stephens Insurance; Jamie is a commercial real estate agent at the Hathaway Group. They have two children -- Cole, 16, and, Mary Jett, 17.
Courtney's grandmother, who died shortly after she finished law school, was a guest at Ashley's wedding, as was Courtney's aunt, and at some point during the celebration she met Jamie and heard the story of Courtney's injured leg. Then she issued a prediction.
"So, my grandmother told my aunt, 'That Jamie McLarty has a spark in his eye and that's the boy Courtney is going to marry,'" Courtney says. "That was in 1996."
Their golf cart accident wasn't quite as funny when it happened as it is now. But it did leave Courtney with proof that their first adventure together happened.
"I can show you the scar," she says.
If you have an interesting how-we-met story or if you know someone who does, please call (501) 425-7228 or email: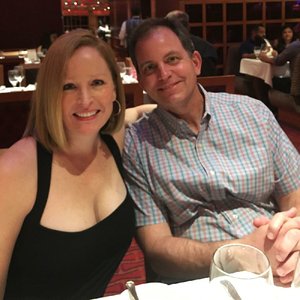 Photo by Special to the Democrat-Gazette
Courtney and Jamie McLarty met at his sister's wedding in 1996. There was an accident and Courtney was slightly injured, but her grandmother saw past that to their future. "So, my grandmother told my aunt: 'That Jamie McLarty has a spark in his eye, and that's the boy Courtney is going to marry,'" Courtney says.
High Profile on 01/12/2020
Print Headline: He had a spark in his eye that she couldn't resist
Sponsor Content
Comments