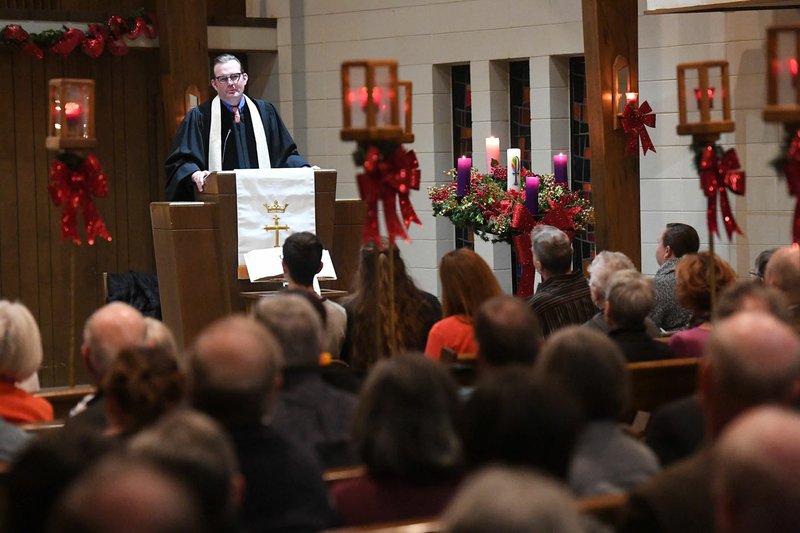 The Rev. Terry Goshell, senior pastor at Trinity United Methodist Church in Fayetteville, speaks Jan. 5 at a special service to #ResistHarm. (NWA Democrat-Gazette/J.T. Wampler)
"Condemning anyone is beyond my pay grade," The Rev. Terry Gosnell says.
Gosnell is senior pastor at Trinity United Methodist Church in Fayetteville, which hosted a special service Jan. 5 as part of a national movement called #ResistHarm.
"The intent of the worship service [was] threefold," according to Kathy Webb of Little Rock, a spokeswoman for the Arkansas Chapter of UMCNext. "To stand in solidarity against harmful and discriminatory United Methodist Church practices and language; to raise the visibility of United Methodists who seek a church that affirms all ages, nations, races, classes cultures gender identities, sexual orientations and abilities; and to support those directly experiencing harm because of the discriminatory and punitive provisions of the traditional plan."
"The message we wanted to proclaim far and wide?" Gosnell underscores. "'God loves you, and there's nothing you can do about it.'"
In February 2019, the General Conference of the United Methodist Church approved a "Traditional Plan" that strengthened language in the denomination's Book of Discipline regarding the ordination of gay or lesbian pastors and a prohibition on performing same-sex marriages. The denomination has had language in the Book of Discipline since 1972 that says, "the practice of homosexuality is incompatible with Christian teaching." The new provisions went into effect on Jan. 1. The service held at Trinity to protest the enactment of the Traditional Plan was in conjunction with others around the country using the hash tag #ResistHarm.
"The original intent was to stand in solidarity and support for our LGBTQ friends and family members whom we feel have been hurt and marginalized" by the Traditional Plan, says Brenda Gullett of the event at Trinity, which drew some 300 people from Methodist churches all over Northwest Arkansas plus "a number of people who had stopped attending Methodist churches because of this decision."
"Many of us are very concerned that now the message from United Methodists churches is perceived as being unwelcome and exclusive," says Gullett, one of the event organizers. "We feel that Christ welcomes all, and we want to be a part of sending that message."
Brian Swain, executive director of Central United Methodist Church in Fayetteville, says that the United Methodist Church is open to everyone and all people are welcome to attend and participate in worship and sacraments regardless of their sexual orientation. In the denomination's Book of Discipline, he notes that paragraph 214 says, "All people may attend its worship services, participate in its programs, receive the sacraments and become members in any local church..."
Swain says that the denomination's stance that prohibits same sex marriage is often portrayed by progressives that the church is unwelcoming. He says that he is disheartened by this because the church does love all people and welcomes all people with any brokenness that they bring with them to the church. He also says that the church's role is to minister to and assist them in learning God's Word and providing direction in how to apply it to their lives.
Even the #ResistHarm supporters do not rejoice at the idea of a separation of the church.
"If a split in the UMC eventuates, I would personally consider it disappointing news," Gullett says. "For all intents and purposes it would be metaphorically a divorce."
"We are all sinners," adds Gosnell. "As Christians, we all stand at the foot of the cross -- not one person or group, ALL. As Christ has given us mercy and grace, let us give that same mercy and grace to all our neighbors. Let us continue to grow in that great commandment to love God and to love our neighbors as ourselves."
That's exactly what Swain wants too, he agrees, saying that it is unfortunate that the denomination seems to have reached a crossroads on the issue of human sexuality and adding that the local church plans to hold some "family conversations" in the months ahead to help members better understand what has brought the church to this point and what the path ahead may look like.
NAN Religion on 01/11/2020
Print Headline: Message is inclusion
Sponsor Content
Comments