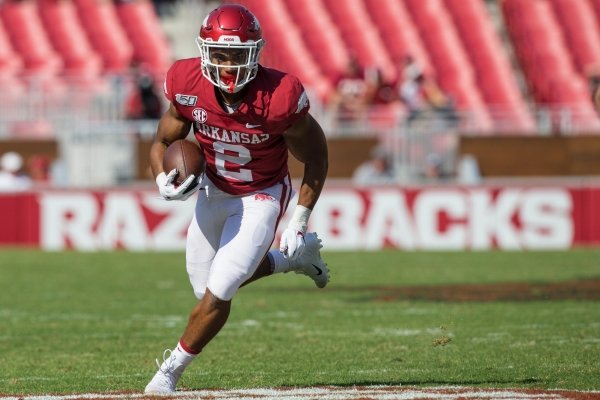 Chase Hayden, Arkansas running back, carries in the second quarter vs Colorado State Saturday, Sept. 14, 2019, at Reynolds Razorback Stadium in Fayetteville. - Photo by Ben Goff
Running back Chase Hayden will transfer from the University of Arkansas, he announced Wednesday.
Hayden will be a graduate transfer and will be immediately eligible at his next school. He played two full seasons at Arkansas and in four games last season to retain a redshirt season. He will have two years of eligibility remaining.
Hayden rushed for 574 yards and 4 touchdowns on 117 carries with the Razorbacks, including 249 yards and three touchdowns as a freshman in 2017 when his season was cut short after seven games with a broken leg.
In his first career game, Hayden rushed for 120 yards and scored a touchdown on 14 attempts against Florida A&M to become the third Arkansas freshman to rush for more than 100 yards in his debut.
In 2018, Hayden played in 11 games and rushed for 251 yards, including a 38-yard touchdown against Vanderbilt -- his only score of the season. Hayden also caught 11 passes for 61 yards as a sophomore.
He was limited to 45 yards on 12 carries in 2019 before entering concussion protocol.
A native of Memphis, Hayden committed to Arkansas as a four-star prospect over offers that included six other SEC schools. The list included Tennessee, where his father, Aaron, played football before a four-year NFL career.
-- Matt Jones
Sponsor Content
Comments