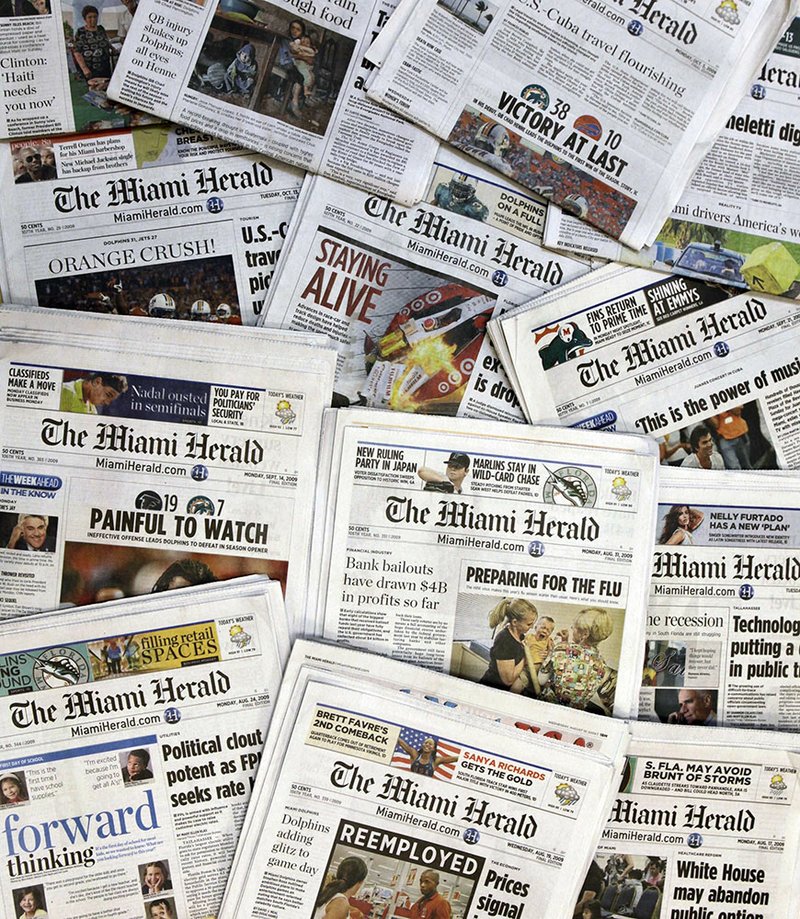 This Oct. 14, 2009 file photo, shows copies of the McClatchy Co. owned Miami Herald newspaper in Miami. McClatchy Co., the publisher of the Miami Herald, The Kansas City Star and dozens of other newspapers across the country is filing for bankruptcy protection. McClatchy Co. said Thursday, Feb. 13, 2020, that it will continue to run normally as it pursues approval of its restructuring plan under Chapter 11. (AP Photo/Wilfredo Lee, File)
McClatchy Co., the publisher of newspapers including the Miami Herald, Charlotte Observer and Kansas City Star, filed for bankruptcy after spending months working to restructure its debt and pension obligations.
The Sacramento, California-based company listed assets of as much as $1 billion and debt of more than $1 billion in its Chapter 11 filing in New York. McClatchy had warned that it may not be able to continue as a going concern due to a mandatory $124 million contribution to its pension plan in 2020. In its third-quarter earnings release, McClatchy said the payment created "a significant liquidity challenge."
The company obtained $50 million of so-called debtor-in-possession financing from middle-market lender Encina Business Credit, allowing it to continue operating its 30 local newsrooms as it restructures, McClatchy said in a statement Thursday.
McClatchy has struggled with pension costs and in January signed an agreement with the Pension Benefit Guaranty Corp. that allowed it to skip a payment while talks to have the agency take over the $1.375 billion plan continued. The plan was underfunded by about $535 million, according to an accounting last year.
The publisher filed a bankruptcy plan that would terminate its qualified pension and appoint the PBGC as its trustee, McClatchy said in its statement Thursday. In that scenario, the PBGC would continue to pay plan participants their benefits, and McClatchy would pay the PBGC $3.3 million each year for ten years, along with 3% ownership of the company.
McClatchy is also seeking to cut its debt load by asking some creditors to swap their debt for new, higher-interest notes and for others to trade their debt for for equity in a reorganized company. Holders of second-lien term loans and third-lien notes would end up owning 97% of the company, McClatchy said in its statement.
The plan needs approval from creditors and the court, and McClatchy is asking for a mediator to be appointed.
Founded in 1857 as The Daily Bee in Sacramento, McClatchy has two classes of stock, giving the McClatchy family control over the company. In 2006, McClatchy bought the Knight Ridder chain for $4.5 billion as the newspaper business was entering a long-term decline.
The case is McClatchy Co., 20-10418, U.S. Bankruptcy Court in New York.
National on 02/13/2020
With assistance from Jeremy Hill.
Print Headline: Newspaper Chain McClatchy Files for Bankruptcy Protection
Sponsor Content
Comments