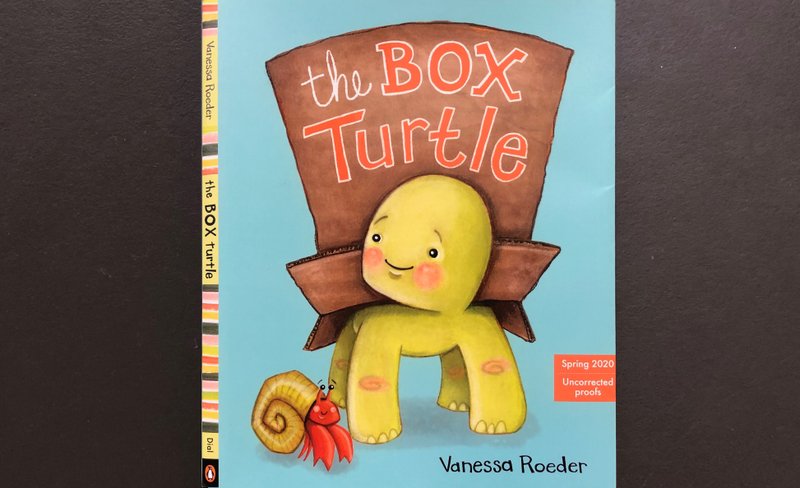 (Arkansas Democrat-Gazette/Celia Storey)
TITLE: The Box Turtle
BY: Vanessa Roeder (Dial Books for Young Readers, Feb. 11), ages 3 to 7, 40 pages, $17.99 hardcover, $10.99 Kindle
STORY: Terrance the turtle, born without a shell, is pretty cute. His family takes his blushing nekkidness in stride. They outfit him with a bulky cardboard box, and he wears it happily. His box even makes a friend for him by sheltering a hermit crab from an owl.
But then along come three shell-normal turtles. Two are bullies. They scoff at the box. The third, who seems regretful, is too cowed to stop the bullies. Naive and dismayed, Terrance abandons his box and goes looking for a proper shell.
Terrance's buddy crab scurries after as he tries one inappropriate replacement after another. We especially liked the mailbox, which a mailman opens and crams full of mail.
In the end, Terrance realizes his old box was just right. But it has fallen on hard times. Can it be saved?
The front and back endpaper illustrations differ. The front has OK drawings of the substitute shells. But in the back, turtle and crab try out 16 new ones. Bread box? Smells great. Bento box? Yum. Jukebox? Fun. Boxer dog? Uh ... Boxcar? No. Pandora's box? Fail!
It's another silly but meaningful story by the author of Lucy and the String.
Read to Me is a weekly review of short books.
Style on 02/10/2020
Print Headline: READ TO ME
Sponsor Content
Comments