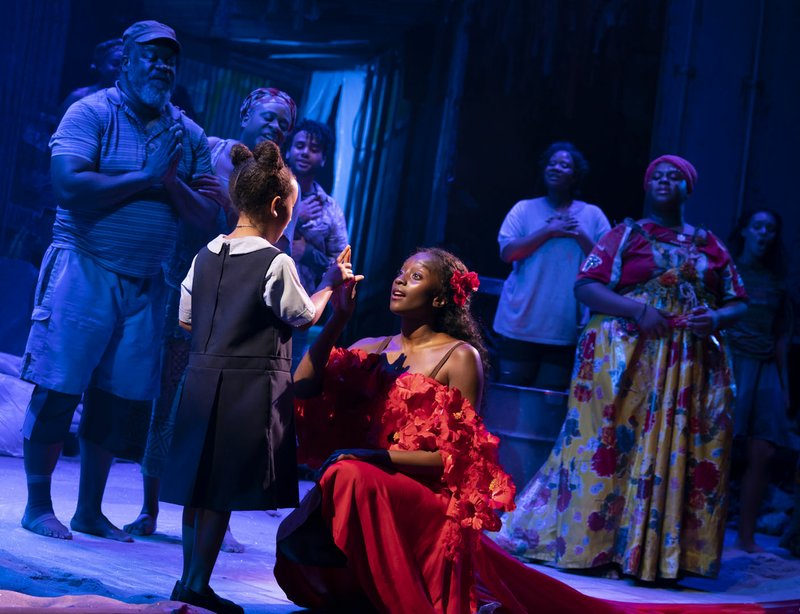 "It opens our eyes to an awareness of the need to not be so wasteful," actor Tamyra Gray says of the resourcefulness of a Caribbean community ravaged by a hurricane and the resulting debris washed in from the ocean. "The more we realize how alike we are, the faster we'll get rid of this idea that we're separate and different from one another. And [we'll realize] we're all just one race of people sharing this beautiful planet. We all have to come together and help fix the devastation that's happening outside of our particular nations. And how we start that at home is through being more mindful of our individual uses of things that are creating waste." (Courtesy Photo/Joan Marcus)
The ultimate question presented in the Broadway musical "Once on This Island" is this, reveals actor Tamyra Gray: Can love conquer death?
Gray portrays Papa Ge -- the god, or demon, of death. The show's protagonist and heroine, Ti Moune, makes a bargain with Papa Ge in order to find out if her dreams are indeed a possibility. The journey that follows is a fantastic one, Gray says, that leads the audience to another question, "Can death, or the idea of evil, be transformed?"
FAQ
'Once on This Island'
WHEN — 7 p.m. Feb. 11-12; 1:30 & 7 p.m. Feb. 13; 8 p.m. Feb. 14; 2 & 8 p.m. Feb. 15; 2 p.m. Feb. 16
WHERE — Walton Arts Center in Fayetteville
COST — $25-$81
INFO — 443-5600, waltonartscenter.org
BONUS — On-stage tickets are available. These seats offer a side/rear view of some of the performance as they are on the sides of the stage.
FYI — The performance runs approximately 90 minutes without an intermission.
"Some of our great storytellers and books that we've read over our lifetime -- some of our most prized and ancient and sacred texts -- have begun with a human doing the unimaginable and giving the ultimate sacrifice in order to show a sense of compassion, generosity and kindness in a way that we've been unable to examine prior to their moment of manifestation," Gray muses.
"It's really awesome to be able to share in a story like this that allows an acceptance that death is just another side of something that we don't understand," she continues. "It's hard to understand what life actually is. But we do know that there is a guarantee at the end of it. Everything must wither.
"But what I feel our show gives us, is that it isn't the withering -- it is the impact that you leave on those whom you love or who loved you when you depart, that gives you everlasting life. How your energy has transformed those around you."
Papa Ge is one of four gods who rule over an island in the Caribbean that was devastated by a hurricane the night before the audience is introduced to the scene. When guests enter Baum Walker Hall at the Walton Arts Center Feb. 11-16, the show has already begun, Gray reveals. There is no waiting for a curtain to rise as audiences are greeted by the wreckage of the previous night's storm and the islanders already at work cleaning up the mess left behind.
When a young girl is frightened by the lingering thunder, to calm her, her neighbors recall the story of another young island girl who decided to go against the odds to try and unite the two sides of the island together -- the wealthy grand hommes and the peasants.
"There are scenes that take your breath away. There are scenes that make you fall in love. There are scenes that break your heart. There are scenes that make you get exuberant and excited and make you want to get out of your seat and start dancing. And there are scenes that make you angry," Gray details.
Director Michael Arden's gender-swapped Papa Ge -- along with her fellow gods, Agwe, god of water; Asaka, (also gender-swapped) Mother Earth; and Erzulie, goddess of love -- are all based on real deities in the Haitian belief system. But the story is the stage adaptation of Rosa Guy's novel, "My Love, My Love: Or, The Peasant Girl."
With the feel of a Caribbean retelling of Hans Christian Andersen's "The Little Mermaid," plus a dash of "Romeo and Juliet," Gray had plenty of places to pull inspiration for her interpretation of Papa Ge.
"When I researched all the different levels of this particular god, the god of the underworld, I decided that I would take from the many different forms," she shares. "And in Rosa Guy's book, Papa Ge is even more menacing -- [he] is this creature that just kind of hovers in the dark. So I hover a lot; I'm in the shadows a lot in the show.
"I think that it's hard for many people to look at my character and want to think warm fuzzy thoughts because I definitely give you no reason to think those," Gray goes on. "But when you look at the fact that each of these gods have a responsibility, they're all doing whatever is their duty and purpose for this particular lifetime.
"We think of death being something that is considered an evil, because it takes away a loved one. But this particular story [asks] whether or not death can be transformed to something else, to something softer, to having a sense of understanding, to a new perspective. And I think with everything that we have going on in our lives at this particular moment with our country, a new perspective as welcomed."
NAN What's Up on 02/09/2020
Print Headline: Love Conquers Death
Sponsor Content
Comments