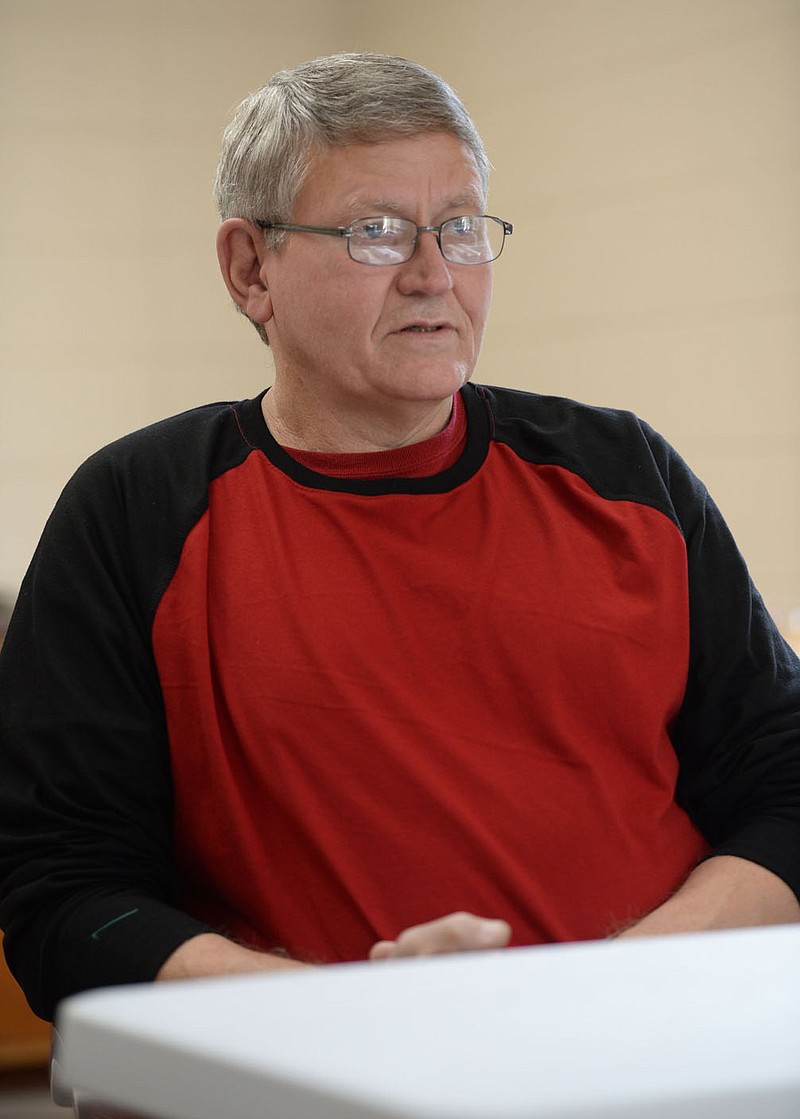 Harold Hartness speaks Saturday, Dec. 19, 2020, at Phoenix Recovery Center in Springdale. Hartness plans to spend Christmas with his family in Florida. Visit nwaonline.com/201221Daily/ for today's photo gallery. (NWA Democrat-Gazette/Andy Shupe)
SPRINGDALE -- Harold Randall Hartness said 2020 has been the best year of his life.
He left prison. He also boarded an airplane Wednesday to spend Christmas with his son and family in Florida.
"I got the parole board to approve it," he said proudly.
Hartness was sentenced to the Arkansas Division of Correction for his fourth time in 2009. His conviction for criminal mischief added time as a habitual offender.
He now calls the Phoenix Recovery Center on North Thompson Street his home. The 90-day program offered there by Returning Home was one of the conditions of Hartness' parole, which he will serve until 2039.
He completed the program, but remains a resident, volunteering as a counselor for others recently released to pay his rent.
Hartness, a 60-year-old originally from southeast Arkansas, lost contact with his family after he was sent to prison the last time. One day in 2014, the prison chaplain told Hartness of a call from his son.
"I thought he was going to tell me something was wrong with my son," Hartness said. Rather, the son tried to apologize for abandoning the father and asked if there was anything he could do to help.
Will Hartness said last week from Florida that joining the Navy, moving away from Hope and traveling the world helped him grow up.
"I was so much younger when he went to prison, " he said. "But I realized, I've only got one dad."
Harold Hartness said, while in prison, he often had dreams of his loved ones, but couldn't cry.
"But I cried for 30 minutes after the phone call," he said.
STABLE AND SUSTAINABLE
Returning Home and Phoenix partnered about four years ago to help those formerly incarcerated, said Nick Robbins, the director of Returning Home. Phoenix owns the building and provides the residential services. Returning Home provides social services, a program mostly funded by donors.
The Returning Home program includes counseling for substance abuse, mental health and family reunification, help getting identification and jobs, education, an on-site parole officer, a clothing closet and a food pantry, Robbins said. The program also works with Goodwill Industries of Arkansas, Reformers Unanimous, Celebrate Recovery, The Choice Is Yours and Credit Counseling of Arkansas to equip its clients with life skills to build stable and sustainable lifestyles.
The center houses 67 men and works with released offenders not in the residential program, Robbins said. The program typically has 500 to 600 men each year, but covid-19 has lowered that number closer to 350 this year, he said.
Most of the residents don't come from Northwest Arkansas, but many stay here, he said.
The Arkansas Division of Correction has a 56% overall recidivism rate, Dina Tyler, then-director of communications for the state Department of Corrections, said in February.
The Returning Home program is licensed by Community Corrections Division, an arm of the state Department of Corrections, Robbins said.
He doesn't focus on the 56%, rather he works for success with the 44% of offenders not going back to prison.
"The community doesn't get to see those people," he said. "These might be the person who checks you out at the grocery store, the person sitting next to you in a community college class, the guy in the next car or your neighbor."
NO PLACE TO GO
Returning Home accepts inmates who have no place else to go.
"Many of them burned bridges with family members long ago," said Cindy Murphy, the communications director for the Arkansas Department of Corrections.
"As police, you get pretty nervous when you find out they are taking people that have no place else to parole," said Springdale Police Chief Mike Peters of the program. But he said residents in the program have caused little trouble in the community.
Police have been called to the center 21 times this year, but only two of those incidents resulted in a police report, Peters said. One in August was for attempted suicide, and the other in June for an aggravated assault for which Peters said he knew no details.
The leadership of the facility has worked with the police to help them understand the program, he added.
Robbins said none of his residents have committed crimes while living at the facility.
"The police would let us know. Believe me, they would let us know," he said.
Inmates go through an application process. The Returning Home program usually takes 15 to 20 clients a month. If a client doesn't finish the program, he goes back to prison, Robbins said.
"Those who aren't going to work out don't stay here very long," he said.
Returning Home sees inmates who score "medium" or "high" on a Corrections Department survey designed to determine the likelihood of returning to prison, Robbins said.
The Returning Home program also allows participants to stay four or five months after their graduation.
"They keep working and saving money to pay off fines, get a driver's license, buy a car and maybe buy a house," Robbins said.
TOUGH LOVE
Hartness' plans for Christmas included gardening, pond fishing, gathering seashells on the beach in St. Augustine and a tour of the Navy shipyard where his son works.
Not the Hallmark-movie-style Christmas, but Hartness will get to meet his granddaughters for the first time.
"They're 17 and 14," he said. "The older one is driving. I think I might get with them and have her drive us and take them out to dinner as a Christmas present from me."
He said his family gave him some "tough love" and didn't talk to him for eight or nine years when he went to prison the last time.
"When I got here, a mental health counselor told me I had been in a frozen state," Hartness said of Returning Home. "When you go through trauma, there's fight or flight. There's also frozen."
He said he had accepted prison was all he got in life.
"But what broke through that was love," said Hartness with a genuine, unguarded smile on his face.
The call from his son changed something in Hartness. He began going to church, trying to make amends and earned an associate's degree from Shorter College while in prison.
"The worst part of being in prison is wanting to make amends with the people you've harmed," he said. "I hurt the people who were trying to help me."
Hartness transferred from the East Arkansas Regional Unit in Brickeys to the Wrightsville Unit and a therapeutic substance abuse program.
He applied for release to Returning Home in Springdale when parole was granted.
"I was told how good this place was and heard about the good jobs in Springdale," he said. "And I'd always wanted to live up here."
Hartness landed a job at the George's poultry processing plant within walking distance of the Returning Home facility. He works his day j0b then leads two counseling sessions each night.
His ultimate goal is to return to prison -- as a minister to those now wearing his jail-issued shoes, he said.
Hartness was preparing to lead a group of newcomers on a bicycle ride up the Razorback Greenway to Lake Springdale on a recent sunny Saturday.
"We take them rock climbing," Robbins continued. "We want them to discover a healthy lifestyle. We want them to learn they can have fun when they're not around drugs and to learn life can be very fulfilling without drugs."
FIRST OPPORTUNITIES
Returning Home helps its clients experience many "firsts" in their lives.
For Hartness, it brought his first flight on an airplane and the first time seeing the ocean.
"It's also their first job, and they're 40 years old," Robbins said. "It's their first time to feel success. Just because they want to change, doesn't mean they have the opportunity," he said.
Robbins recited some facts: 70% of the inmates in prison experienced physical or sexual trauma and drug use by age 12. Of the inmates, 80% are substance abusers and 52% have a serious mental illness. Many read with no more than a sixth-grade reading level.
"They don't know how to cope with substance abuse," Robbins said. "They don't know how to cope with life. But we're here saying, 'Let me show you a different way to do it.'"
Robbins reviewed a client's weekly expenditures. The client was spending about $12 a day for lunch each day he worked.
Robbins showed the man he could pack a lunch and take it from home for $3 and save the rest of the money to pay off a looming fine and restitution in seven months.
"He never in his life imagined he would not owe that money," Robbins said. "The things we take for granted, they have to walk through. We work to get them out of that poverty mindset. We make sure they get their medicine and take it on time, that they eat three meals a day and have a roof over their heads."
And the excuse of not having a job doesn't fly at Returning Home. Robbins said leaders of local food processing and manufacturing plants are happy to have the workers and treat them like valued members of the team.
"We accepted you at your worst," Robbins said. "So what if you don't meet your family's expectations. We love you."
Hartness takes no credit for his life turnaround, rather he thanks the prison staff, free-world counselors and current mentors.
"I was very resistant to treatment in the 1980s," Hartness said. "I heard what they had to say, but now I'm listening to it. They planted the seed. They planted the seed for later on."
The Arkansas Division of Correction considers any release from incarceration a "reentry."
"Reentry is not a specific program, but rather a process that starts when an individual is initially incarcerated and ends when he or she has been successfully reintegrated in the community as a law-abiding citizen," Murphy said. "Success can be measured in many ways."
One might be an individual leaving the 90-day treatment program with a place to go home, money in their pocket, sustainable employment and sobriety, she said.
"But they have to be dedicated to doing it, to live a different life," Robbins said. "If they don't want to do it, they can't make it."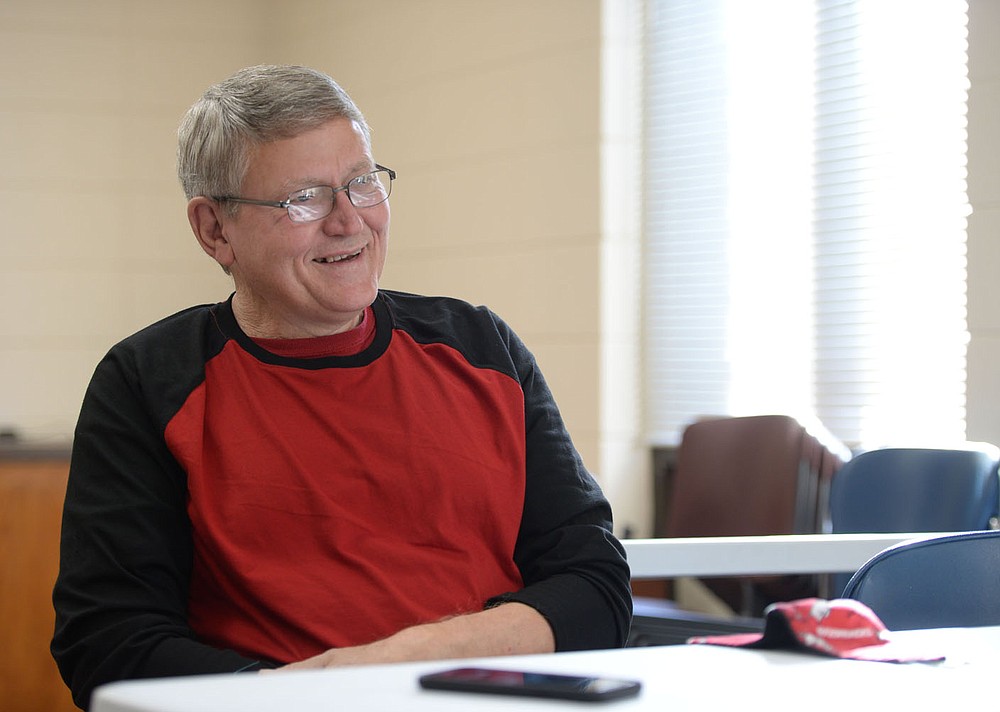 Harold Hartness speaks Saturday, Dec. 19, 2020, at Phoenix Recovery Center in Springdale. Hartness plans to spend Christmas with his family in Florida. Visit nwaonline.com/201221Daily/ for today's photo gallery. (NWA Democrat-Gazette/Andy Shupe)
More News
Donate to Returning Home
• Through its website at returninghomenwa.com
• Via mail at Returning Home, P.O. Box 188, Springdale, Ark. 72765
• Through an Amazon nonprofit registry smile.amazon.com
Source: Returning Home
Laurinda Joenks can be reached by email at [email protected] or on Twitter @NWALaurinda.
Sponsor Content
Comments