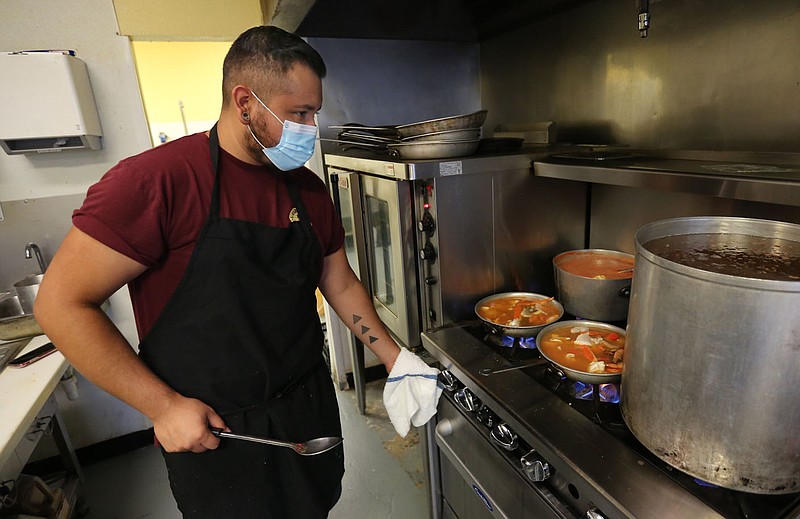 Edmundo Alvarez, co-owner and cook at Mariscos Playa Azul Mexican Seafood and Grill, prepares a Caldo de Siete Mares Wednesday, August 26, 2020, in the kitchen of the restaurant in Springdale. Check out nwaonline.com/200830Daily/ and nwadg.com/photos for a photo gallery. (NWA Democrat-Gazette/David Gottschalk)
SPRINGDALE -- A community network -- breakfast gatherings at coffee shops, civic club meetings, ongoing charities -- plays a vital role in fighting a pandemic, leaders of Northwest Arkansas' Hispanic community say.
They found out how essential as the few Hispanic groups like this became quickly overwhelmed when covid-19 hit Northwest Arkansas.
The language barrier between Spanish and English speakers is the most obvious problem, those leaders said, but accurate translation is only the beginning to getting every other problem addressed. Such problems ranged from getting Payroll Protection Program applications submitted in English to getting food, health care and money for rent to people who need it, they said.
"We all know the stereotype of immigrants coming here to live off benefits and that made families reluctant to feed that stereotype and ask for assistance when they needed it before," said
Layza Lopez-Love. "Then the pandemic hit. They've never been to the food bank or know where it is."
Lopez-Love is a member of the Northwest Arkansas Latinx Covid Task Force, part of a statewide group formed earlier this year.
State Health Department records show 22% of all coronavirus cases afflict Hispanic Arkansans -- who make up 7% of the state's population, according to U.S. Census figures. The Health Department figure is from Friday.
Hispanic families tend to live with multiple generations under one roof -- a factor of economic reality at least as much as culture preference, community leaders say. The tendency both helps spread covid-19 and forces wage-earners into quarantine whether they contract the disease or not.
Those families' needs -- foods, utility payments, rent, health care -- are overwhelming, Lopez-Love said. Now efforts to create community organizations of Spanish speakers to help them must work around the disease.
"We're trying to have a Zoom meeting once a week on Thursdays," Lopez-Love said, referring to the computer video conference software. The group of about 30 professionals make up the task force. It's part of a statewide task force working with the state Health Department among others, she said.
The Northwest Arkansas task force is too small to have enough members with the requisite talents to make it function smoothly -- web page designers, organizers, managers of all kind. "We keep running out of people," she said. "The supply's not meeting the demand."
"It takes time, but we don't have time,' she said.
At least the Spanish-speaking community has some points of contact such as churches, said Jackie Hancock, president and chief executive officer of the United Way of Northwest Arkansas, a coalition of groups coordinating efforts to fight childhood poverty and other, similar causes.
"We know about most of the groups that are here," he said Friday of Spanish-speaking charities. "Many of them are church-based. It's the Marshallese community that we would like to get to know better. We do have good relationships with a limited number of that community. We just provided grants to one Marshallese organization last week."
Rey Hernandez of Rogers is state director of the League of United Latin American Citizens, which is one of the largest and oldest Hispanic advocacy groups in the nation. To this day, he said, churches are almost the only functioning, organized group among the Hispanic communities -- plural.
"We come from different countries and have our own identities," Hernandez said. There is no one shared culture with its own channels of communication. That makes forging the same kind of social systems prevalent in the English-speaking community in Northwest Arkansas even harder, he said.
"Publicly, there's more power in the pulpit than anywhere else," he said. "That's why the clergy can play the biggest role."
But the clergy's message isn't unified, he said.
"People of faith are divided between those who think God will protect us and those who think we should use all our ability and energy to fight this pandemic. The responses are different because different faith leaders are reacting differently."
Both Hispanic and Marshall Islanders are growing in numbers in Northwest Arkansas, Hancock said, and "we are always looking for ways to connect." Keeping an established organization running during a pandemic poses challenges, he said. Setting a group up like the Latinx task force during this outbreak must be daunting, he said.
"I've been doing this for 35 years and never had to do any of it remotely before," Hancock said. "I'm used to going down the hall and then getting together in the conference room. Now we have so much to do and all of it has to be done from home.
"We've been reinventing the wheel together," Hancock said of United Way's member groups. "For instance, we lifted restrictions off our grants. Normally, we say what a grant is for. Now, we tell groups to use the money for whatever you need to do." Needs are widespread, urgent and immediate, he said.
The need for such groups as his and the Latinx Covid Task Force will not lessen anytime soon, Hancock said. "There are going to be evictions," he said, referring to families in arrears on their rent. "We're seeing some, and we know more of that's coming in a couple of months."
Other local, established groups such as chambers of commerce are open to Hispanic members before the pandemic, but speak a different language and often address different needs, said Irma Chavez, executive director of Conexion de Negocios Latinos, a group assisting Hispanic-owned businesses.
"A Latino business owner does everything: He's the cook. He does the books. He figures the taxes. He works 12 hours a day every day in his business," Chavez said. "They don't have time to network."
Many qualifying Hispanic businesses missed the first round of Payroll Protection Program loans, a federal program designed to keep small businesses afloat, she said as an example. They missed out on the first information about it when it was available and didn't have the business and government relationships that make all such applications easier.
The same familiarity between English-speaking businessmen and dealing with the forms of a bureaucracy filled out in English made obtaining personal protective equipment harder for Hispanic business owners, Chavez said. Making a rapid transition to online sales was also easier for English-speaking business owners, she said.
Most Anglo business owners had at least some limited experience with sales online. Hispanic business owners generally don't, she said.
"They didn't have a Plan B," Chavez said. "Our new normal is hard."
The new normal isn't even normal, said Geovanny Sarmiento, vice president of community engagement and inclusion at the Rogers-Lowell Area Chamber of Commerce. Sarmineto's job is to help Spanish-speakers and others avail themselves of what the chamber offers and seek out their participation.
"The important thing is: You can't generalize," Sarmiento said.
The Spanish-speaking business community is extremely varied, he said, ranging from eloquently bilingual, experienced business leaders who moved here from California to immigrants starting their first business who almost exclusively speak Spanish.
In either of those cases, though, they each have to learn Arkansas regulations and keep up with state and local efforts to get the pandemic under control, he said.
The willingness of bilingual business owners and other professionals to share their time and help people get over the language barrier is impressive, Sarmiento said. Even when written material is properly translated, whether it's covid-19 related or not, "they can definitely lose something in translation," he said.
Mireya Reith of Fayetteville is a longtime advocate for the Spanish-speaking community in Northwest Arkansas and founder of Arkansas United, a nonprofit immigrant advocacy group. She pointed to efforts by English-language groups such as the Northwest Arkansas Council, which recently asked members to pledge to act to end systemic racism.
The pledge is a step in the right direction, Reith said, but is also revealing of the real root problems with the pandemic and much else.
"All these efforts to close the gap show that yes, there is a serious gap," Reith said.
Northwest Arkansas' charitable and community establishments grew out of relationships within the socially dominant group. Privilege flows from being part of the socially advantaged class while obstacles face those who are not a member, she said.
"Even when it's not intentional, we're still left out because you associate with people you know," Reith said.
Northwest Arkansas has a long history of having a Hispanic community. But close-knit social organizations didn't grow like the population, Lopez-Love said.
"You can trace Northwest Arkansas' Latinx community back for 30 years, but the boom of its growth is really in the last 10 years," said Lopez-Love, who is assistant director of programs in the University of Arkansas for Medical Sciences' Office of Community Health. Ties that bind a community never spread far enough fast enough to cover the the region's whole Hispanic population, she said.
Accurate and consistent information on prevention would have helped immensely, Hispanic community leaders said. But getting accurate information about what to do to control a pandemic requires much more than getting some guidelines translated into Spanish, they said.
Hanging signs and placing hand sanitizers in local, popular Hispanic-owned small businesses took time. Organizing community groups and relief efforts, often by video conference is taking longer, they said. Then there is the problem of building trust and becoming a credible source of information.
Each of the Hispanic community leaders interviewed said their community, as a whole, distrusts the government and government-provided information. Controversies regarding the U.S. Census, the Deferred Action on Childhood Arrivals program and now the higher infection and death rate for Hispanics in the pandemic are all factors, they said.
An early shortage of personal protection equipment and other precautions, particularly in the region's poultry plants where many of their community work, also hurt the credibility of business leaders, they said.
"One advantage we have is Facebook," Lopez-Love said. "There are a lot of people in the Spanish-speaking community that use Facebook." Also, "people stuck at home are turning to smart phones and apps."
A disadvantage of social media, though, is how is a lot of the information provided by friends and relatives about covid-19 is simply not correct, she said.
Reith also brought up social media.
"Facebook is the closest thing we have to a silver bullet for coordination and communication," she said.
Doug Thompson can be reached by email at [email protected] or on Twitter @NWADoug.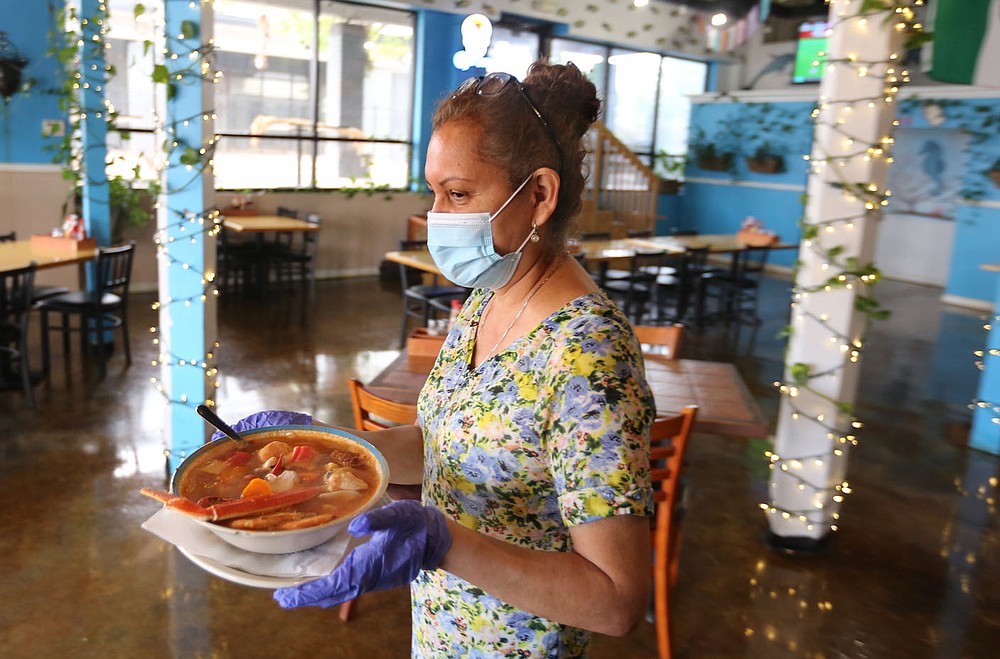 Estela De Los Santos serves a Caldo de Siete Mares to customers Wednesday, August 26, 2020, at Mariscos Playa Azul Mexican Seafood and Grill in Springdale. Check out nwaonline.com/200830Daily/ and nwadg.com/photos for a photo gallery. (NWA Democrat-Gazette/David Gottschalk)
More News
By the numbers
• 58,745: Total number of covid cases in Arkansas as of Friday
• 45,778: non-Hispanic
• 12,967: Hispanic
• 1 in 16: Odds of Hispanic* contracting covid-19
• 1 in 61: Odds of non-Hispanic* contracting covid-19
*Non-Hispanic includes other high-risk groups such as Marshallese. Black Arkansans, both Hispanic and not, also have a high rate of infection.
Source: Arkansas Department of Health and U.S. Census Bureau
Doug Thompson can be reached by email at [email protected] or on Twitter @NWADoug.
Sponsor Content
Comments