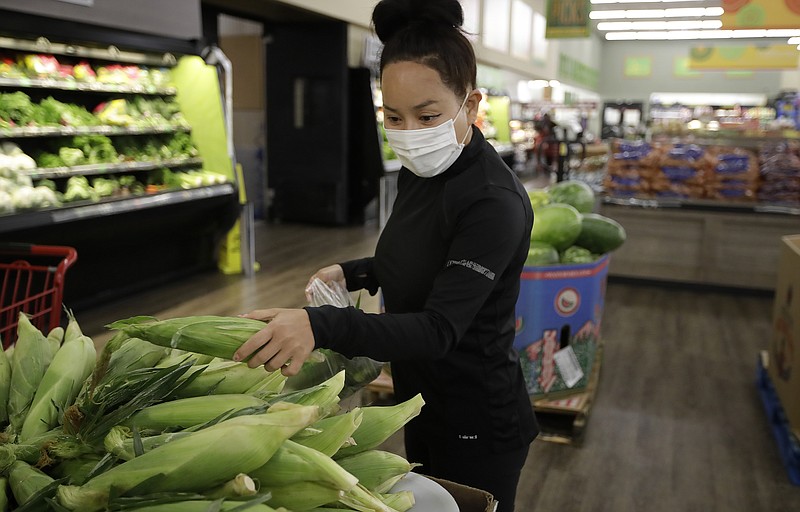 Instacart worker Saori Okawa shops for produce for home delivery on Wednesday, July 1, 2020, in San Leandro, Calif. Okawa is one of an estimated 1.5 million so-called gig workers who make a living driving people to airports, picking out produce at grocery stores or providing childcare for working parents. But with the pandemic pummeling the global economy and U.S. unemployment reaching heights not seen since the Great Depression, gig workers are clamoring for jobs that often pay less while facing stiff competition from a crush of newly unemployed workers also attempting to patch together a livelihood until the economy recovers. (AP Photo/Ben Margot)
Walmart Inc. is working with grocery-delivery service Instacart on a pilot program in four cities, Walmart confirmed Tuesday. Shoppers in Los Angeles, San Francisco, San Diego and Tulsa began testing the service Tuesday morning, the Bentonville retailer said.
Instacart will continue its existing partnership with Sam's Club, Walmart's members-only warehouse division. Instacart says its service is available to more than 85% of U.S. households and 70% of Canadian households.
Walmart said in a statement that its pickup and delivery services have proved popular with customers, especially during the pandemic. The partnership with Instacart allows it to reach new customers as it looks to expand delivery beyond the nearly 3,000 stores that serve about two-thirds of American households, the company said.
Discussions of a partnership between the two companies reportedly ended in 2018 when Walmart and Instacart couldn't agree over whose app shoppers would use to place their orders. Walmart did not say how the impasse was resolved or which app customers are using in the pilot program.
Sponsor Content
Comments