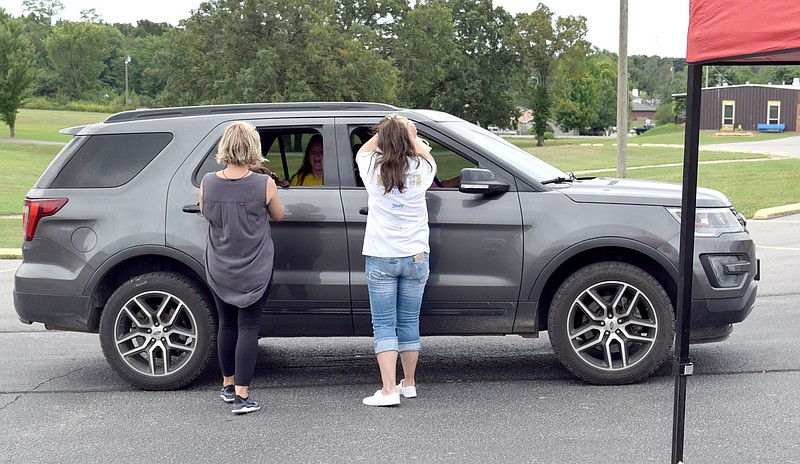 Westside Eagle Observer/MIKE ECKELS Rachel Gibson (left) and Sandy Duncan help distribute food, books and games to a Decatur family July 27 during the final Food and Fun Pack Giveaway at Decatur High School. The Food and Fun Pack drive replaced the normal Seamless Summer food program which was shut down due to the covid-19 school shutdown this year.
DECATUR -- When the last car pulled away from the Food and Fun Giveaway tents in the parking lot at Decatur High School on July 27, organizers and volunteers took a look at the mission they had just accomplished and uttered a silent prayer of thanks.
Andrea VanSandt, event coordinator, took time after the event to reflect on how she and Rachel Gibson (co-organizer) came together to pull off the success of the School District's Food and Fun Giveaway.
"It's funny because it all started with me thinking I might give a melon with an activity pack to the kids and it evolved into all of this," said VanSandt. "The tomatoes, lettuce, melons and onions are all locally grown and were delivered to us by the Food Conservancy. Simmons donated the chicken and, since Carlos Ortiz at the Decatur Meat Market has delicious avocados, we added those with tortillas and cheese. It all came together to make a great fajita dinner!"
Other local businesses that contributed to the food giveaway were Dayspring, which provided bags for the activity kits, and Harps in Gentry.
One of the biggest concerns of VanSandt was the emotional well-being of Decatur-area kids of all ages.
"We tried to think of something that would entertain everyone in the family and came up with puzzles and card games," recalls VanSandt. "The Boys & Girls Club donated the toys, coloring books and crayons, too," she added.
VanSandt tried to find a common activity that families would share and what she came up with was group reading sessions.
"Altrusa donated all the books to share and Dayspring gave us a copy of its magazine to put in each bag," said VanSandt. "I doubt we (VanSandt's own family) are the only family needing some new reading material at our house."
In all, the two events distributed 310 activity packs to Decatur area families. The Food and Fun Giveaway also distributed 200 combined boxes of tomatoes, avocados, lettuce, onions, cantaloupes and tortillas. This was in addition to 200 bags of apples, 100 pounds of cheese and approximately 1,800 pounds of frozen chicken strips.
"We saw a lot of people paying it forward. They would ask for an extra pack or two to share with a neighbor who couldn't come themselves. It was nice to see the community taking care of each other," VanSandt concluded.
Mike Eckels may be reached by email at [email protected]
Sponsor Content
Comments