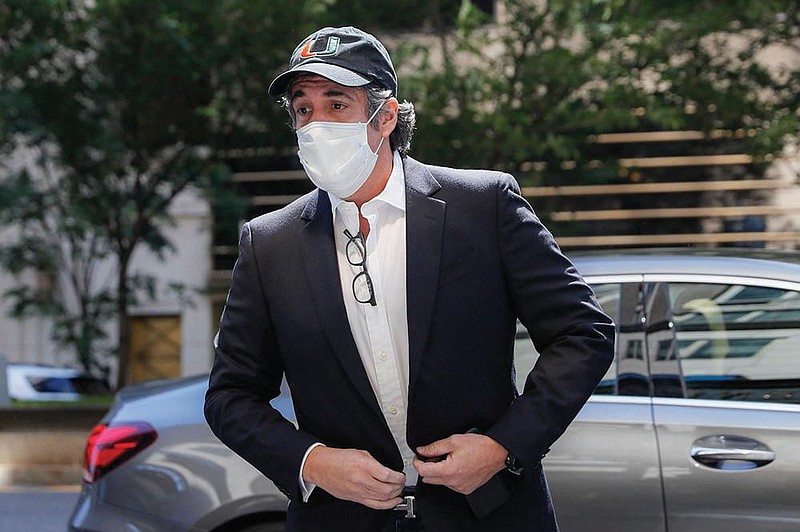 Michael Cohen arrives at his Manhattan apartment, Thursday, May 21, 2020, in New York. President Donald Trump's longtime personal lawyer and fixer was released federal prison Thursday and is expected to serve the remainder of his sentence at home. Cohen has been serving a federal prison sentence at FCI Otisville in New York after pleading guilty to numerous charges, including campaign finance fraud and lying to Congress. (AP Photo/John Minchillo)
Michael Cohen, President Donald Trump's former personal attorney, has been offered work as a consultant and to make media appearances for a political action committee, his lawyer said. Cohen hopes to accept the offer to work on the committee's behalf, attorney Danya Perry told U.S. District Judge Alvin K. Hellerstein Wednesday in a letter aimed at ensuring the judge does not object. She did not identify the committee. Perry wrote that Cohen also plans to have discussions with his editor and publisher "as quickly as possible" to achieve his goal of publishing a book critical of Trump before November's election. Cohen, 53, began serving a three-year sentence in May 2019 after pleading guilty to campaign finance fraud and lying to Congress, among other charges. The judge ordered Cohen released from prison two weeks ago, saying the government returned him to prison in July in retaliation after Cohen said publicly that he planned to publish the book titled "Disloyal: The True Story of Michael Cohen, Former Personal Attorney to President Donald J. Trump." The Bureau of Prisons denied that Cohen was imprisoned for retaliatory reasons. In May, Cohen was allowed to serve the majority of his sentence in home confinement after a coronavirus outbreak in prisons. Cohen was returned to prison after Probation Department employees said he refused to sign a form that would have banned him from publishing the book and speaking with the media. Prosecutors dropped their media objections last week.
Grammy Award-winning music producer Detail has been arrested on more than a dozen charges of sexual assault, authorities said. The 41-year-old producer was being held on a nearly $6.3 million bail, according to a statement from the Los Angeles County sheriff's department. Detail, whose real name is Noel Christopher Fisher, was charged July 31 with 15 counts of sexual assault and five counts of felony assault, the statement said. He is accused of crimes between 2010 and 2018. Detectives submitted the case to the Los Angeles County district attorney's office in January, the statement said. It didn't provide other details. "I am quite certain (Fisher) will enter a not guilty plea and contest to the fullest all of these allegations," his attorney, Irwin Mark Bledstein, said in an email. Detail won a Grammy in 2015 for co-writing the Beyonce and Jay-Z hit "Drunk in Love" and has also produced hits for Lil Wayne, Nicki Minaj and Wiz Khalifa. Last year, a model and aspiring singer was awarded $15 million in a Los Angeles lawsuit that accused the producer of abusing and raping her. At least two other women, both former assistants, have filed their own lawsuits. In court documents, Fisher has said that the allegations against him are false.
FILE - In this Aug. 28, 2015, file photo, music producer Detail, whose real name is Noel Fisher, attends the BMI R&B/Hip-Hop Awards in Beverly Hills, Calif. Detail was arrested Wednesday, Aug. 5, 2020, on more than a dozen charges of sexual assault, authorities said. The 41-year-old producer was held on nearly $6.3 million bail, according to a statement from the Los Angeles County Sheriff's Department. (Photo by Paul A. Hebert/Invision/AP, File)
Sponsor Content
Comments